By Sue Kidd, TODAY Moms contributor
News flash: Working parents are stressed. And they don't have enough time for themselves.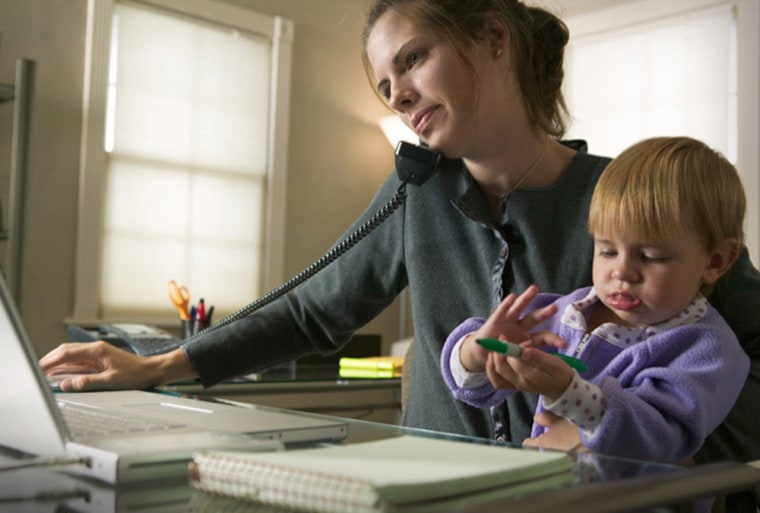 No way! Really?
Well, duh.
A study written up in the Daily Mail confirms that not only do parents crave more downtime, they think they'd be happier as a result. And 26 percent said they'd even have better sex if they weren't too tired to get their groove on.
Intrigued by all this? Here are more study highlights:
64 percent of the 3,000 working parents polled for the study, conducted by Co-operative Food, said they felt they spent "most of their time" working (yeah, tell us something we don't know).
Four in 10 would like time to read books. (READING BOOKS! Imagine that.)
Most working parents in the study had only 90 minutes a day to relax and unwind.
The truly sad part is that many of us seeing that last nugget thought to ourselves, "Where are these parents finding 90 minutes to relax??"
Finding balance is the quandary for every working parent, obviously. The hamster wheel of work, kids, chores, more work, more chores, kids….  What's a working parent to do?
Become a "healthy narcissist," urges Debbie Mandel, a stress management expert and author of "Addicted to Stress: A Woman's 7 Step Program to Reclaim Joy and Spontaneity in Life."
"There is great productivity in rest – you come back better. The problem is that endless to-do list which we get addicted to: There is a physiological and emotional high … which makes you feel hyper-vigilant when stressed. The problem is that you crash – ultimately leaving you depleted and irritable, perhaps achy and negative," says Mandel.
How do you get out of that achy, negative mode? Mandel says to ditch something off that to-do list, and celebrate that you ditched it. Use that time instead to "engage in creative compensation – something you love to do," she said.
Susan Bartell, a psychologist and parenting author, says it's unrealistic to even aim for 90 minutes of relaxation time. "First, it is TOTALLY impossible to find 90 minutes of downtime every day, or any day. In fact, as a working parent, it is helpful to not have that type of expectation and you won't be disappointed," says Bartell.
Her strategy for finding just a few minutes for yourself? Get up early. "That is, if you can drag yourself out of bed after having been up until midnight finishing your child's project that is due today and was forgotten until the night before," says Bartell.
Here's one idea. Delegate some work to your mommy brigade. Have friends? Use them. But reciprocate; you don't want to be that mom. "You can trade off taking each other's kids on a weekend day or even for dinner once a week, so the other one can have a bit of downtime," suggested Bartell.
And here's a classic: "Use your child's activity as downtime. As long as you act like you're watching the soccer game once in a while, it's a good time to catch up on chatting with your friends or doing your nails," Bartell said. "Better yet, sign your child up for activities that don't allow parents to watch."
Hmmm, pretty clever. Parents, do you wish you had more downtime – and what would you do with free time if you got it?