/ Source: TODAY Contributor
Teacher Marissa Schimmoeller returned to her high school classroom the day after a school shooting with a heavy heart. She told TODAY Parents she was prepared to tell her students exactly what they should do in the case of an active shooter on campus.
It turned out her students had a plan of their own.
Schimmoeller knew the first day back would be a tough one for her ninth and tenth grade English students at Delphos Jefferson High School in Ohio, she told TODAY Parents in 2018, the week after the Parkland, Florida school shooting that killed 17 people. Her emotional story is going viral once more.
"Today was really hard for me. Today was the first time I had to teach the day after a mass school shooting," Shimmoeller wrote. "I was dreading one specific question. Soon after class began, a freshman asked me the question I had been dreading since I had heard about the tragedy in Florida.
'Mrs. Schimmoeller,' she asked. 'What will we do if a shooter comes in your room?'"
This is 24-year-old Schimmoeller's first year of teaching. She was born with cerebral palsy and she uses a wheelchair.
Her students are familiar with the day-to-day implications of her condition, she told TODAY Parents. "I begin on the first day by talking about my disability," she said. "I tell them that they may be asked to assist me in the classroom — by passing out papers or writing on the board for me — and I allow them to ask me any questions they want to.
"However, last Friday was the first time that I had to share my limitations in terms of protecting them."
When her student asked what they should do in case of an attack, Schimmoeller said she felt "a bolt of fear and sadness run through me. I definitely don't have all the answers, but I want them to feel safe in my classroom."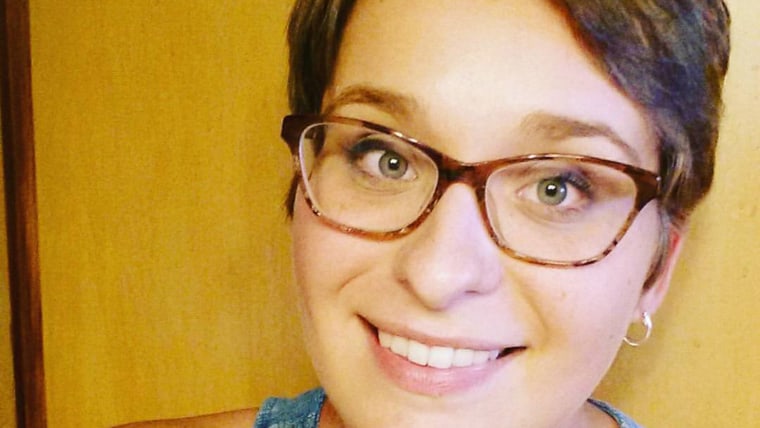 On Facebook, Schimmoeller wrote that she told the students, "I want you to know that I care deeply about each and every one of you and that I will do everything I can to protect you. But — being in a wheelchair, I will not be able to protect you the way an able-bodied teacher will. And if there is a chance for you to escape, I want you to go. Do not worry about me. Your safety is my number one priority."
Her students had other plans. "Slowly, quietly, as the words I had said sunk in, another student raised their hand," Schimmoeller wrote.
"She said, 'Mrs. Schimmoeller, we already talked about it. If anything happens, we are going to carry you.'"
The story went viral on Facebook, and continues to circulate today.
"I think my post has touched people so deeply because of the goodness it highlights," said Schimmoeller. "So often, when there is a tragedy, it is easy to feel angry and hurt. When I was in front of those amazing kids as they told me they would carry me out of our building, if, God forbid, we were faced with a situation like the one in Florida, it occurred to me that every child, every one of my students, is so full of light and goodness."
"I wanted to share that with those around me, because I spent so much of my day angry about the violence, and I knew that people needed reminding of the good in this world just as much as I did," she said.
Schimmoeller told TODAY Parents her students mean "everything" to her. "They are the reason I went into teaching. They are the reason I get out of bed to teach every day," she said. "I think building positive relationships with students is one of the most, if not the most, important thing a teacher can do for their students."
Schimmoeller said she hopes the attention and love remains focused on the victims of the shooting at Marjory Stoneman Douglas High School and the future safety of children.
"I don't have all of the answers, but I do know that our amazing children and students deserve a change."