/ Source: TODAY Contributor
When Kaylee Goemans rushed her baby to the emergency room, she had plenty of worries. Thanks to dozens of kind strangers, having her car ticketed or towed wasn't one of them.
It all started when her 6-week-old, Dominic, was having screaming fits that lasted more than two hours. "I knew something wasn't right," Goemans told TODAY Parents. She took him to their family doctor for ultrasounds and X-rays.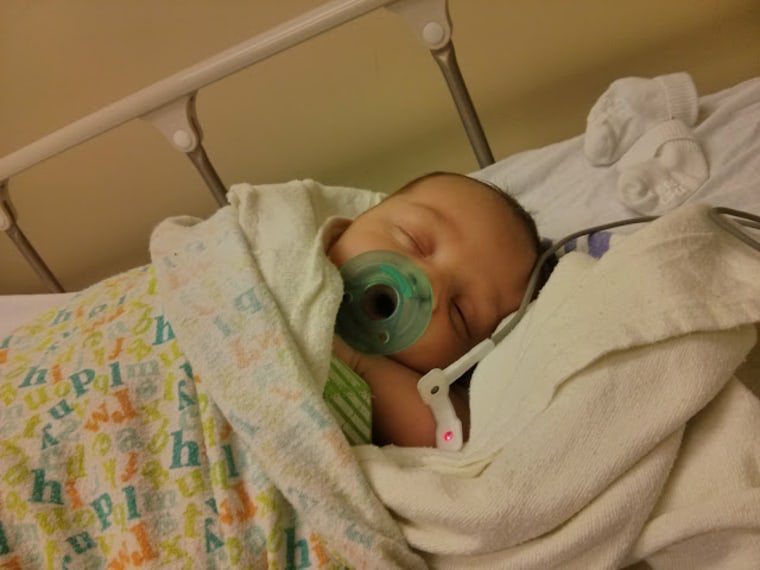 "A few days later, the doctor called to inform me Dominic had a loop in his bowels filled with air and fluid," Goemans recalled. "The doctor said to get to the ER fast."
So the 27-year-old mom rushed to the hospital in her hometown of Barrie, Ontario.
Goemans said she parked at a meter on the street because she couldn't afford the $15 parking fee on the hospital's property. "I put about three bucks and change in for four hours' time," she says. Because the doctor had already sent over her son's test results, Goemans thought she'd be in and out, but it turned into a nine-hour ordeal — with her stomach flip-flopping over the fate of her car.
Money is tight for Goemans, a mother of three: She lost her job when she was 28 weeks pregnant, and she said no one wanted to hire a pregnant woman. For that reason, she said, she didn't qualify for Canada's paid pregnancy leave benefits.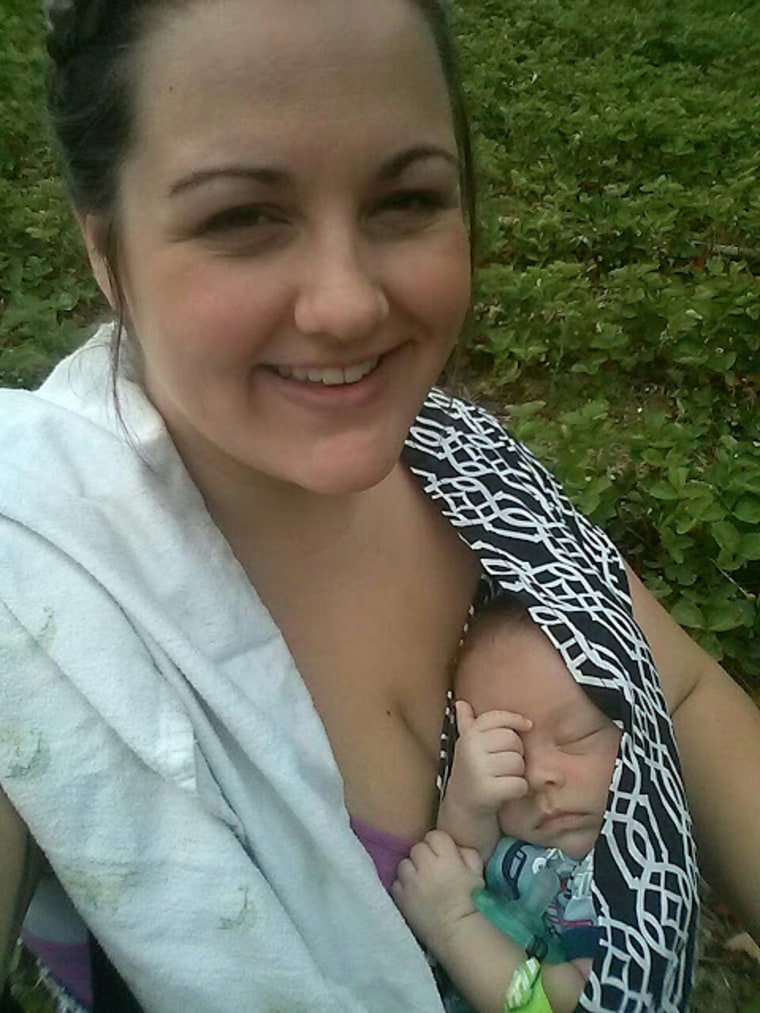 "When my meter was up, I panicked and knew I'd be ticketed — or worse, towed," she said. It wasn't a simple matter of extra change to pop in the meter — Goemans didn't want to leave her son. So the mom with a very sick baby took to social media for help. She posted a status to a local Facebook group she belongs to called New Barrie Moms Everything Buy and Swap.
"Women just started pouring in, asking what car I drove and where I was parked to put change in for me," Goemans said. While she was holding her baby in the ER, women in her hometown were taking time out of their own days to feed her meter and encourage her online.
"I live just around the corner from the hospital so if you need anything at all pls don't hesitate to contact me anytime! If your meter is running out or you just need a coffee or some food!!! Hoping all goes well and your baby gets well very soon!!" Rachel Banks commented on the Facebook page.
"2 more hours added no need to worry about that. Give baby a hug from me," wrote Stephanie Goguen.
"Kay, Do you or your husband need anything? A Coffee? A meal? A hug?" commented Jen Grenier.
Goemans said the encouraging comments — more than 100 of them — made her happy and thankful.
"My day was turned upside down when I was told to go to the ER immediately," she said. "You're terrified. And the stress of seeing so many doctors, poking and hooking your baby up to wires and drawing blood, is just heartbreaking. Knowing I had all these ladies there for me, to help me with parking, meals and even hugs made me able to focus just on my son and his needs."
Baby Dominic was diagnosed with intussusception, a painful disorder in which one part of the bowel slides into the next part of the bowel, blocking fluids or foods from passing through and cutting off blood supply. Doctors also discovered a heart murmur. Dominic is scheduled to undergo a procedure soon that should help, and he may need surgery in the future.
"He is still in a lot of pain and discomfort," Goemans said. "Dominic normally has two-hour-long screaming fits to try and pass gas for relief, then sleeps in between, due to exhaustion."
Goemans said that despite her infant's diagnosis, he's still a happy little guy. "Dominic loves to be held and interacted with to take his attention away from his pain. He's so sweet and very brave," she said. "Amidst the bloated belly, he still smiles tons."