/ Source: TODAY Contributor
Dorinda Makanaonalani Nicholson was just six years old when the attack on Pearl Harbor, Hawaii, occurred in 1941. But today,the 81-year-old grandmother is putting her experience as "a child of war" to good use, serving on the advisory panel for Nanea, American Girl's newest doll, whose story is set in Pearl Harbor in the 1940's.
Nicholson herself is an author. Her book, "Pearl Harbor Child: A Child's View of Pearl Harbor from Attack to Peace," is a children's book that explores the reality of World War II and the aftermath of the Pearl Harbor attack.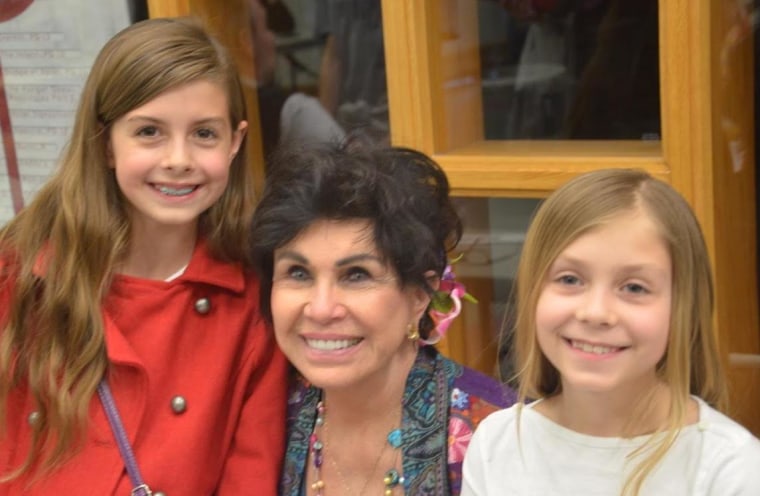 It was this book, stumbled upon by a historical researcher for American Girl, that caused the company to approach Nicholson about telling her story and joining the advisory panel for Nanea.
"Because I went through the bombing and lived in the middle of the harbor and went through all of it at about the same age as Nanea, they asked me to be an advisor and I was thrilled," said Nicholson, who lived with her mother and father, 2-year-old brother, and a dog named "Hula Girl" on the island of Oahu at the time of the attack.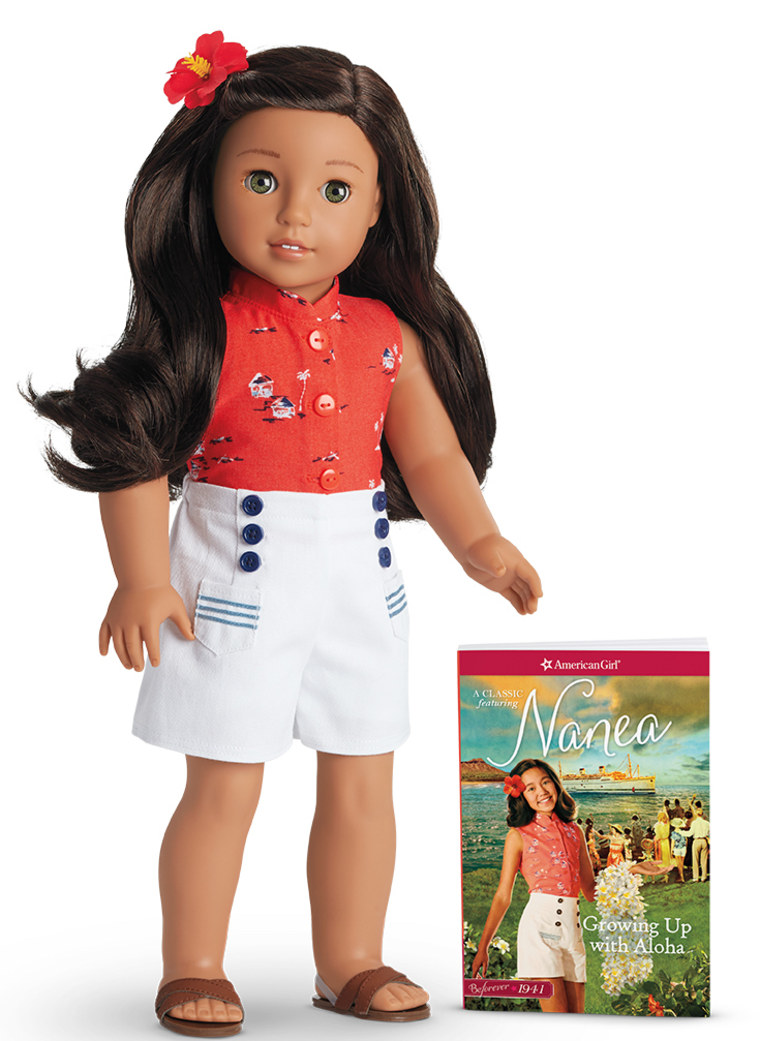 "I carried a gas mask everywhere I went and I could not be outside after dark," said Nicholson, recalling how her school was turned into a military hospital and she frequently went through air raid drills. "We had to carry ID's on us at all times and the money was called 'wartime currency.' America was bombed for two hours — and this was all a part of recent American history."
Nicholson, who was in the fifth grade when World War II ended, says it's important to her to make young people today aware of the attack, and believes that through Nanea, American Girl will help spread awareness of this piece of history with more people.
Never miss a parenting story on TODAY.com! Sign up for our newsletter here.
"You ask almost any American family if they have World War II history and they'll say yes," Nicholson told TODAY Parents. "It involved that many people — if it wasn't your father or your brother or your uncle, it was your neighbor next door. So, Nanea tells an important story that's a part of all of our histories."
Nicholson is a retired marriage and family therapist, who volunteers her time counseling military children and families who have been through combat. In an age of terrorist attacks and violence, Nicholson says it's important for kids to feel safe within their own families.
"What I tell kids is whatever kind of trauma you're going through, if you've got somebody in your life that you can trust and rely upon, you are fortunate," said Nicholson.
Nicholson remembers because the Pearl Harbor attack occurred on a Sunday, she was safe in her home with her family, whereas on a weekday, they all would have been separated by school and work schedules.
"We were all together," Nicholson recalled. "And, if you've got someone that's really important in your life, you've got 'ohana which is a big part of Nanea's story and means 'family' in Hawaii."
"In the world today, it's so important that our 'ohana not only includes our mom and our dad and our baby brother and big sister," Nicholson continued. "But we need to have 'ohana with our community, too."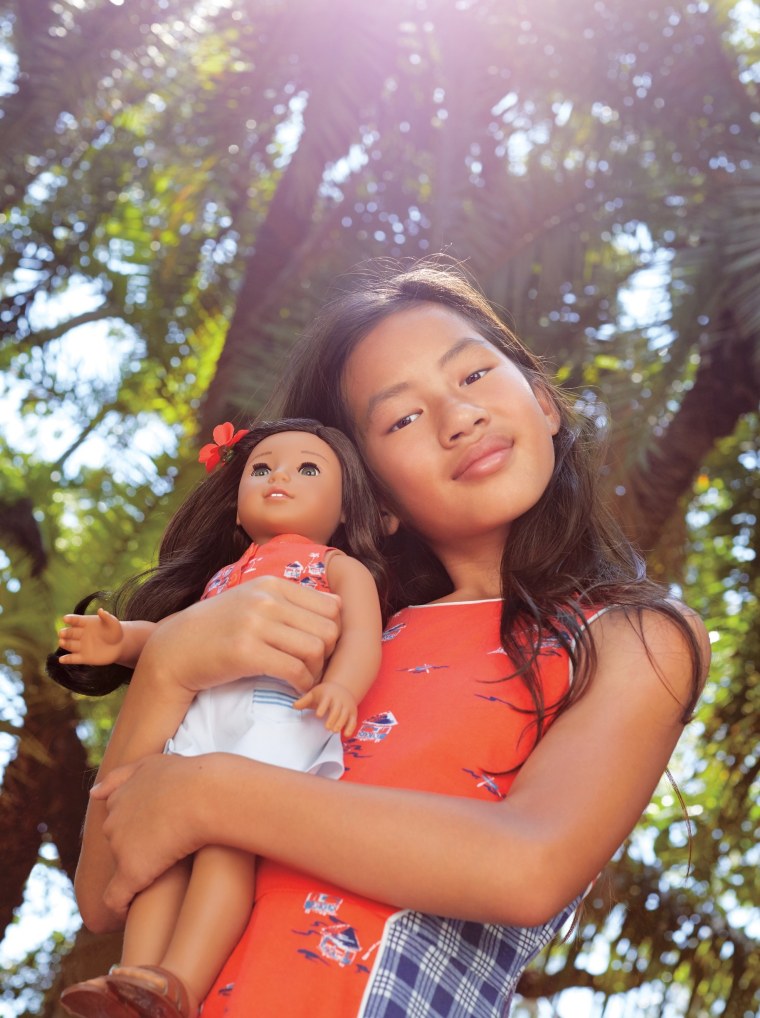 Nicholson, who today lives in Kansas City, Missouri, has five sons, who never shared her interest in hula dancing. Today, she is the grandmother of 13 children, 8 of whom are girls.
"I finally got some hula dancers," joked Nicholson.
Nicholson says her granddaughters, a few of whom have appeared with their grandmother in American Girl's promotional materials for Nanea, are thrilled that their grandmother is a consultant for the popular doll company. And, Nicholson is thrilled, too, to be sharing the story of her childhood not just with her granddaughters, but with the world.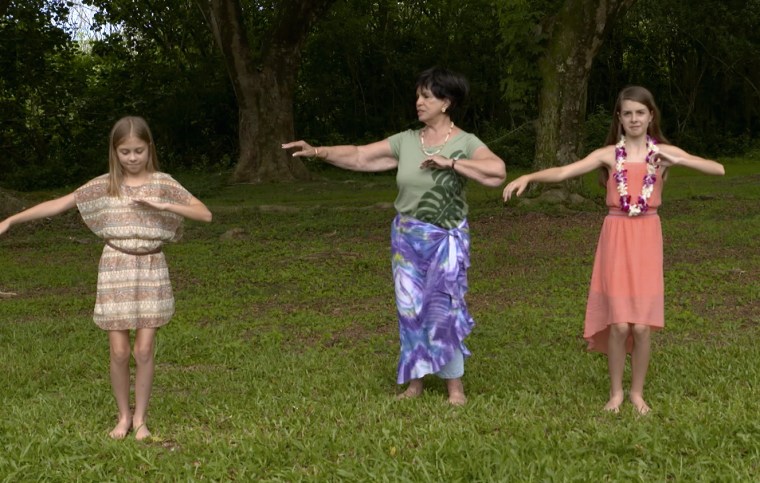 "American Girl has been so careful to make sure that their story is based in the right part of the harbor and that all of what would have taken place at that time is included in the book," said Nicholson.
Nanea is a part of American Girl's BeForever line, and has a series of three books that tell her story, in addition to multiple Hawaiian-themed accessories. To support Nanea's message, American Girl will also make a donation to the American Red Cross Service to the Armed Forces program, which helps care for members of the military, veterans and their families.
"We hope Nanea's powerful story of resilience, responsibility to others, and contributing for the common good—or kokua, as it's known in Hawaii — will resonate with girls and show them they have the power within to face the obstacles that come their way," said Katy Dickson, president of American Girl.