Behold the power of love — and song.
A video capturing hearts around the world shows Connecticut dad Jayce Correia warmly serenading his 8-year-old stepson Jared, who is brain damaged but responds beautifully to the music — smiling and swaying to the rhythm.
"Jared is just a magnificent little boy," Correia, 28, told TODAY Parents. "I've seen that little man in and out of hospital visits, doctors, and still every day he wakes up and keeps going."
Jared's mom, Shirley Ferreira, had a kidney infection when she was pregnant, which caused the boy to have a stroke, she said. It went completely undetected until after he was born, when doctors told her Jared suffered brain damage and diagnosed him with hydrocephalus, an excessive accumulation of fluid in the brain.
The boy is missing about 48 percent of his brain tissue, primarily on the right side, and has the mental capacity of a 6-month-old baby, his mom said. He doesn't walk or talk, and he's blind. He has had seven brain surgeries.
But Jared recognizes voices, instantly responding when his mom or stepdad walk into the room and start talking. He also likes to cuddle.
"Every time I lean in to him, he does this thing where he grabs my ear and he feels my earring and that's how he knows it's me," Correia said.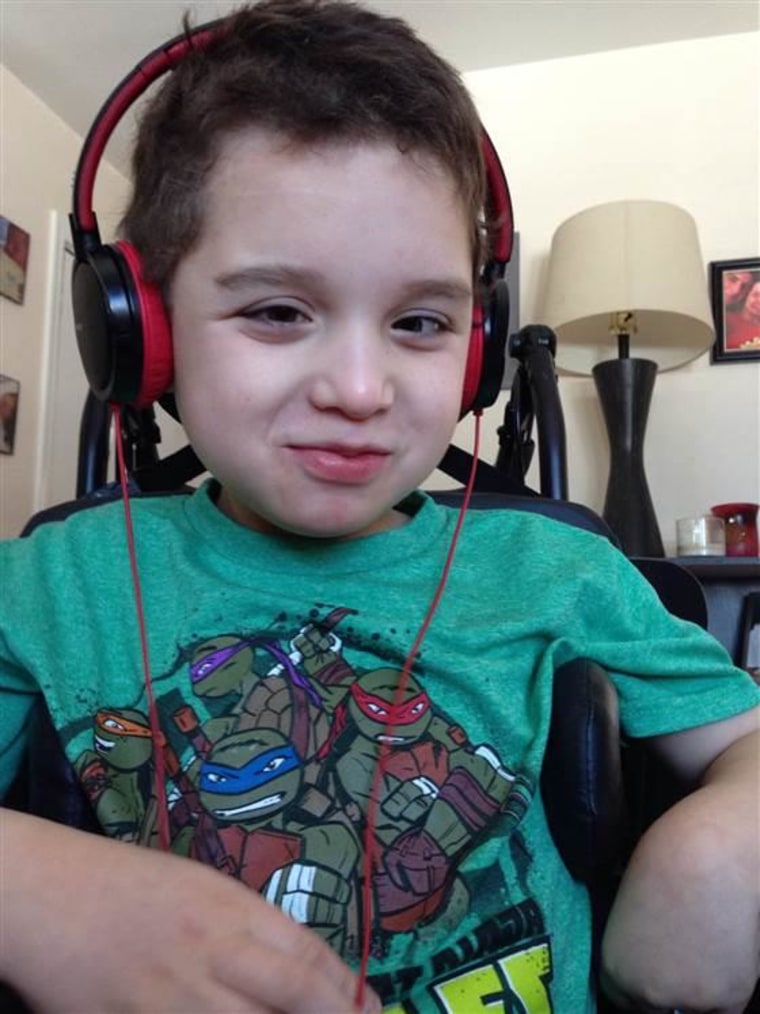 And Jared loves music. Correia — whose main job is installing tires at a local Costco, but who loves to sing and sometimes performs — noticed it from the moment he met the boy five years ago. Correia and Ferreira, who live in Brookfield, Connecticut, now also have a 3-year-old son together.
The rap came together when Correia was recently waiting for a bus to take Jared to his special needs school and put on some music.
"I just picked up a pen and started writing from my heart, like I was talking to him," he recalled.
The result is a sweet ballad dedicated to his stepson, with lyrics such as "They put you in a chair, but I can help you stand/Any time that you reach out, I'll always grab your hand" and "Do I get frustrated? Yeah, I might be/But I'll always be there to hold you tightly."
Correia said he wanted to send a message to parents in the same situation: It's OK to feel frustrated, it's OK to feel bad, but you have to keep moving.
A video of him performing the song for Jared has gone viral on Facebook and YouTube, with messages pouring in from across the U.S. and 17 countries around the world.
The family's main focus now is raising money for a van that will accommodate Jared's new wheelchair. The boy had a growth spurt, so he has a bigger wheelchair that no longer fits in the family's car, Ferreira said.