As a stay–at-home dad, Salem Wildfire spends the majority of his days listening to the musings of his 5-year-old daughter, Kenzie. So when family friend and artist Danielle Kukic asked Wildfire to collaborate on a web comic, Wildfire invited Kukic to step with him into the imagination of his daughter.
Written by Wildfire and illustrated by Kukic, Daughter of the Wolf depicts the adventures of Kenzie (which is a name based on Wildfire's daughter's middle name, Mackenzie) and Wildfire, who is portrayed as a wolf.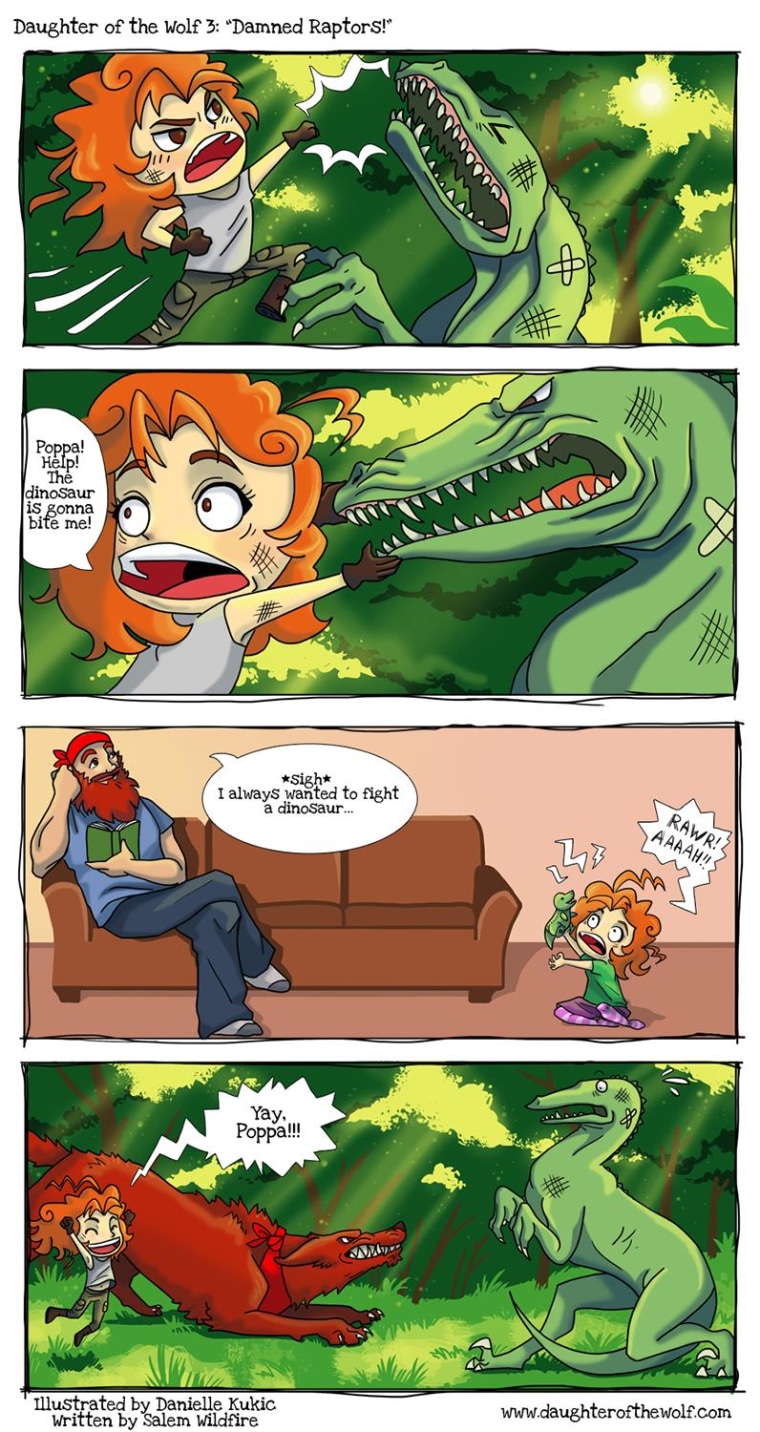 "When Kenzie was younger, I had jokingly told her that I was born a wolf, but then turned into a person. I don't know what inspired me to say that, but she thought it was the greatest thing ever. I eventually confessed that I was only kidding her, but that did nothing to slow down her imagination," said Wildfire, adding that portraying Kenzie as a wolf pup in the comic was a natural next step.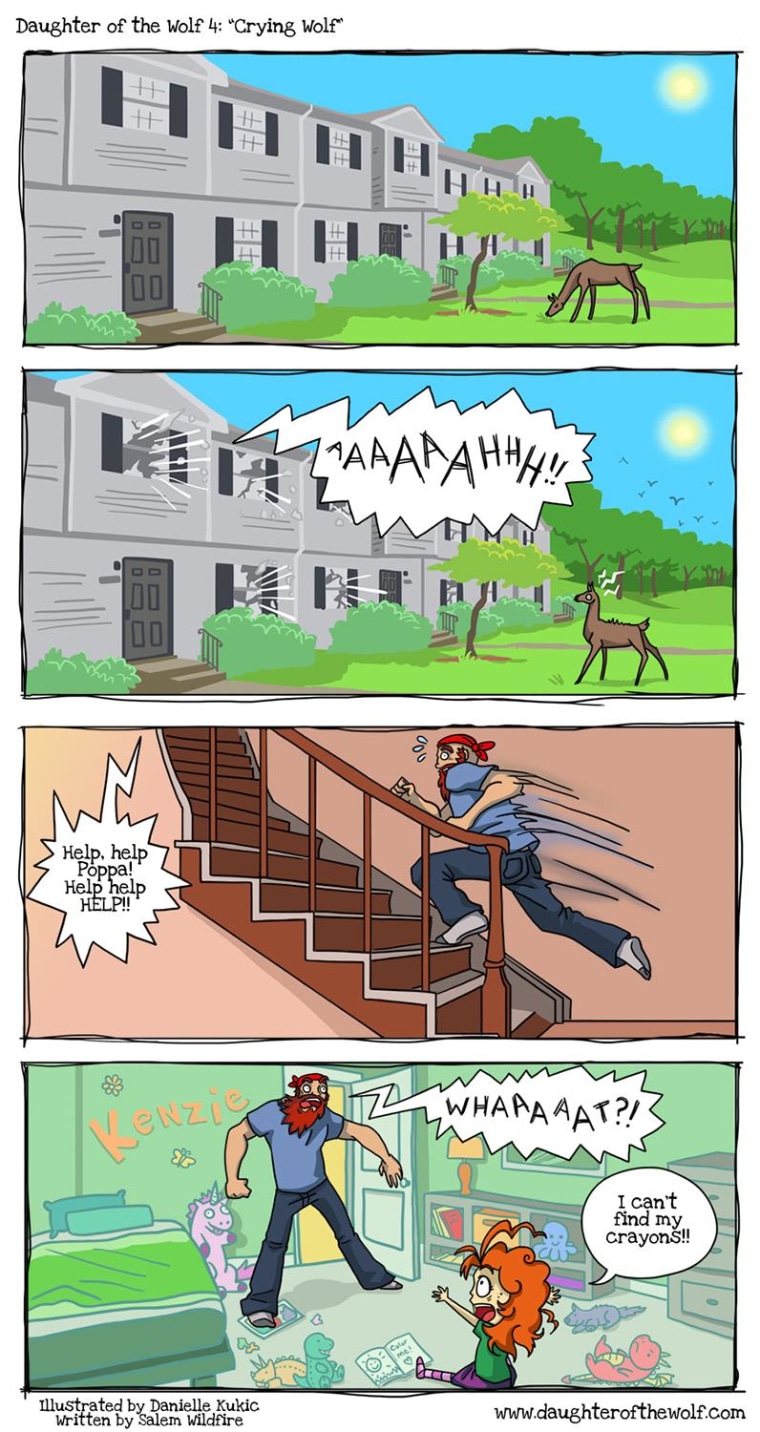 In each weekly comic, Wildfire and Kenzie find themselves deep within Kenzie's imagination. Kenzie fights a Raptor dinosaur, until her father shows up in wolf form to save the day. Kenzie climbs a treacherous mountain and celebrates at the top. Each adventure ends by revealing what's happening in real life — Kenzie playing with a toy dinosaur on the living room floor or climbing on her dad's back as he naps on the couch.
Kukic, who illustrates the comic, lives in Michigan and said she was feeling drained of creative ideas when she started talking with Wildfire about his parenting stories.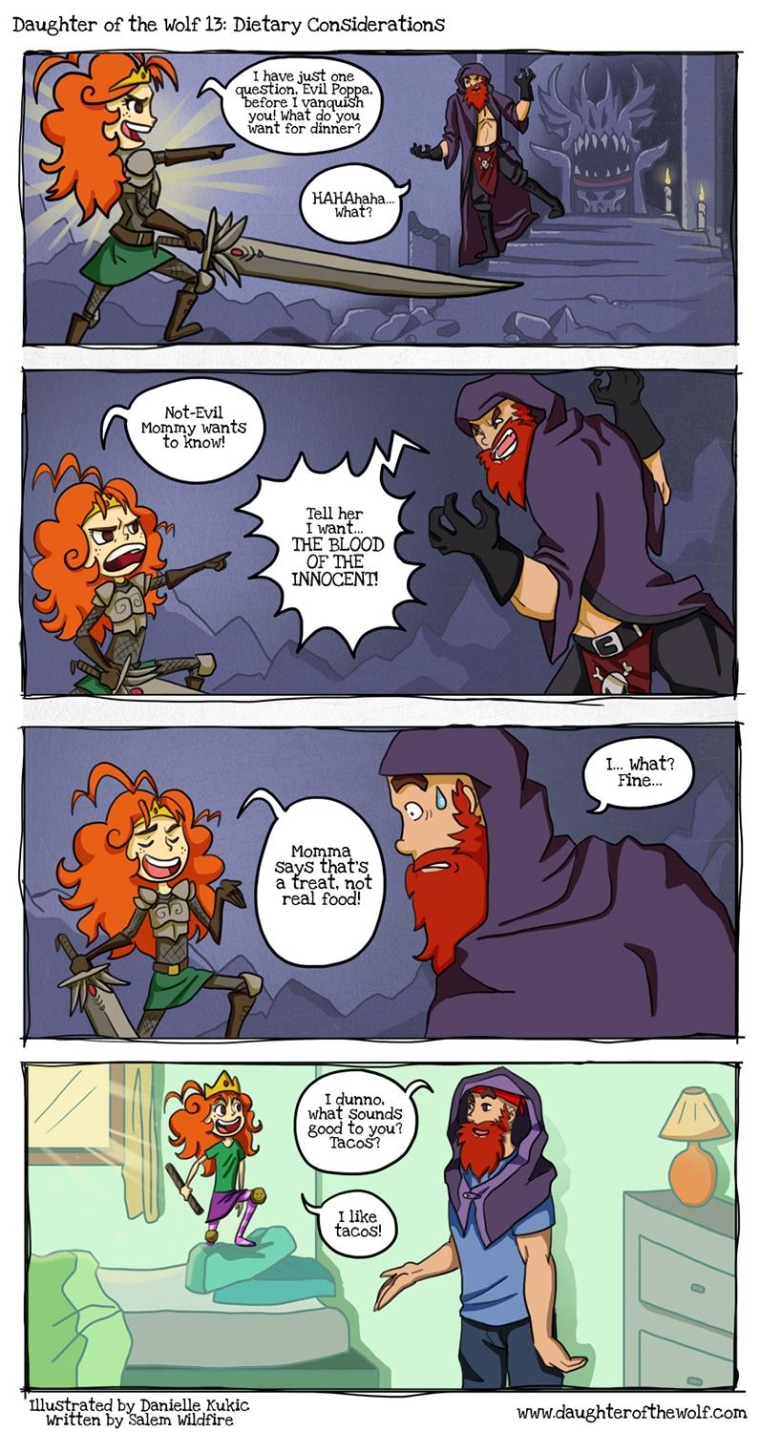 "I thought it was hilarious, and he had so many stories that we decided to do a web comic. I've always been partial to fantasy, so I love doing Kenzie's imagination sequences," said Kukic.
Wildfire, who lives in Ohio with his wife, Tabitha, said one of the main inspirations behind Daughter of the Wolf is to share his experience as a stay-at-home dad.
"It was important to me to hopefully let other stay at home fathers know they aren't alone," he said. "There are others out there, working just as hard as them. If I can do it — so can they."