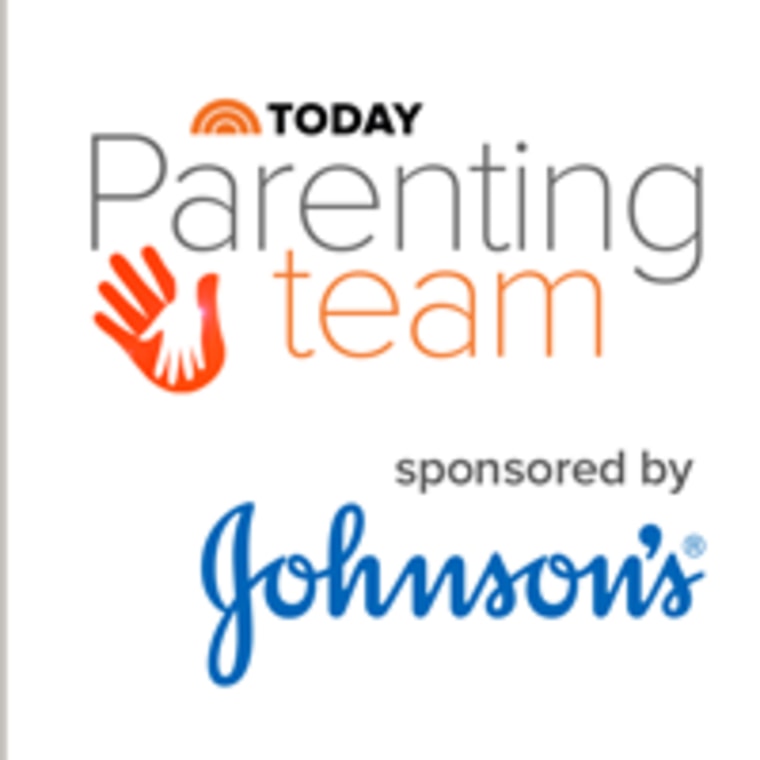 We all want to teach our kids healthy habits — but what are the best ways to accomplish that when we're busy or exhausted?
Because we really are all in this together, we're pairing our TODAY Parenting Team up with experts in the areas of nutrition, fitness, finances and organization. The experts are answering questions sent in by TODAY Parenting Team contributors, and they appeared on TODAY Thursday to share practical ways to get kids moving in healthy directions.
Now, here's where you come in! After you've had an opportunity to check out the suggestions from the experts, we'd love to hear from you! Please try their ideas out and tell us how they actually work in real life. You can share your successes, challenges and great ideas in the areas of nutrition, fitness, money and organizational skills on our TODAY Parenting Team. The stories and videos you provide about your experiences may be featured on the TODAY show at the end of this month.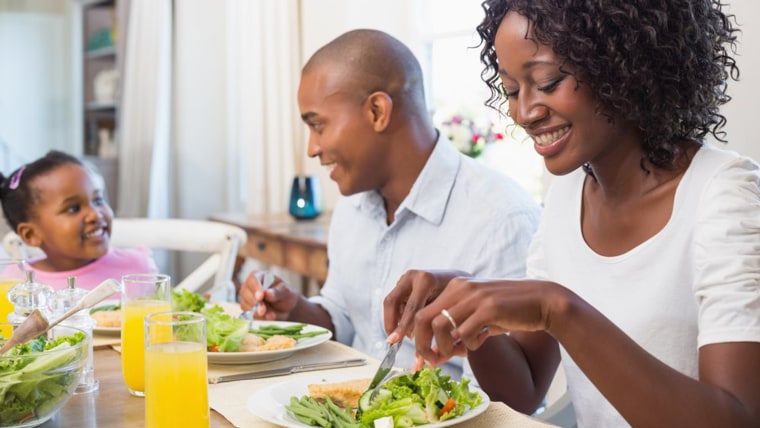 Here are some of the questions that have come in so far from our TODAY Parenting Team contributors, as well as suggestions from our TODAY experts:
#StartTODAY: Nutrition
TODAY Parenting Team contributor Amanda Mushro asked about how to help her "picky eater" son try new foods: "Seriously, I fear he'll be 24 and I'll still be hiding spinach in his pizza!"
Insights and help from TODAY nutrition expert Joy Bauer:
Bauer pointed out that "breakfast is one time during the day when we tend to be in full control of what our kids are being served."
"First and foremost as a parent, you want to be a healthy role model," she told TODAY's Matt Lauer. "When you're serving the healthy foods, make a connection between that healthy item and some sort of health payback."
Kids don't care about cholesterol and blood pressure, but they do care about being smarter, stronger and faster, Bauer noted.
She also said breakfast is an especially important meal for kids because it gives them a much-needed brain boost and the energy they need to sustain them throughout the school day.
A little bit of pre-planning and an arsenal of healthy recipes are keys to success, Bauer said. "Plus, encouraging your kids to 'make their own' meals takes a little off your plate and gives them ownership over their food, which will make them more likely to chow down," she added.
Here are three of Bauer's ideas for morning meals:
Happy Toast: "Start smiling! By using nutrient-rich toppers, like nut butter, fruit, veggies, nuts, seeds and whole grain cereal, you can fuel your kids with a super-fun and delicious morning meal. And while whole grain toast works great as the base, you can also try heathy waffles, pancakes and English muffins. Get the recipe here."
Breakfast Pizza: "This creative spin on bacon and eggs will put a smile on the face of even the pickiest eaters. After all, kids love pizza! Thanks to the protein-rich eggs and lean turkey bacon, this simple meal can help keep your kids feeling full for hours during their morning routine. Not to mention, it makes the perfect 'pre-exam' brain food. Get the recipe here."
Morning Milkshake: "Become the coolest parent on the block and make 'milkshakes for breakfast'! With an all-star ingredient lineup — whole grain oats, strawberries, bananas and calcium-rich milk — my version is worlds better than the typical drive-through splurge. Get the recipe here."
#StartTODAY: Money
TODAY Parenting Team contributor Rachel E. wonders "how to teach my child that my debit/credit card is not a magic wand"?
Insights and help from TODAY money expert Jean Chatzky:
Chatzky said playing board games can be a great way to teach kids about money.
"Money is always a limited resource," she noted. "You want to teach your kids that you have to make choices from the time they're little until they're adults."
Here are three of her picks for games that can increase financial literacy and spark important conversations:
Monopoly: "The classic. It teaches the importance of having cash on hand when you need it (to get out of jail, or to buy that third property that will help you create a monopoly), and also of diversification (or not putting all your eggs in one basket)."
The Settlers of Catan: "If you've got older teens or college students, chances are they're playing this. And that's a good thing. At its heart, Settlers of Catan is a game about leveraging investments. The goal is to take raw resources like wool and wheat, and turn them into cities on the island of Catan. To win a game of Settlers a player needs to understand the value of each of their resources, and know how that value can change over the course of a game. The same principles are true for successful financial strategies."
Sorry!: "Playing helps you learn perspective — and patience to finish a game no matter how frustrating it gets. That's an important lesson in managing your money, too."
#StartTODAY: Fitness
TODAY Parenting Team contributor Kerry Foreman weighed in with a post about "adding mindfulness into your exercise routine."
Insights and help from TODAY correspondent Jenna Bush Hager:
Hager suggested two sure-fire ways to get kids moving: yoga and dance parties. Yoga can teach kids balance and relaxation as well as how to use their breath, and dance parties are just plain fun — especially when kids pick out the music themselves!
Three very cute guests helped Hager demonstrate how fun it can be.
An added bonus about both of these suggestions: They can be done at home at any time without special gear or equipment, and also without any outlay of cash.
Hager also fondly recalled going on bike rides with her dad and night walks with her family as a child. Parents set a very important example when it comes to being active, as Hager discovered when she exercised in front of her daughter.
"She sees me moving, so she will," Hager said.
Have kids try out all sorts of classes — karate, tennis and more — but don't push and let them discover their own passions, she added.
#StartToday: Organizational and cleaning skills
TODAY Parenting Team contributor Erica DeSpain wondered about appropriate expectations to have for her toddler when it comes to organization: "How can I teach her to clean up her toys without making it feel like a punishment?"
Insights and help from TODAY organization expert Jill Martin:
Martin's advice is to do something that's the polar opposite of punishment: Turn clean-up time into a game! She was inspired by her parents and their strategy for her and her brother.
"We were allowed to make as much of a mess as possible, but at the end of the day, we had to put all the toys in a basket — in 30 seconds, who could put the most toys in the basket?" Martin recalled.
The winner earned a gold star and at the end of the week, the sibling with the most stars received a small prize. The two girls who helped Martin demonstrate the game on TODAY were playing for a jewelry kit.
She suggested using a timer and a simple homemade chart (with stars or other stickers) and transforming chore time into wholesome-competition time. May the best cleaner-upper win!
Please remember to share your videos and stories about your experiences in the areas of nutrition, fitness, money and organizational skills under the appropriate challenge on our TODAY Parenting Team. You may be featured on the TODAY show!
Follow TODAY.com writer Laura T. Coffey on Twitter @ltcoff and Google+ and learn about her new book, "My Old Dog: Rescued Pets with Remarkable Second Acts," at MyOldDogBook.com.