/ Source: TODAY Contributor
A random connection on social media led to an unlikely friendship between two American moms and a doctor in Aleppo, Syria, who is risking his life to save others. Now, those moms are doing everything they can to raise awareness for Dr. Omar and other Syrians.
"I think that if it was a movie I would be like, 'Come on, that can't really happen!' It is so bizarre," Wendy Widom told TODAY. "An American middle-aged woman who connects with the last neurosurgeon in Aleppo, who is barely 30 years old."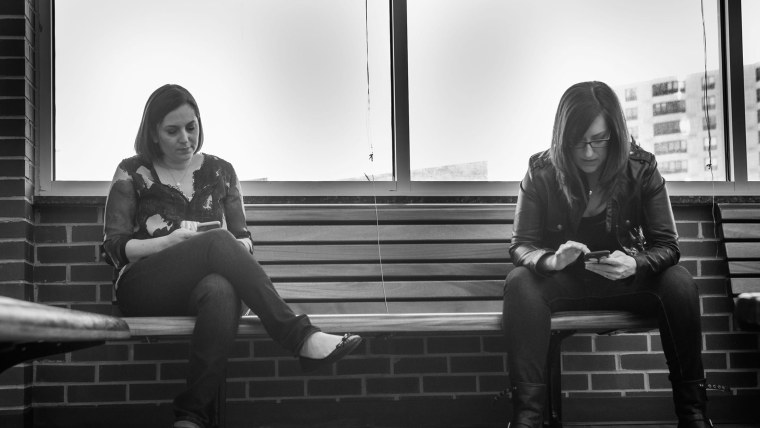 Related: Syrian boy in ambulance reminds world of war's horror
It all started on Facebook. Widom, a social media manager at CBS-2 in Chicago, shared a story about a Chicago-based Syrian-American doctor, Dr. Zaher Sahloul, who snuck a medical device into Syria for a neurosurgeon. She noticed that someone named Omar liked the story and she visited his page to learn more; it appeared that he was a doctor in Aleppo. So she decided to friend him.
"We just start talking and I find out that he is the doctor who used the device to save a baby's life," Widom said.
The device helped Fatima, a 7-month-old who came to the hospital suffering from convulsions likely because of shrapnel in her head from a bombing. Omar saved the girl's life and she and her family were able to flee to Turkey.
Omar is one of just 30 doctors remaining in Aleppo to provide medical care to the 270,000 people stranded in the city because of government and Russian bombings, part of a siege intended to defeat rebel forces. Supply lines are cut off and the city is expected to run out of food by the end of the month.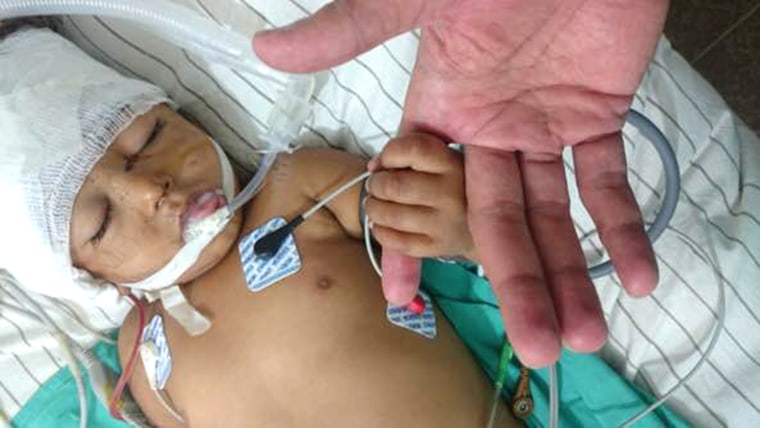 Related: The simple way one American mom helped thousands of refugee children
Omar asked TODAY not to use his last name because he worries about his safety and that of his family and colleagues. Because he is saving lives in a rebel-held area, he could be arrested by the Syrian government for aiding rebels.
Every day, Widom chatted with Omar on messenger app WhatsApp, hearing about long surgeries, endless bombings, and the scores of children he treated, many of whom also lost their parents. Widom shared her stories with friend Becky Carroll, a political consultant who also wanted to help.
"We recognized that he was very isolated and completely ignored by the world and it really was just a friendship," Widom said.
Often they tried distracting him — as much possible.
"Wendy and I try hard to keep his spirits up, keep him positive, and talk about things that can get his head out of his day-to-day so he has some sense of normalcy," said Carroll, who has a 2-year-old daughter.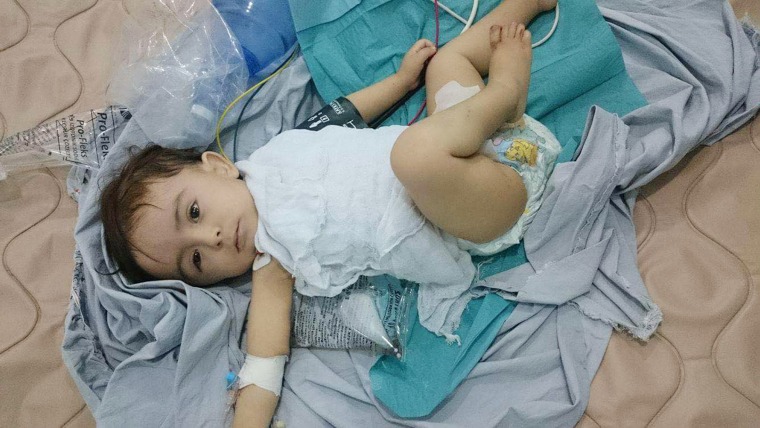 Related: These kids fled Syria's war: See their pure joy playing in snow for the first time
After a bombing destroyed the hospital where Omar works, forcing him to perform brain surgery on the floor, the women felt helpless. There had been many times when they felt like they'd never hear from him again. They had to do something.
"I think we were moved to help," said Carroll. "If the tables were turned and we found ourselves under siege, wouldn't we want the rest of the world to speak up for us and advocate on our behalf and especially on the behalf of the children?"
The women began tweeting with the hashtag #StandWithAleppo to raise awareness about the worst humanitarian crisis since World War II. Soon the hashtag grew with people around the world using it to increase visibility about the horrors occurring in Aleppo.
"They're just like our kids. If we don't speak up, who will?" said Carroll.
While some criticize Twitter campaigns as meaningless, the women believe their second hashtag #AskAboutAleppo was one of the reasons the presidential candidates answered a question about it in the second debate.
"What this grassroots social media campaign has shown is, if you speak up, something can get done, and if you remain silent, so will our leaders," said Carroll.
Their passion has encouraged others to help in surprising ways. Widom's friend, Flavia Lamborghini, a dentist in Chicago, opened her practice on Oct. 8 to provide care to about 50 Syrian refugee children. Many of these children had never before seen a dentist.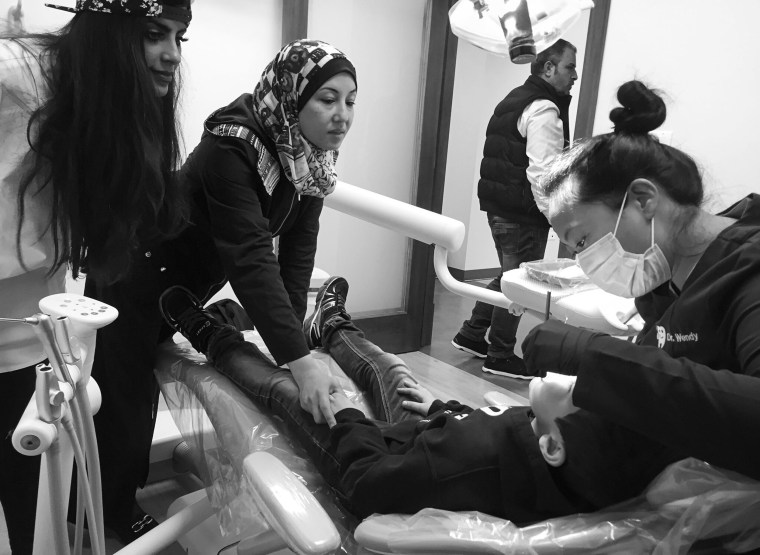 Related: Tragic photos put spotlight on refugee crisis: Here's how you can help
A three-day ceasefire, which gave Omar time to rest, ended on Oct. 22, and the fighting resumed immediately, with a Russian naval deployment heading to the city to intensify the assault. While the women are continuing with their social media outreach, they are also working on ways to rescue Omar and the other doctors. That is, if they're willing to leave the city. So far, Omar says he will not leave Aleppo unless there is another neurosurgeon to take his place.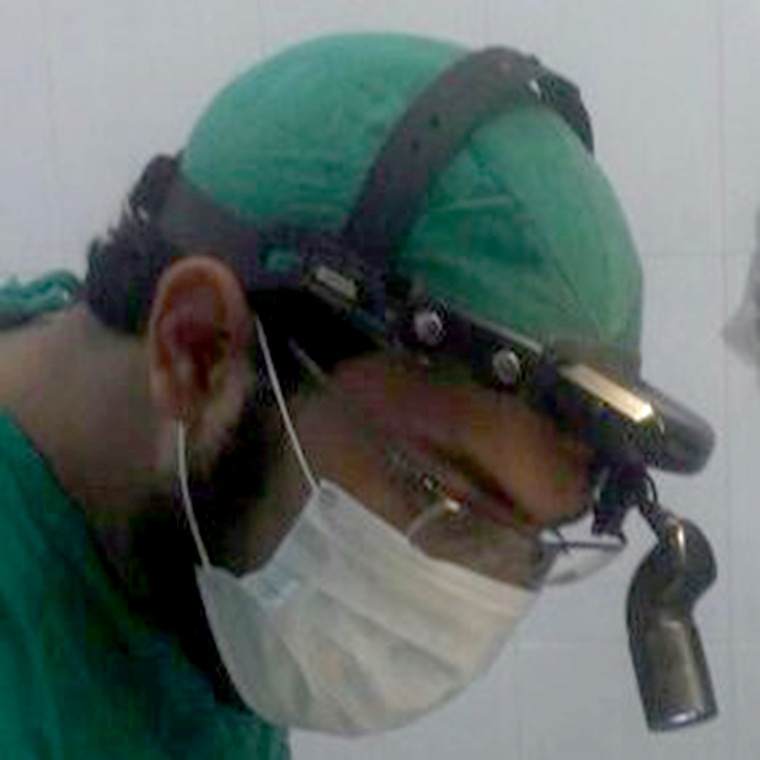 Related: 'It's about the children': American moms on helping refugees
The women hope that the campaign inspires others to act, even when they feel helpless or the problems seem overwhelming. A simple friendship sparked a movement.
"If you are lucky in life, you get to connect with a hero," said Widom. "Connecting with Omar and seeing his heroism — maybe we can bring a voice to what he and all the children are seeing."
Here is a partial list of organizations accepting donations to help Syrian children and refugees. Click here for more:
Syrian American Medical Society (SAMs): SAMs provides medical care and delivery all over Syria. SAMs has established more than 100 medical facilities, including several hospitals in Aleppo, and supports more than 1,700 Syrian health workers.
The UN Refugee Agency: Plans include distributing sleeping bags, thermal blankets, raincoats, socks, clothes and footwear to the most vulnerable refugees. "Harsh weather conditions are likely to exacerbate the suffering of the thousands of refugees and migrants landing in Greece and traveling through the Balkans," UNHCR spokesman William Spindler said.
Save the Children: Supplies food for Syrian kids and supports education in Syrian refugee camps.
Médecins Sans Frontières/Doctors Without Borders: MSF is operating two rescue ships in the Mediterranean Sea that can carry hundreds of people to land.
Unicef: It delivers vaccines, winter clothes and food for children in Syria and neighboring countries.
Operation Refugee Child: Grassroots organization led by American moms who distribute backpacks of supplies to refugee children whose families are fleeing war and terror.