Being a new mom can be lonely and isolating, especially when you don't have other like-minded moms to share your frustrations with.
But here's a solution that some moms are trying, a blast from their relationship past: They're dating. More specifically, they are speed-dating, mommy style, in an attempt to find a new MFF (Mom Friend Forever).
Mom speed dating events are popping up all over the country—from the busy streets of New York City to the small towns of Texas. Robin Hieatt, a mom-of-two from Manor, Texas, says she started Moms Matched a few months ago after growing tired of awkward attempts at connecting with other moms at play dates and parks.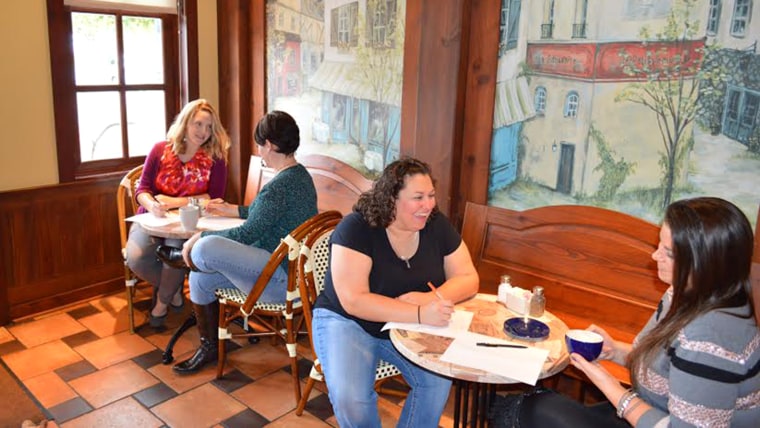 "I thought dating was over once you find your life partner, but that's not the case. You go to these playgrounds and play dates looking for moms you can spend your time with—someone who's going through the same hellish-but-wonderful time as you are—but there's embarrassment and anxiety about reaching out and trying to connect with other moms," said Hieatt.

After mulling over how to make real connections with like-minded moms, the idea struck her to begin holding mommy speed dating events. At her first event a few months ago, Hieatt met another local mom, Brandy Griffin. The two have since joined forces to hold fun, local events for moms who are looking for connection.
It's really just meant to be a fun thing that helps moms find someone that they connect with, helping them build their village and introducing them to someone they may want to go through this journey alongside," said Hieatt.
Psychologist. Heather Harrison, who is author of 'The Mommy Psychologist,' thinks the idea is pure genius. She says that like many of her clients, she, too, has felt the loneliness of motherhood.
"In a speed-dating setting, you're sharing the best parts of yourself in just a few minutes, but I think that's an efficient way to gather enough information to know whether or not you'd want to talk to someone for a second time," Harrison said.
"As moms, our plates are so full that we need two plates. Finding a way to meet like-minded people and decide if we want to invest time going deeper with them…I love the idea so much," she said.
Hillary Frank, host and creator of the Longest Shortest Time podcast, says some of the things she's heard time and again from listeners are that it's hard to find friends, and that what moms want most from each other is support. The very goal of the Longest Shortest Time, according to Frank, is to give moms a safe space to celebrate and learn from different parenting choices, rather than to judge each other.  
With that mission, and the stories of her listeners in mind, Frank has planned what will be the Longest Shortest Time's first in-person manifestation of that mission — a Mom Speed Dating event to be held in New York City at the end of this month.
Frank says her speed dating event will be designed to connect women with other moms who are a match to their own personalities, parenting styles and interests.
"The moms will be seated at tables and given 4 to 5 minutes to talk to each partner before moving on to the next. I will give them suggestions of what to ask each other a couple of times during the event—'What's the craziest thing you've done due to sleep deprivation?'—for example, but we also want to give them a chance to ask whatever they want," said Frank.
"When you're looking for a real mom friend, you're looking for a rare combination of things—someone who's got a compatible personality to yours and someone who will support your parenting choices. That either means you and your friend approach parenting in exactly the same way—not likely—or you are open minded about your differences as parents," said Frank.
Hieatt says Moms Matched events are held in a similar manner, allowing each mom a chance to write down the moms she felt she most connected with, and e-mailing participants a list of their mommy matches the following day. 
She also says she hasn't had a mom leave without a match yet—proving there truly is someone for everyone.

"We tell our moms that if they don't match with a certain person, it doesn't mean they aren't a great person—it's just that there wasn't the right chemistry."  
Hieatt adds that while the idea of beginning to date again may make some moms nervous, they should take comfort in knowing that everyone is there looking for the same thing: a new friend.