Like many fliers, 6-year-old Simon Frischling needs his iPad and some comfort food to make a journey go by faster. He loves watching videos of Julia Child cooking up a feast and "The Joy of Painting" with Bob Ross. He is a connoisseur of Swedish Fish candy.
Figuring out the rest of air travel is still a challenge.
As a child with autism, Simon can be overwhelmed at an airport -- confused by the rigid rules of going through security and boarding a flight. He hates to be touched by strangers and he will spit if he's upset.
Many families with autistic kids simply avoid flying, worried about what might happen if there's a meltdown at a crowded checkpoint or, worse, inside a cramped metal tube at 35,000 feet.
"I have been terrified to take him on a plane," Simon's father Steven Frischling told TODAY Moms. "I have never taken a vacation since he's been born."
On a recent Saturday, Frischling and his son left their home in New London County, Conn., and headed for Boston Logan International Airport to catch a flight that would never take off but would take them far in the quest to help Simon fly.
They were one of 130 families taking part in Wings for Autism, a program that lets autistic kids practice air travel without the pressure of actually going on a trip.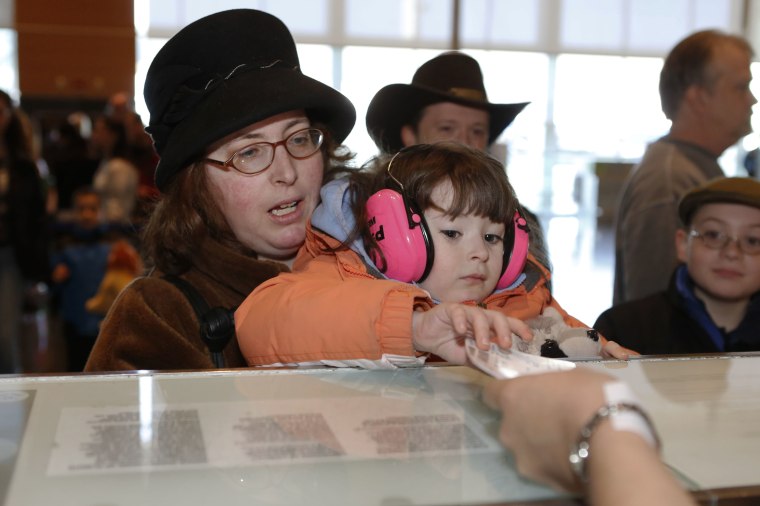 The children go through security in a lane set aside just for them; board planes provided for the day by JetBlue, United and Delta; hear the pre-flight announcements from crews who volunteer their time; buckle up in their seats and get a feel for what it's like to jet off. They also get a tour of the cockpit.
The planes never leave the gate, but the doors are shut to simulate a real flight.
"I see a lot of families who drive to Florida or California or take a train, anything to avoid the airport… (but) we find a lot of times the kids do just fine," said Jennifer Robtoy, director of autism support at The Charles River Center in Needham, Mass., who created Wings for Autism in 2011. The program takes place at Boston Logan twice a year: in April, which is Autism Awareness Month, and in November.
"These kids are very driven by routine and practice makes them more familiar with it. So then it's not such a new experience anymore," she said.
Robtoy recently received a grant from Autism Speaks to take Wings for Autism national and hopes to bring it to airports in San Francisco, Orlando, New York and Detroit this year. The goal is to expand the program to 50 airports in the next five years, Robtoy said.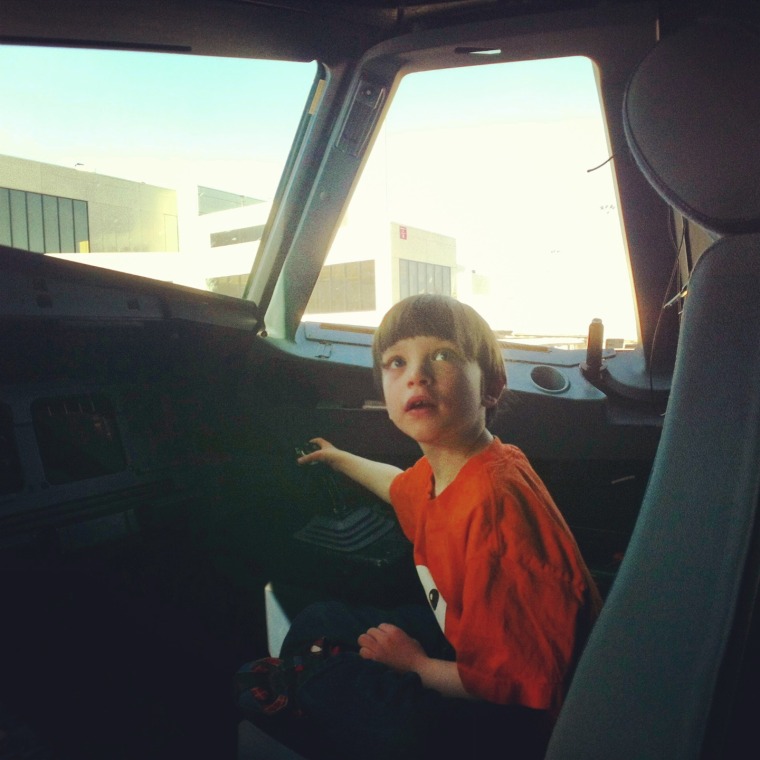 Back at Boston Logan, Simon did fine going through security, but there were some tense moments when he boarded one of his practice flights. Frischling put him in a window seat and when Simon peeked out through the glass pane, he had a panic attack. He calmed down when he moved to the middle seat.
Like many fliers, the boy hated having to shut down his beloved iPad before takeoff and landing. (The autistic kids had to go through that routine just like passengers on a real-life flight.)
"The first few times it happened, he was not doing well at all," Frischling said. "(Then) the flight attendants gave him a bag of Fritos and once he got his Fritos, he was doing a lot better."
The crew members were wonderful, Frischling said, helping parents figure out how to get the kids to stay in their seats, follow directions and become familiar with strange concepts such at returning a seat to its upright position and putting up a tray.
Such a practice trip can go a long way for autistic children, said Jim Ball, board chairman of the Autism Society.
"It outlines what the expectations are, it gives them a very clear vision of what they need to do step by step, because our kids like to know in sequence what they need to do, and it gives them that repetition of doing it over and over to get used to the experience," Ball said.
With the CDC estimating that 1 in 88 children are diagnosed with an autism spectrum disorder, the TSA already has procedures in place to help families with autistic kids go through security.
Ball also advised parents to have a game plan ready if their child starts to have issues and let passengers around them know that the little traveler is autistic so they are more understanding if the child becomes upset. Many of the kids he works with actually love air travel because it's a great sensory experience, Ball said.
Airports that have programs similar to Wings for Autism include Philadelphia International and Minneapolis-St. Paul International.
Frischling described spending the day "flying" with his son as a great experience.
"Am I still terrified to get in a sealed tube with him for two hours with people I don't know? Yes," he said.
"Do I think it's going to go better? I do."