Sometimes, parents of those with special needs just want their children to be like other kids who get invited to parties, or experience those memorable hallmarks of youth. Joy Cameron's son, who has autism, wanted to go to prom.
So she threw him one.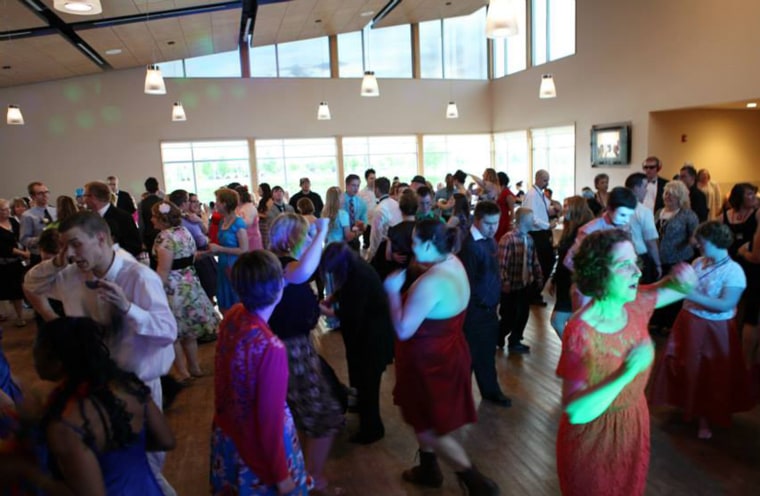 Cameron organized the Shine! Prom for her son, Cody, as a graduation present two years ago. She created a sensory-friendly event and opened it to others with disabilities or special needs in her Meridian, Idaho, community just outside of Boise. She expected just a few dozen to show — not the 180 who attended.
"My son was so happy. He was surrounded by people who accepted him for who he is," she recalled. "There are a lot of things my son has never experienced, and future ones that he won't, like driving a car or getting married, but this was a special life event that I could give him."
This year, more than 260 people have registered for the third annual Shine! Prom being held Saturday. The event is open to anyone 14 or older. Last year, people into their 60s attended the event, held in an open, light-filled community center Cameron rents out.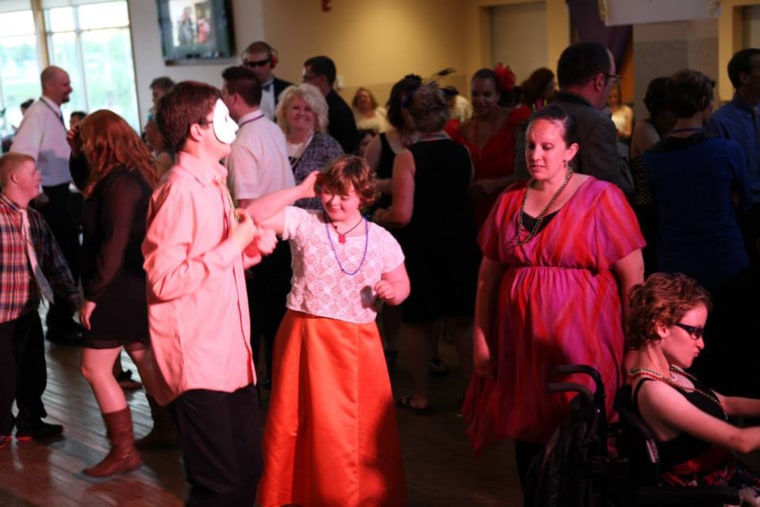 "Many individuals with special needs never went to a prom. Some had even grown up in the state hospital and didn't have the opportunity," said Cameron, who heads an agency that offers services for people with developmental disabilities.
"Even though they have developmental or physical or even mental health challenges in their life, they still want to live a full life. They want the same thing everybody else wants."
While some kids with special needs do attend dances held at mainstream schools, it's not the same as going to an event specifically designed with their challenges in mind, Cameron said.
"They don't get to express themselves and be comfortable. If they need to wear earphones, or have staff with them, it's not an issue," she said.
Bonnie Sauser, who works with people who have developmental disabilities, attended last year's event with 10 clients from her organization, HISway Idaho.
"I saw people who normally would sit in the background and cry because they're so intimidated and overwhelmed by social events — they were out in the middle of the dance floor dancing with their friends from the program, their staff members. They just felt included. There's an undertone of acceptance," said Sauser, who will accompany 35 people from her program this weekend.
Shine! Prom is one of several proms throughout the country specially designed for people with special needs.
Several schools affiliated with The Help Group, an organization in the Los Angeles area for students with special needs, hold specially-designed proms each year. The events are significant not only for the students but for parents who otherwise might not get to see their child experience a similar hallmark moment.
"It's a lasting memory for our students. It's like a regular prom, but with the supports in place, like sensory-friendly music playlists that the students put together," said Nata Preis, principal of Village Glen West, one of The Help Group schools. "Our students design their proms, everything from the decoration to the music to the menu selection. Prom for high school students with autism is about being just like everyone else."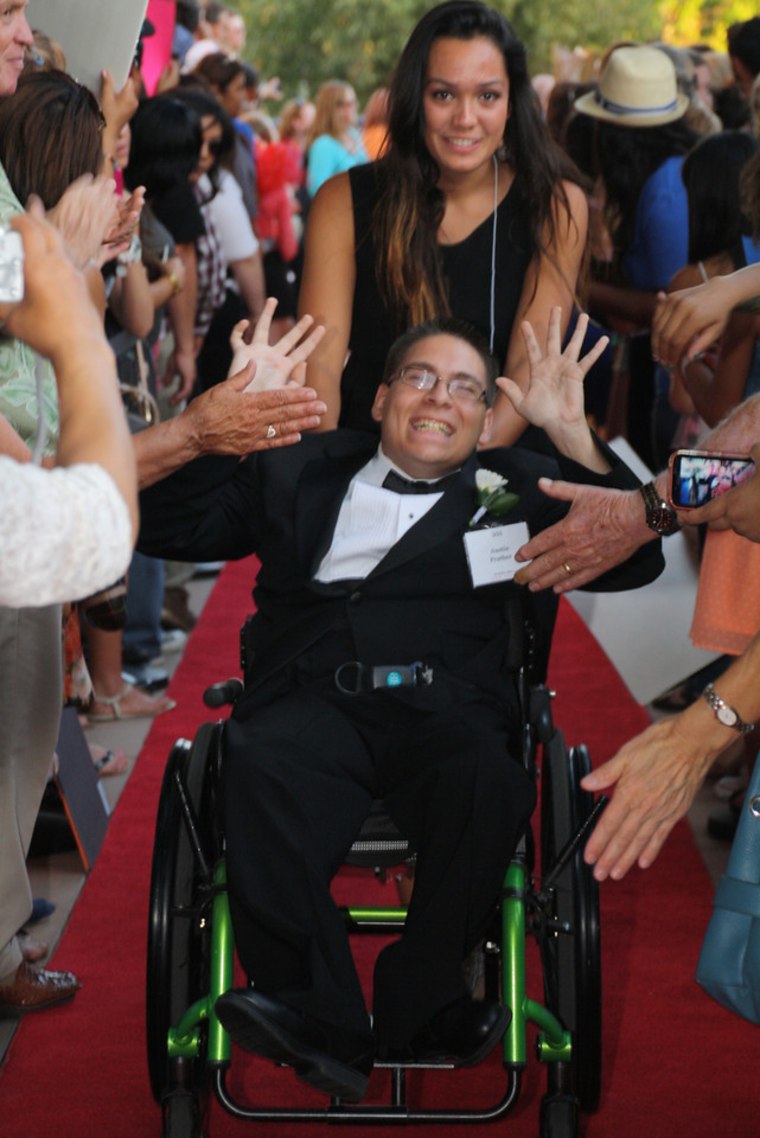 On Friday, 850 individuals from San Diego county will be attending the the fifth annual "A Night to Remember." Cheryl Shields started the prom back in 2011 after being inspired by a similar event held at a church she visited on a trip to her husband's family in the Midwest.
Half of the attendees of the sold-out event have special needs, while the other half serve as "student hosts."
"This whole night is to bring together kids with cerebral palsy, kids who are blind, kids that have autism, Down syndrome, Williams syndrome, any diagnosis — we bring them together and have them one-on-one with mainstream kids who tell them, 'I'm here to be your buddy,'" she said. "It's a party atmosphere where we get to celebrate these wonderful kids."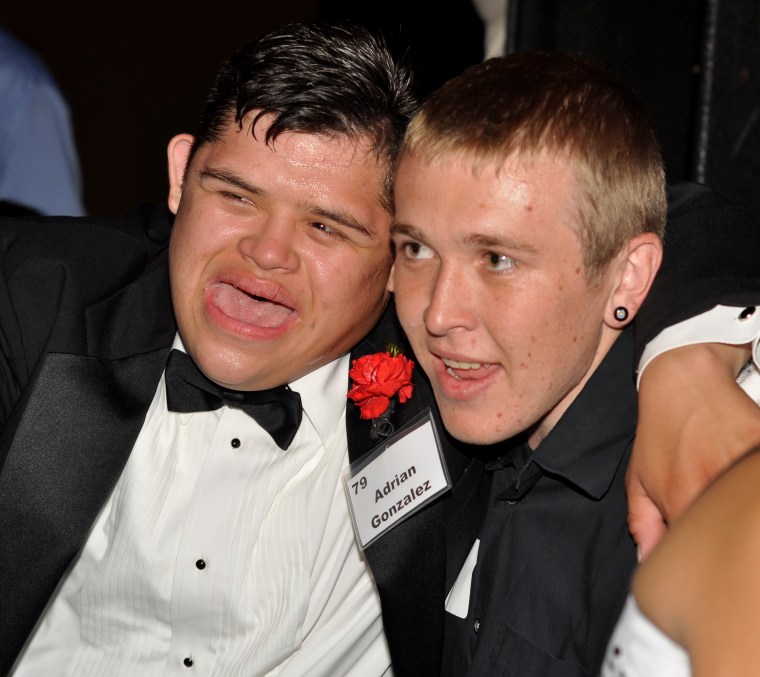 Shields has triplet 12-year-olds, none of whom have special needs. But while pregnant with them, she was warned that it could be a possibility. What's surprised her about her prom is the "ripple effect" it's had on volunteers, including her son and two daughters and especially the student hosts. She said she has turned away more than 150 of them every year.
"I asked them, why do so many of you want to come serve at A Night to Remember? And they said, 'Because it's more fun than our own dance. There's no awkwardness. It's just good pure fun.' I've had a couple of kids say they went into special needs in college because of A Night to Remember," she said. "Here I'm thinking I'm doing it for the special needs kids and their families, but then here are these others students just as affected. There's not a dry eye the whole night."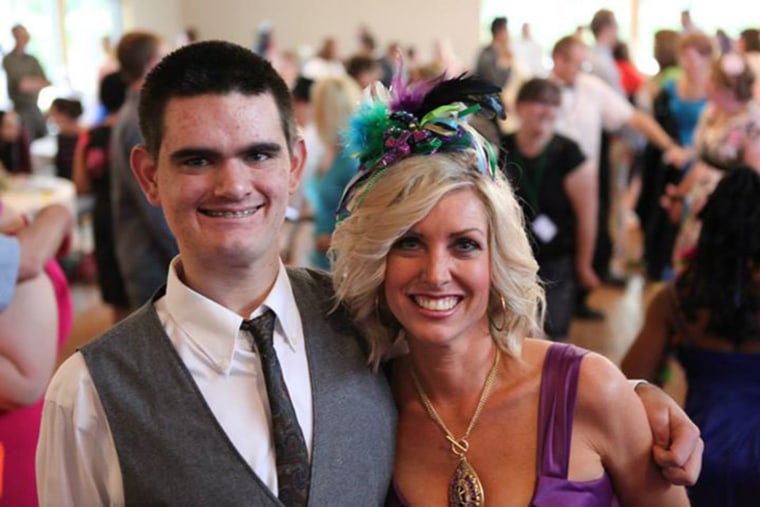 Cameron agreed.
"It started out being prom, but now it's more of an annual community dance," she said. "Every time the community gets to interact with individuals who have special needs and do an activity like this, it's good for both sides. They both learn from each other and it helps educate the community and be stronger."
Follow TODAY.com writer Eun Kyung Kim on Twitter.