Sarah Shannon remembers her first gig with The Not-Its this way: It was broad daylight, half the audience was under 10 and she was very pregnant. The show, a fundraiser for the Global Breast Milk Initiative, coincided with her due date.
It was a far cry from the days Shannon spent fronting Velocity Girl, an alternative band known for its hit song "Sorry Again." But The Not-Its are a "kindie" music band, playing energetic pop-punk that sounds a little like The Go-Go's crossed with Weezer. Except this band sings about school, freeze tag and camping.
Groups like The Not-Its are part of a growing trend of contemporary kids music that aims to appeal not only to the little ones, but to the grownups stuck in a minivan with them.  Many of the artists making the music are parents themselves – and many, like Shannon, are veterans of the grownup music scene.
Justin Roberts, one of kindie's pioneer artists and also one of its most successful, was a preschool teacher by day, indie rocker by night when he, quite by accident, began writing exclusively for kids.
"I found it was kind of natural and fun, and gave me a sort of freedom that I didn't have when I was writing for adults," said the Chicago-based Roberts. "Any subject can fit into a kids song, it's really just finding the right metaphor."
Jack Johnson, Ziggy Marley and Jewel are just some of the big-name rock stars that have crossed over into kid's music. And a handful of acts – Roberts, Laurie Berkner and Dan Zanes(former frontman for the Del Fuegos) have found success in the kindie space.
But it takes more than good musicianship and clever marketing to connect with audiences, said Bill Childs, who co-hosts a kid's music radio show called "Spare the Rock, Spoil the Child" on 93.9 FM in Northampton, Mass. "There's this genuineness, where it feel like (the artists) are doing the only thing that they could possibly be doing," he said.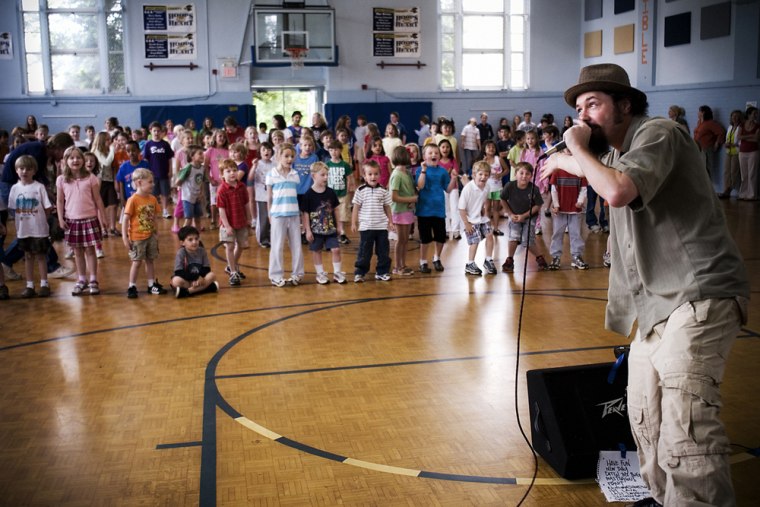 In kindie music, Secret Agent 23 Skidoo has "found a place where I feel right at home." The Asheville, N.C. rapper had spent a decade sharing the stage with acts such as Mos Def and Run DMC. But he found himself increasingly frustrated with the first-person braggadocio template of modern rap music.
So in 2007, he put out "Underground Playground," an album that married the complex beats of hip-hop with the magical world of kids. His daughter, Saki (aka MC Fireworks) performs on the album, and his wife is now part of the act, as well.
In the grownup music world, said Skidoo, the "better you do, the worse your family's doing. Not that my family comes to every show, but it's really great to combine the success of my music and the success of my family. We're lucky."
Still, performing for kids can be tougher than performing for adults.  "If kids don't like what you're doing, they'll just get up and walk away," Childs pointed out.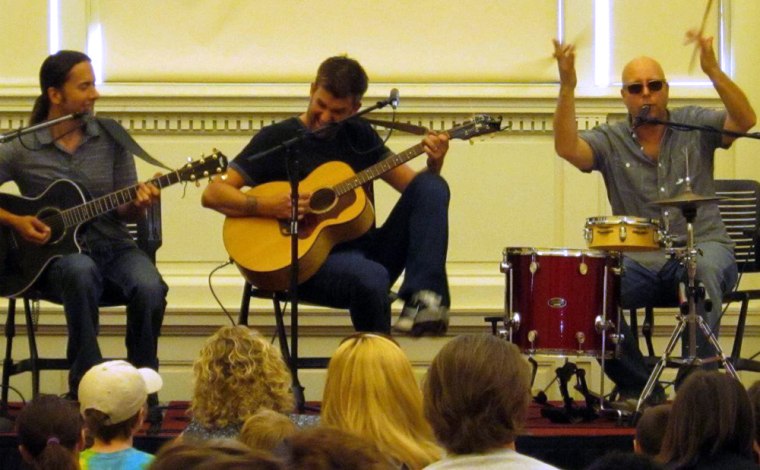 And sometimes, your audience can get a little confused – particularly if you do both kids music and adult music, like The Verve Pipe. The East Lansing, Mich.-based band scored a hit with "The Freshman" in 1997, and that's what some people expect when they turn up to a show.
"We play all these festivals, and sometimes people don't get it, and we've gotten booed before for not playing 'The Freshman,' from people who don't realize that it's going to be a kids' show," said lead singer Brian Vander Ark.
After two albums that were "the classic sophomore efforts that failed," the band went to a "really dark place," and broke up for a few years, said Vander Ark. When they were asked to contribute to a kid's compilation album, the band decided to take a crack at the genre.
The result, 2009's "A Family Album,"is a marked departure from the band's moody songs of a decade earlier, pairing Vander Ark's strong vocals with catchy, cleverly written songs about stuff that kids care about: super awesome birthday parties and breakfast cereal.
"We had no idea what we were doing, we just knew that we could do whatever we wanted to do on a kid's record," said Vander Ark, himself the father of two young girls. "You can't really put an oboe on a rock album, but with kids music, there's no holds barred, no limitations."
Who is your favorite "kindie" music band?