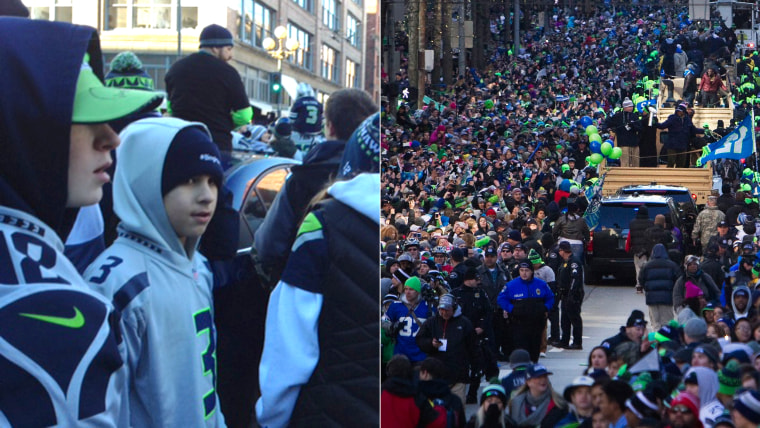 As soon as the Super Bowl-winning Seahawks announced plans for a victory ticker-tape parade on Wednesday, parents in the metro Seattle area started freaking out: Is this the kind of event that merits kids skipping school?

Only a few schools officially closed for the momentous event, the first championship parade since the city's basketball team won in 1979.
But if Wednesday's parade crowds — an estimated 750,000, many of whom were families with kids — were any indication, the final call was as convincing as the Seahawks' 43 – 8 win over the Broncos. Apparently, a once-in-a-generation championship celebration totally trumps one school day's lessons.
While our family has lived in the Seattle suburb of Bellevue for only five years, we've become devoted Seahawks fans. Our 11-year-old football-loving son informs me frequently of what his hero, quarterback Russell Wilson, is posting on Twitter. ("Mom, did you know Russell Wilson gets to practice every day at 5:30 a.m.? His favorite hashtag is #NoTime2Sleep." Or, "Listen to this Russell Wilson tweet: 'Everyday I'm working on something I didn't do yesterday.'")
If Wilson's example, on Twitter and in real life, play any role in my son demanding to be at practice 15 minutes early ("15 minutes early is on time, Mom") or not giving up in a game because, hey, the Seahawks have won many of their games in the fourth quarter, then I approve.

In fact, many stories out of this Seahawks' season have proved to be teachable parenting moments.
The fact that many players were underestimated, chosen late in the draft and written off by so many is a lesson in not letting other people paint your destiny.
Watching Percy Harvin spend the entire season recovering from hip surgery and a concussion, and then contribute monumentally in the final game, is a lesson that sometimes hard work and discipline only pay off at the very end. But they do pay off.
Richard Sherman's famously brash behavior toward 49er Michael Crabtree was a great opportunity to discuss why good sportsmanship always matters. Otherwise all your great actions, and skill, may get overlooked.

So our decision to pull our son and 14-year-old daughter out of school for the parade was easy. After all, how often do we get to see our heroes up close?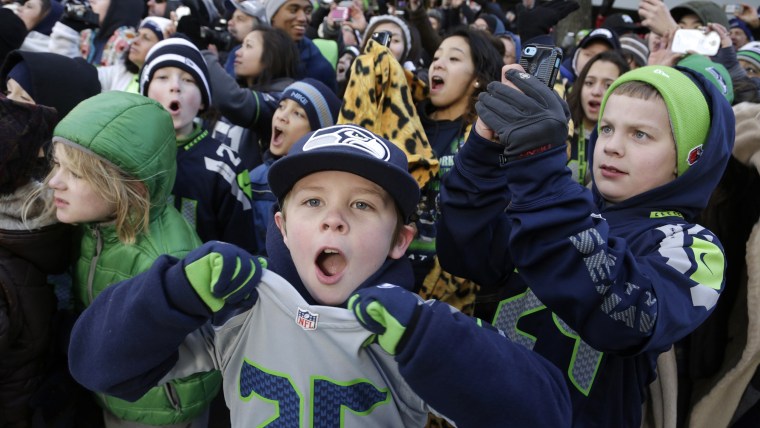 The scene in downtown Seattle was controlled chaos, with throngs of fans lining the parade route hours before the scheduled start. There were splendid combinations of green and blue — jerseys, face paint, tutus, tie dyes and quite a few muliti-colored mohawks. The number 12 — which represents the fans, or the Seahawks' "12th man" — adorned flags, tattoos, and glitter-filled homemade posters. The day was a Seattle winter rarity, both super sunny and cold. 
For many parents like us, letting our kids skip school for the day was not just about a football team, but about our own city making history. The other Washington gets presidential inaugural parades every four years. Around here, such opportunities don't happen often. When it does, you go to witness it.
Cathy Hood of Kent, Wash., drove an hour to Seattle with kids Empress, 13, Isaac, 11, and Eliana, 2.
"I hesitated to take them out of school. I know education is important," Hood said. "But this is a historical situation. I felt like the best thing for them was to celebrate this event." 
From our family's perch toward the end of the parade route, the experience didn't disappoint. Yes, we waited for hours with frozen feet and faces, standing shoulder to shoulder with the masses. My son and a friend managed to hold their ground near the front row, not an easy task when you are being jostled by men twice your size who want to be in front, too. Relief finally came in the sight of the first Seahawk player, Marshawn Lynch (and the spray of Skittles fans threw at him). After that, it was Seahawk to shining Seahawk.
Seeing the Lombardi trophy may have been the piece de resistance for my kids: the well-deserved spoils of a season of discipline and dedication.
Our favorite sign along the parade route was the one on the third floor of a building across from us. On it was the day's date, displayed as such: 2 + 5 + 1 + 4 = 12.
12, again, like magic. An equation better than any one my kids were going to learn in math class at school that day.