Lisa Grubbs was heartbroken to see families who suffered the loss of an infant in the hospital picking through bins of donated clothing to find something for their child to wear in their final moments together.

Sometimes the clothing they found was too big; other times, inappropriate for a time of grief.
"It struck me as incredibly wrong that that was what they were having to do at one of the darkest hours of their lives," said Grubbs, the founder of NICU Helping Hands, an organization that provides support for families with premature babies.
Starting with her own wedding gown last summer, her Fort Worth, Texas-based nonprofit group began a program of lovingly transforming wedding gowns into "angel" gowns, garments that are individually boxed with a poem and keepsake angel, and given to families for their babies to wear for final pictures or burial.
"These babies are not getting a hand-me-down or something donated," Grubbs said. "It's a unique, one-of-a-kind piece of clothing."
Grubbs, 44, says it is comforting for parents to be able to dress their babies in something special and handmade, a garment that had once represented the hope and happiness of a new marriage.
"We're talking about the last time that they hold their baby and what they're giving their baby," said Grubbs, a mother of four. "It's those last personal acts as a parent, those last things you do for your child."
Each wedding gown yields about 12 to 20 angel gowns. After a Facebook post seeking more bridal dresses last year, NICU Helping Hands received about 40 that a handful of volunteer seamstresses turned into angel gowns. They were donated to Baylor All Saints Medical Center, where Grubbs' husband is a neonatologist, to distribute to families free of charge.
Since a news story in late March, Grubbs' effort has exploded, with an estimated 2,500 wedding gowns pouring in from around the country, and 300 more sewers offering their handiwork.
With that, NICU Helping Hands decided to offer the angel gowns to hospitals around the country, and has already received requests from at least nine institutions. While other people offer angel gowns, Grubbs believes her group is the first to provide them nationally.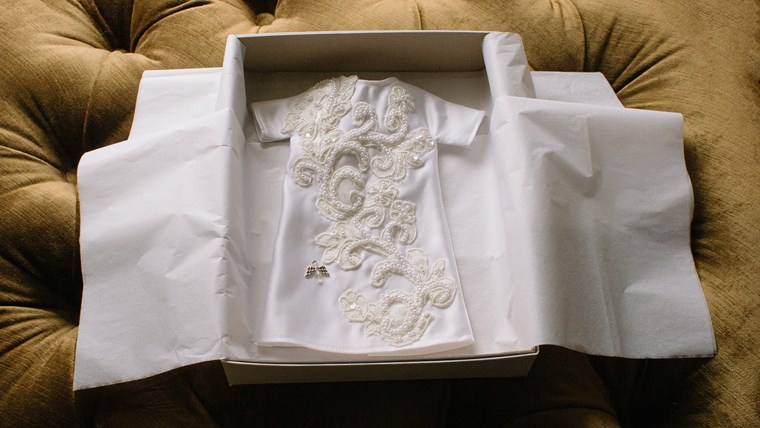 In Texas, the gowns are created for boys and girls in sizes that range from fitting the tiniest preemies to full-term infants. They are for the babies who will not leave the hospital, infants who succumb to birth defects, complications from prematurity or are stillborn. Grubbs says the need for gowns is great. According to the Centers for Disease Control and Prevention, in 2010 there were 24,572 infant deaths in the U.S., children who died before their first birthday from any cause.

At Baylor, hospital staff members offer each family several gowns, allowing them to choose the right one for them. "They're selecting the gown their child will be buried in," Grubbs said. "We feel like that honors that child and honors that family's loss."
Amy Vickers, a volunteer sewer in Fort Worth, hasn't lost a child but has seen such losses up close when she worked as a neonatal intensive care unit nurse. She knows just how tiny those babies are, and years ago, remembers there was nothing more for the families to dress them in other than small wash rags or diapers.
"I really like knowing that what I'm doing might fill a tiny little need that they have in this big ocean of sorrow," said Vickers, who is 50 and has two children. "I know it doesn't make it better, but it's just one way that they know somebody cares that their baby was here."
Many of the donated wedding gowns come with notes attached to them, telling a story of the owner's loss. Or people share their memories in person.
"We had older women bringing their vintage gowns in saying 'I had a baby that died that I never saw and I want to give my dress for a mother to bury her child in'," Grubbs recalled.
An older man retrieved his late wife's gown from the attic, and said he knew she would have wanted it donated; the couple had a stillborn baby many years ago.
"Many, many women who have donated gowns have lost a child, many of them had miscarriages as well," Grubbs said.
"It goes full circle," she added. "It goes from this beginning and it ends with that life."
Want to help? For more information about NICU Helping Hands and their angel gown program, click here to go to their website.