Five-year-old Cayleigh Hinton showed up to her first father-daughter dance last week looking like a movie star, stepping out of a limousine in a blue dress and sparkly shoes.
What could've been a heartbreaking evening for a little girl who lost her military father in a truck accident last year instead became a night she will never forget thanks the kindness of 1st Sgt. Joseph Bierbrodt of the Illinois Army National Guard.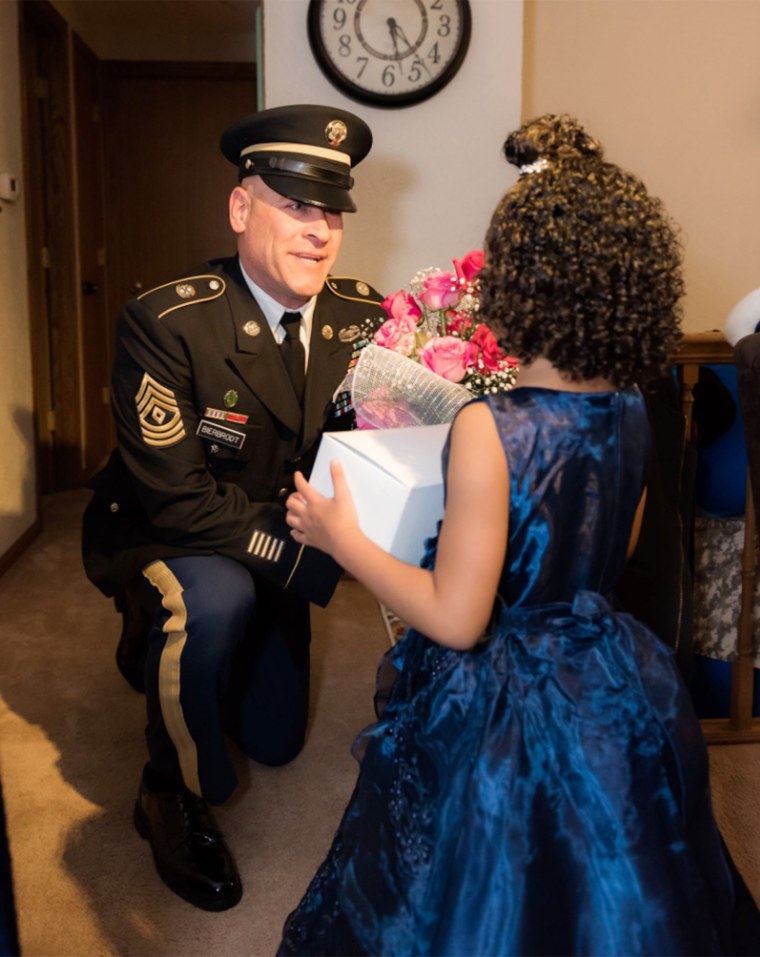 "She was just twirling around and smiling," her mother, Jillian Hinton, told TODAY. "Instead of saying, 'Hey daddy I missed you,' she was saying, 'Oh daddy, did you see me, I was a princess!'''
Cayleigh's father, Army Sgt. Terrence Hinton, died at the age of 36 in a military truck crash in Hawaii last year. The dance helped boost her spirits nine months after losing her dad.
"It's like she's literally turned into Cinderella,'' Hinton said. "The only difference is midnight has come and gone and she's still the belle of the ball. It has honestly been a game-changer."
Hinton had reached out to the Illinois National Guard to see if there was anyone who could accompany her daughter to the dance at Our Lady of Humility School on Feb. 7 near their home in Winthrop Harbor, Illinois.
Once Bierbrodt, 48, saw the email, he volunteered immediately to be Cayleigh's escort despite not knowing the family.
A father of four, including daughters ages 27 and 16, Bierbrodt figured any other military member would do the same for his family if something happened to him.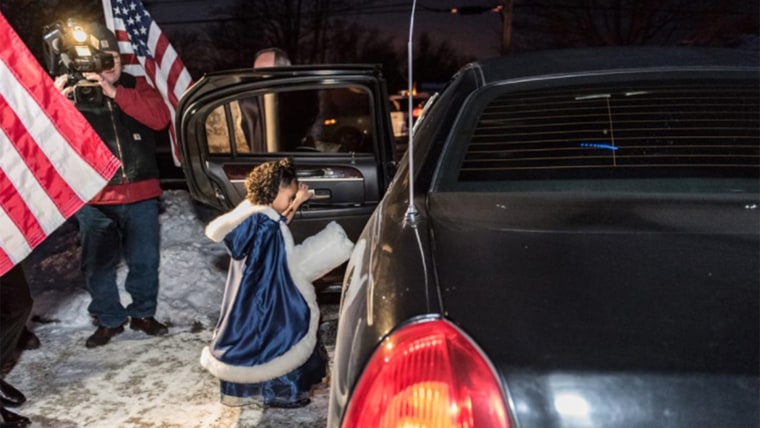 "I just thought about my daughters and it was something that really touched me,'' Bierbrodt told TODAY. "I thought, 'This girl's got to have somebody go with her.'''
Bierbrodt showed up in full military uniform in a limousine to formally ask Cayleigh to the dance after her older brother, Christian, 15, opened the door to welcome her date.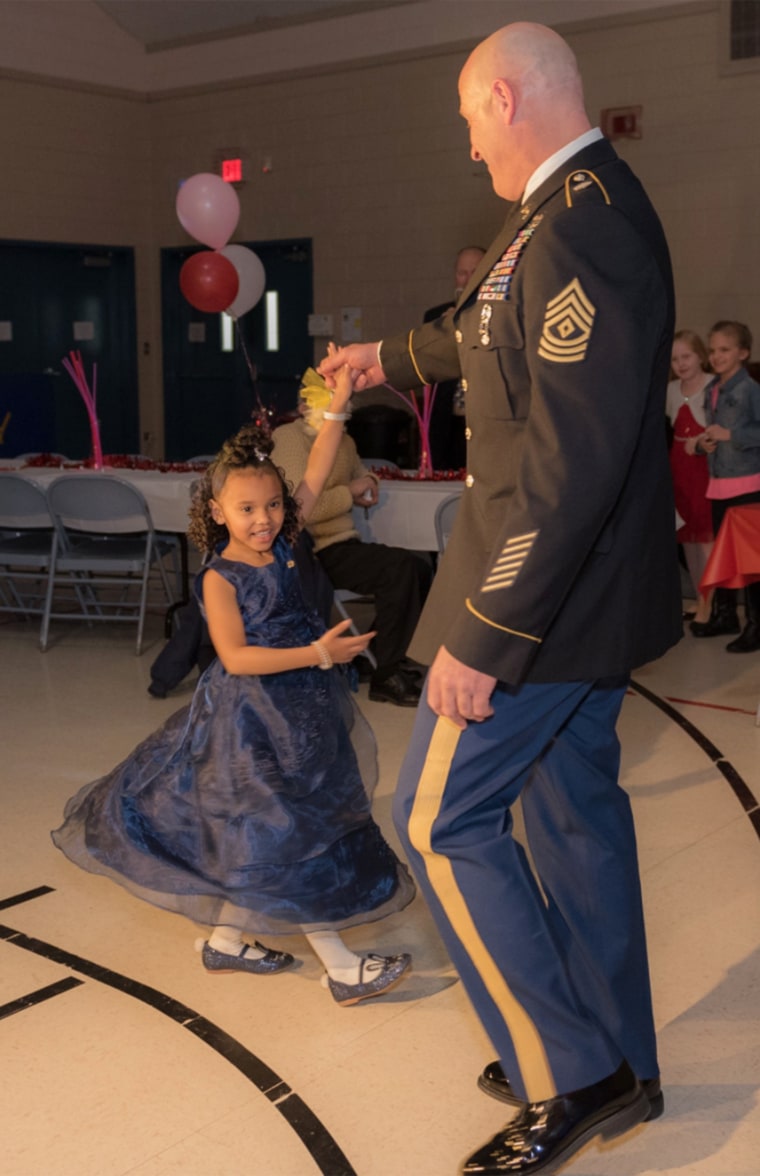 Bierbrodt presented her with flowers, a yellow corsage for her tiny wrist and a 6-foot-long stuffed dog that he won for his own daughters at Six Flags in St. Louis six years ago. The dog wears a camouflage outfit and dog tags.
"My biggest concern was I did not want to say or do anything that was going to trigger any emotions that would make her upset,'' Bierbrodt said. "I figured that was a nice 6-foot icebreaker."
Cayleigh and her Army escort then took the floor at the dance as she twirled and smiled.
"She was just the cutest, most adorable, bubbly little girl,'' Bierbrodt said. "As soon as I saw her, it melted my heart even more."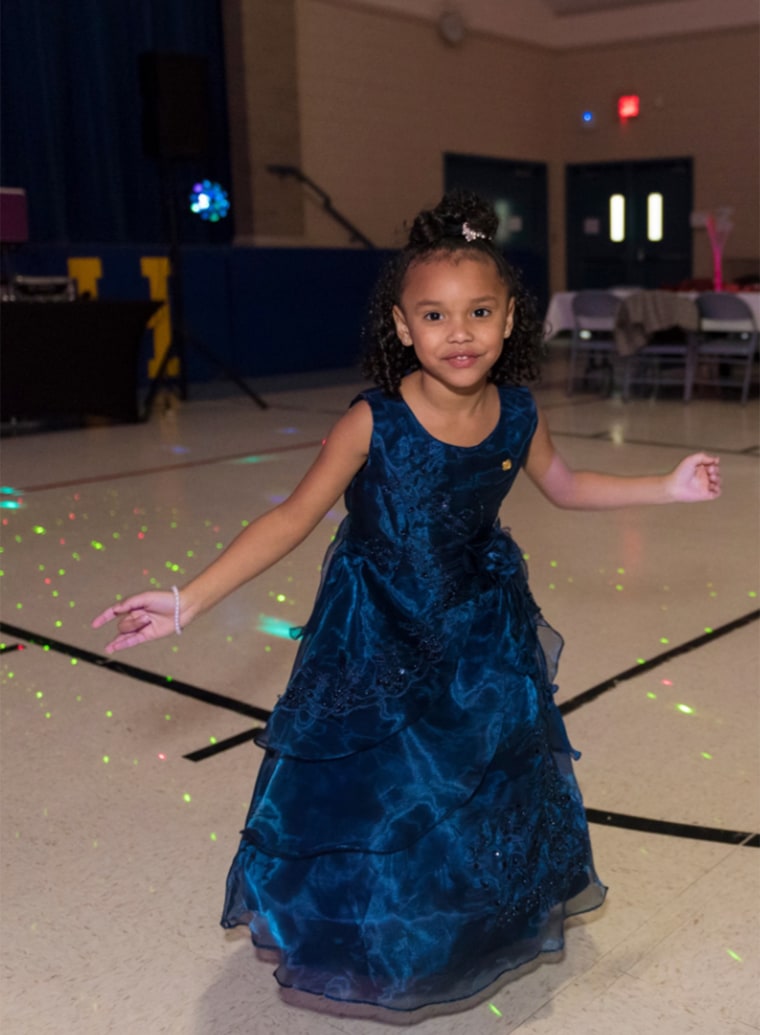 "I'll be honest, it was bittersweet for me without Terrence here,'' her mother said. "However, watching her eyes light up when she saw the limo and got the flowers, my heart was just overflowing with joy. I just sat there and watched them twirl around, and I was in another place."
Her husband had survived tours of duty in Afghanistan and Iraq before dying in the truck accident in Oahu only three weeks after Cayleigh's fifth birthday.
"It was so shocking,'' Hinton said. "For him to do two tours and then to pass away in paradise was just mind-blowing.
"We're now in our ninth month, and part of me still feels like he's on a deployment. Each day that goes by, the finality of it gets so much bigger."
The support of the Army community has also helped Cayleigh fit in at her new school and helped the family feel welcome in Winthrop Harbor, where they have only lived since October.
"Being the new kid, this has helped so much, because now the teachers understand her situation without her having to say anything,'' Hinton said.
Bierbrodt now plans to extend his commitment beyond just the dance. He is looking into making Cayleigh an honorary 933rd Military Police Company officer with her own little camouflage uniform.
"The military is a family,'' he said. "We stick together."
Follow TODAY.com writer Scott Stump on Twitter.