Ah, the school dance. Generations of kids have found it hard to resist the potent mix of romance, raging hormones and awkward kisses in a darkened gym setting.
Until now, that is.
Constantly in touch thanks to social media; busy with work and sports; and tempted by more exciting adventures, many students are skipping what used to be the prime social event for teens.
Alexis Nacht, a junior at Centennial High School in Las Vegas, still comes to dances even though many of her friends make other plans.
"I enjoy going to them, but most kids don't go," Alexis, 17, told TODAY Moms. "They feel like it's not cool… people just don't think it would be fun for them to be there."
Centennial High now holds four major dances during the school year, about half the number it used to host a decade ago, said student council adviser Michael Collins.
Many students still get excited about the night of the dance — dressing up, taking photos, planning a detailed itinerary of activities that might include laser tag, a stop at a karaoke bar or a ride on a party bus — but they don't actually come to the dance, Collins noted.
"They're pressured by their friends… 'We don't have time to stop at the dance,'" he said. "They try to (do) as much as they can in a night."
John Jay High School in Cross River, N.Y., no longer holds any school dances other than prom because so few kids were showing up, said assistant principal Lisa Kor. The disappearance of the once-popular Winter Ball and Spring Fling recently prompted a former student to vent about it in a Business Insider article.
Kor, who has worked at the school 18 years, said the Winter Ball used to be "the premiere event of the season," drawing 500-600 kids, but attendance started dwindling about seven years ago. She believes social media has played a big role in the decline of the dance.

"On a Friday night, the only place to see people could have been at a school event," Kor told TODAY Moms.
"Now, they're texting, they're Snapchatting, they're Skyping, they're FaceTiming — they are so connected in so many ways they never used to be that they don't need the school necessarily to provide the connection."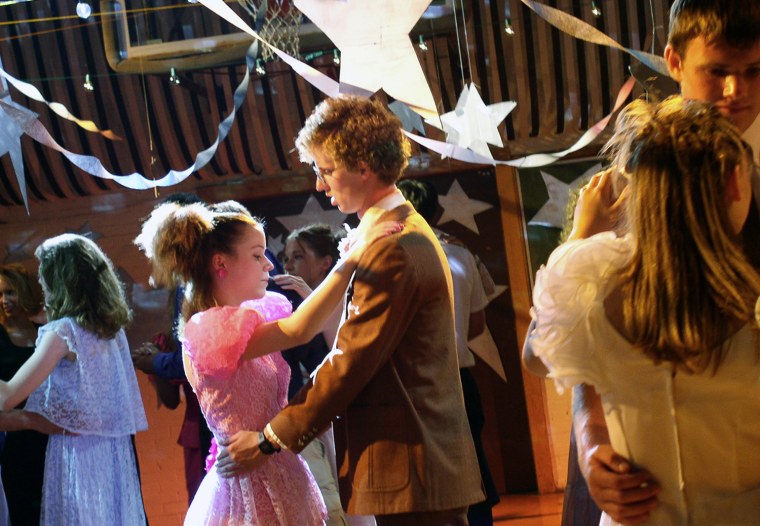 Prom continues to be popular, she said. It's the same way at Lancaster Central High School, just outside Buffalo, N.Y., where prom is still "very, very, very well attended," said Mark Skowron, the coordinator of student affairs. 
But attendance is down at the other six or so dances held throughout the school year, he said, adding that Lancaster Central High used to host double the number of dances 20 years ago.
Skowron believes students just don't have the time to go, with many kids playing three different sports and working to pay for their cell phone, car and gas.
"There are so many other opportunities, so many other things pulling at the students' time and money that it makes 'Hey, let's go back to school on a Friday or Saturday night' the third or fourth option," Skowron said.
"Or just even stay home and talk or type on the phone."
Some schools have found supervising dances to be too much of a challenge, especially with students trying out raunchy dance moves. Last fall, the principal of Stowe High School in Stowe, Vt., canceled school dances for the remainder of the year, except prom, because students were "grinding" —a style of dance Principal Jeff Maher called inappropriate and demeaning.
Some schools, like South River High School in Edgewater, Md., now ask students to sign "dance contracts" that ban sexually explicit dancing like freaking, grinding and twerking.

Kor and Skowron said such behavior has not been an issue at their schools. They're simply seeing fewer students coming to dances. Kor thinks they just prefer to go where they're not monitored by adults, like hanging out at someone's house.

"I do think (dances are) a thing of the past and I think it's very sad," Kor said. "I think these kids are missing out on something."