Should teachers and students be friends of the Facebook variety? Should they text, tweet, snap or 'gram each other?

Parents want to know where the boundaries should be when it comes to educators and students using technology to communicate.
Tara Paige feels fine about digital communication. The Arlington, Texas, entrepreneur and mother of eight says her children sometimes use technology—such as texts and social media—to correspond with their teachers and coaches. "I'm OK with texting one-on-one," she says. "I believe in writing because it serves as documentation. And social media is a way for teachers to be leaders and role models with their students. It takes a village."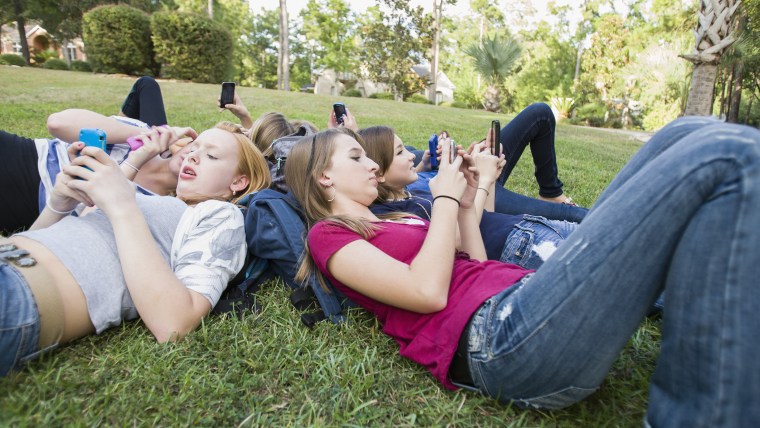 Meanwhile, Stefani McNair has tried to think of a reason why her kids and their teachers should connect via texts or social media, but she can't. "I don't think any circumstances warrant students and teachers communicating that way," says the Oakton, Virginia, designer and mother of two teens. "I think there's great potential for the lines of respect and influence to get fuzzy."
Considering that 95 percent of teens are online, according to the Pew Research Internet Project's national survey of teens and parents, and 81 percent use social networking sites such as Facebook, Twitter, Instagram and Snapchat, it's understandable that technology is a convenient way for teachers to connect with students.

Convenience isn't everything, though, says Terri Miller, president of S.E.S.A.M.E. (Stop Educator Sexual Abuse Misconduct & Exploitation). "Communication technology has perpetuated blurred boundaries and sexual misconduct," says Miller. "Adults are saying things to children online and via text that they wouldn't say face to face. They forget who they're talking to. This can be a prelude to sexual contact."
Students need to be taught the difference between personal and professional digital communication, says Jennifer Beaver, a teacher at South Carolina Virtual Charter School, "the same way students would treat their teachers differently than their friends in a face-to-face conversation."
Many teachers — Beaver included — have professional blogs or Twitter accounts where all of the chatter is related to the classroom and their assignments. "Social media is where teenagers are," she says. "This is a great tool that allows teachers to connect with students in a way that interests them."
She encourages educators to consider apps such as "Remind" as well. "Remind allows teachers to send text reminders to parents and students about due dates and assignments without allowing students to know the teacher's phone number," Beaver says, adding the app doesn't allow for responses and also stores all messages sent by the teacher in case the administration feels the need to review them.
Hans Mundahl calls digital communication between teachers and students "a gray issue." Mundahl is a former school administrator who works with schools to set and implement their social media policies. He favors an approach that emphasizes training and passive monitoring to make sure behavior is healthy and above-board.
His top 4 recommendations:
1. Every school should have a social media policy outlining how teachers should and shouldn't interact on social media.
2. Faculty shouldn't friend, follow, or otherwise engage with students on social media directly. Instagram, specifically, "is very tricky because the potential for abuse is higher with images published publicly. I'd only support Instagram use if it is in line with the school's policy, it only happens outside of the classroom, and the person in the photograph knows they're being photographed," says Mundahl.
3. Texting with students—about assignment-related issues—is OK if it's in line with school policy, is within reasonable time bounds (similar to "office hours"), and doesn't fail the "exclusive" test, which Mundahl defines as communicating with a student in a way that they wouldn't with any other student or that would cause concern if someone else saw the message.
4. Every school should have a privacy policy addressing being photographed without permission. Every student with a smart phone has a camera and a way to publish that picture. 
Perhaps most important, Mundahl says, is to remember that young people have fundamentally different attitudes than adults toward privacy. And it's of limited value to have never-ending conversations with youth about how scary and dangerous the Internet is. "They just don't believe this," he says.
Alexandra Rockey Fleming is an author and journalist. She lives in the Washington, D.C., suburbs with her husband and three teens.