For the past 15 years, Judi Mason and her family have treated their Houston, Texas neighbors to a winter wonderland. Never mind that the average high temperature hovers around sixty-five degrees all winter long. With the help of a professional "snow on demand" provider, Mason's front lawn is covered in snow for at least a day.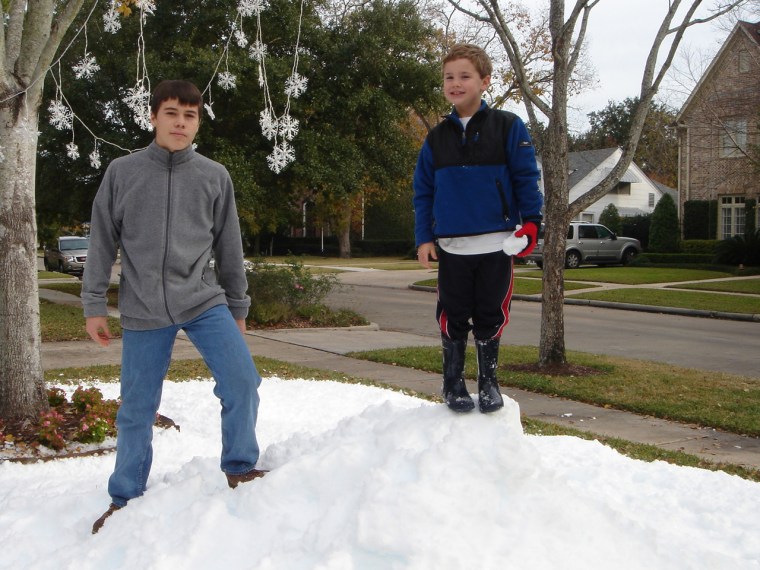 Paul Carpenter started doing snow parties in Houston and Dallas/Fort Worth in 1999. He says snow as entertainment has generated more revenue for his business than any other product or service. With the right equipment, any place can get a dusting—from Los Angeles to Phoenix to Tampa, Fla. "Parents and grandparents who grew up in other areas of the country where there is snow, they get nostalgic," he said. "They forget how much work it actually is."
That's one reason they hire Carpenter and his crew to do the heavy lifting. Or shoveling, as it were. The other reason, well, it doesn't snow much down south. Carpenter can make a hill for sledding in even the flattest, and warmest, parts of Texas.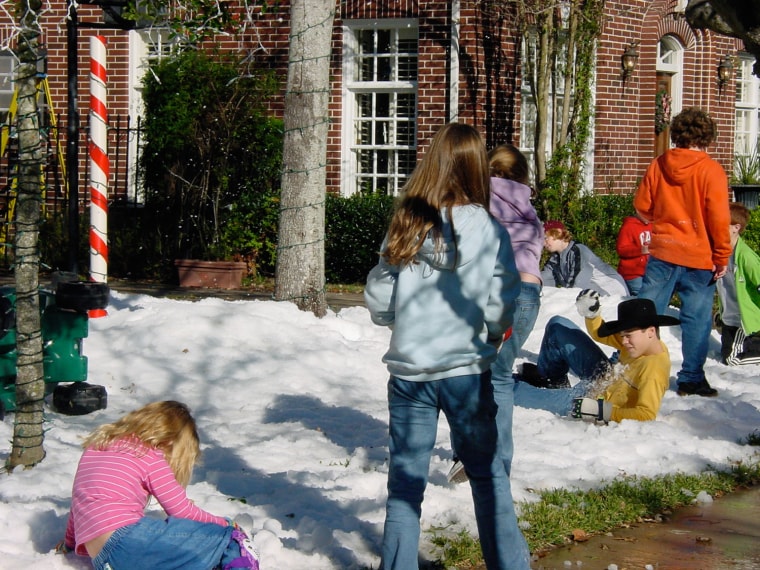 "It's really fun to watch," Mason says of the big trucks that deliver the ice and process it into a blanket of snow. Her neighbors bring the kids out to play and drink hot cocoa for a few hours. Unlike that stuff sprayed at ski resorts, this snow is created from bottled-water quality ice to be non-toxic, because as Carpenter points out, "You can't keep kids from tasting snow."
Carpenter warns potential clients, "It's very expensive, and guaranteed to melt." The unconventional sales pitch does not seem to discourage them. Even in a recession, snow is hot.
The cost to cover an average front lawn in six to eight inches of snow: $2,375. A few inches may not impress those in northern climes, but that's enough snow to thrill a kid who otherwise would only see it in the movies. Depending on the temperature outside, the snow can last up to a couple of days, but Mason's is usually gone by morning. "Yes, it's a splurge," said Mason, who spends $1,200-$1,400 for the annual event. "But it's so novel, so exciting, so different."
Mason's children are now 13 and 20, and they still ask for snow. Other neighbors pitch in to share the cost these days. Carpenter says that's how a lot of his clients manage the bill, noting that he works with many homeowner's associations, church groups, and schools. Still, Carpenter says about half his clients are individuals.
"At the end of the day, your memories are all you have," Carpenter said.
Memories, yes, along with a little frostbite and a few snowball-induced bruises if you're not careful.
Would you throw a snow party, or is this just one more example of over-the-top parental indulgence?
Lela Davidson is the author of Blacklisted from the PTA and Who Peed on My Yoga Mat? Her thoughts on marriage, motherhood, and life after 40 have appeared in hundreds of magazines, websites, and anthologies.