/ Source: TODAY Contributor
Single mom Amy Peterson couldn't stand the thought of her kindergartner, Gracie, 6, missing out on the father-daughter dance at Georgia's Locust Grove Elementary, so she did the only thing she thought that would work — she dressed up as a man.
"When the flyer went out about the dance Gracie came home and asked me to be her date," said Peterson, 38. "I gladly accepted and filled out the form and sent the money to the school. Four weeks passed and finally the dance came. Gracie and I came up with the idea for me to dress up as a man so I did just that."
Peterson purchased men's clothing and watched an online tutorial to learn how to paint on a beard using mascara.
"Gracie loved watching me do the mascara beard," Peterson told TODAY. "She told me, thank you for doing all I do for her."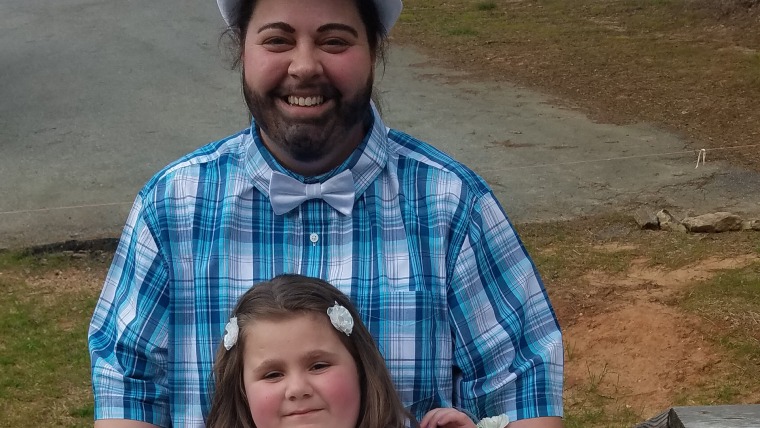 But Peterson's plans to attend as her daughter's "dad" were put to a stop when she received a phone call from the school principal.
"One hour before the dance the principal called me telling me that she had heard a rumor that I was bringing her. I told her yes, I was, and she said that she forbid me to come and if we showed up we would be turned away. She stated several other (single) mothers were already told that they could not attend."
Never miss a parenting story with TODAY's newsletters! Sign up here
Peterson said the principal suggested finding a male family member or friend to accompany Gracie, but that wasn't an option.
"Gracie's grandfather is on dialysis and lives over two hours away," she said. "Her uncle works until 6 p.m. and has three kids of his own."
RELATED: Single mom nails it by dressing like a guy for dads' event at school
Although the dance was restricted to male father figures, the intent was not to exclude, J.D. Hardin, communications coordinator for Henry County Schools, told TODAY Parents, noting that the school holds a mother-son dance and another dance that is open to everyone.
Hardin also told TODAY that dances like this take place in schools across the country, and that the situation could have been handled differently. He said it was "unfortunate" how things played out.
Peterson says the child has been taunted by other kids for not having a father in her life, and that being excluded from the dance just added to the hurt.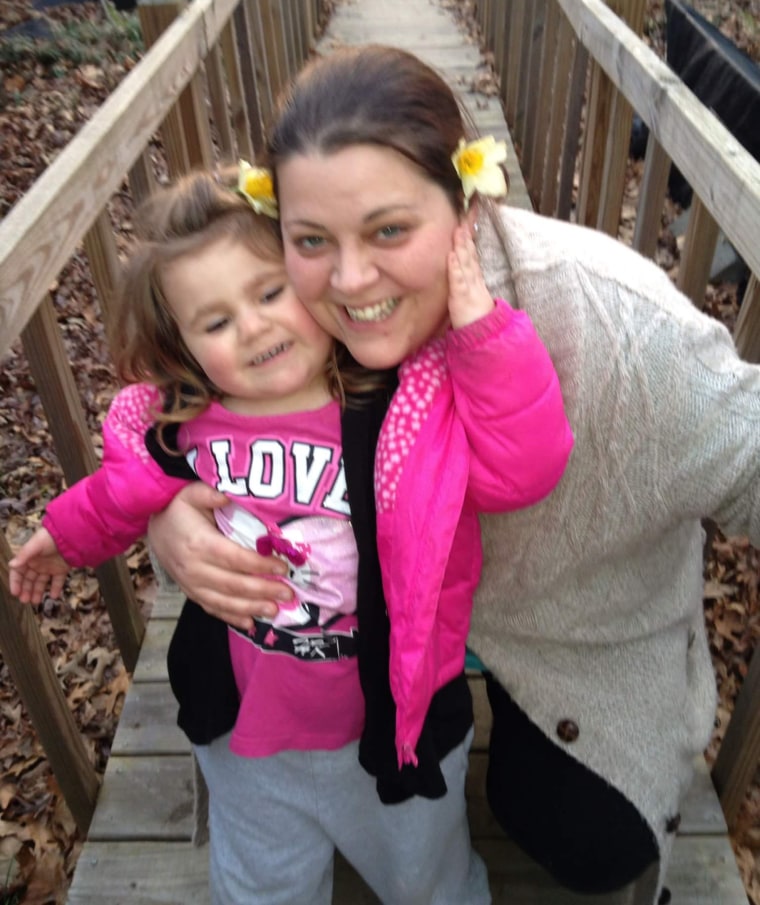 "I told her that we were going to try our best to stop this from happening to any other child, boy or girl, (so) they would not be excluded from any school function. So I started reaching out to tell her story," said Peterson.
Peterson says that other parents have been supportive of her cause.
"I understand kids need to know you can't always get your way but this is not her fault and this was wrong and that is not OK," she said. "The lesson I was trying to teach Gracie is it is OK to get knocked down, it's OK that people don't always see things the way we do, but if you know something isn't right then you speak up and tell your story, so maybe you can make a difference in someone's life."
RELATED: See how this single mom made sure her son didn't miss out on 'Donuts With Dad'
Peterson says she doesn't quite know where to begin with her campaign, but since she has gone public, she and her daughter have become the target of anonymous cyberbullies criticizing their weights.
"People have no idea what people are going through," she said, adding "all the bullying needs to stop for everyone. It makes me sick."
And although Gracie was disappointed that she couldn't be at the dance, Peterson tried to make up for it by returning the clothing and using the money to take her daughter out to dinner.
"Gracie said it was fancy and she enjoyed it, but when we went to our local grocery store that night she saw little girls all dressed up after the dance and the emotions started all over again. It was absolutely heartbreaking."