Kimberly Henderson can thank her youngest child for having a discerning ear. A video of the baby being serenaded to sleep by her mom with a Whitney Houston song went viral last year and now the single mother of four is being courted by record companies.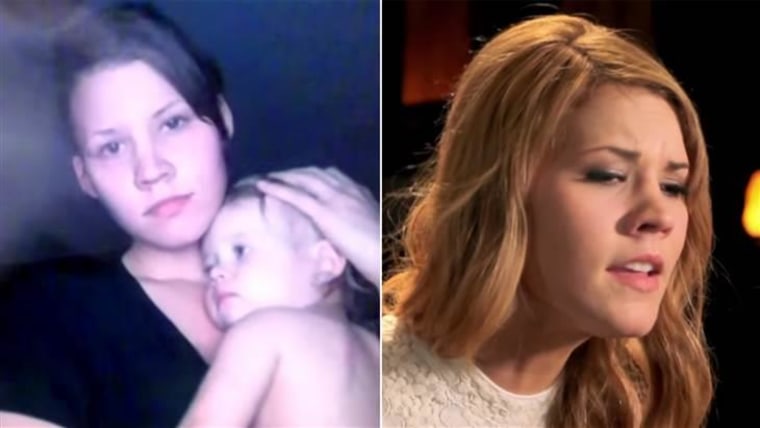 "Single moms don't really get the chance to follow their dreams. But radio stations were calling, major labels were calling," she told Cosmopolitan.com while in New York recently. "That's why I'm here now, because I'm meeting with a major label to see if they're interested in doing a record contract. It's exciting! TV shows have called. A lot of things are in the works."
It all started when her youngest child, then 1-year-old Vaida, got up as usual around midnight and needed to be sung back to sleep.
"She doesn't go to bed to the normal lullabies. She likes the big, huge songs, Whitney Houston, Mariah Carey," Henderson told WLTX last December.
So Henderson picked the song "How Will I Know," but the power ballad version sung by Sam Smith. She recorded herself singing to her daughter, in the kitchen of her South Carolina home, on "my cracked up little iPhone." Her sister later convinced her to post it to Facebook, where it received more than 20 million views. It has garnered two million more views since being uploaded to YouTube.
Henderson said she has been writing songs since she was 15. She got pregnant with her first child a year later, and her experiences as a single mom inspired her current single, "Tiny Hearts."
"I saw my friends going out to the movies and going on dates, and I'm at home with this 6-month-old. I'm like, 'What am I doing?'" she told Cosmopolitan.com.
She also revealed that she almost had an abortion when she learned she was pregnant with her youngest child, the daughter in the video that shot her to fame.
"When I was 12 weeks and six days along, I sat in an abortion clinic for six hours — I almost went through with it. And then I left," Henderson said. "Fast-forward seven months later, this baby's in front of me and her dad's not in her life. I didn't even care at that point. I was like, 'I have this beautiful baby.'"
While her youngest may prefer Whitney Houston, her other children love Taylor Swift and her 5-year-old prefers Justin Bieber, she said.
Henderson said she still has trouble believing how much a single grainy homemade video has changed her life.
"I have people that are willing to invest in me right now because they like what they are seeing from me," she said. "I was waiting for something like this to happen, but in the back of my mind, I was like, 'This isn't going to happen. This doesn't happen to people like me!'"
Follow TODAY.com writer Eun Kyung Kim on Twitter.
This article was originally published Mar. 5, 2015 at 5:03 p.m. ET.