Even after four kids, singer Kimberly Henderson said she is often complimented on her "perfect body". But her struggle to attain what the public considers "perfection" inspired her to post an unedited photo to Facebook, with a caption explaining the emotional roller coaster that loving her post-pregnancy body entailed.
"I would exercise and work out so much to the point it consumed my life. But my stretch marks didn't disappear and my loose skin wouldn't tighten up. I was frustrated and depressed," Henderson told TODAY.com
When she started rejecting invites to pool parties, the beach and the lake, Henderson knew her crippling fear was becoming a problem. But it was a few sweet words from her daughter that changed a spiraling outlook into something positive.
"One day when my daughter came up and hugged me and told me how beautiful I was, I realized that I was getting all worked up by something I can't change," she said. "I was letting something control me and I was ashamed. I had absolutely no reason to be."
With her new-found confidence, Henderson now wears a two-piece bathing suit whenever the opportunity presents itself. She says that it feels great to have come such a long way and finally be without a t-shirt over her swimsuit at the pool.
So what's her one piece of advice to new moms that might also be struggling the way she did?
"If you can't change it, embrace it. Love it. You have nothing to be ashamed about. Once you have that mindset, you will feel so much better about things," Henderson said. "We are so hard on ourselves, especially as mamas. We should always know that our body is sexy, no matter what shape, size, how many stretch marks or loose skin. Love your body."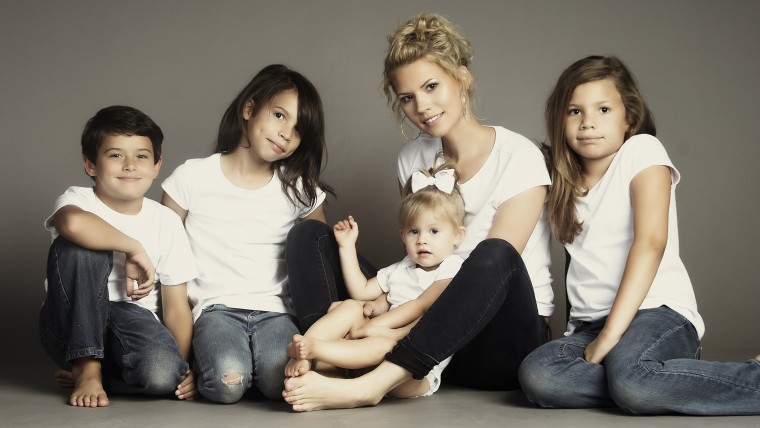 She believes it is important for others to recognize that being a size zero and having abs is minuscule in comparison to the transformation bodies of new moms have undergone.
"We created a life! That's hard work and it shows! I hope women will see this [photo] and realize that even people like me have those same flaws and you can still be sexy. You can still be confident in your own skin."
The consistent lack of confidence in women funnels back to the predisposed ideals of body image in America.
"Body image in America is NOT realistic. We are led to believe that the real body is a flat stomach, a size 0 and perfect boobs. Well that's not the case. So it leaves women thinking their post-baby body is shameful, and they are the only woman on the planet to have a body like that. Because I thought that same thing."
Henderson hopes that the photo, which has gained more than 126,000 likes since it was originally posted on June 19, will raise both awareness and confidence in women.
The singer from Sumter, South Carolina is no stranger to viral content, though. Back in 2014, her video covering Sam Smith's version of "How Will I Know" by Whitney Houston caught the ears of four record companies and over 5 million people on YouTube, which ultimately landed the young mother an opportunity to record her first single.
Henderson will head to London, Los Angeles and Nashville this summer to work on new music. In the meantime, she's spending time with the four children that make her most proud of who she is today.