Nearly five million of America's college students are also parents who juggle classwork with kids at home.
Often, that means trying to figure out what to do about childcare during class time. One student is now fighting to bring her youngest child to class with her.
Brittani Mitchell, of Carlsbad, California, is a married mother of five who is taking language classes at Palomar College, a community college in nearby San Marcos.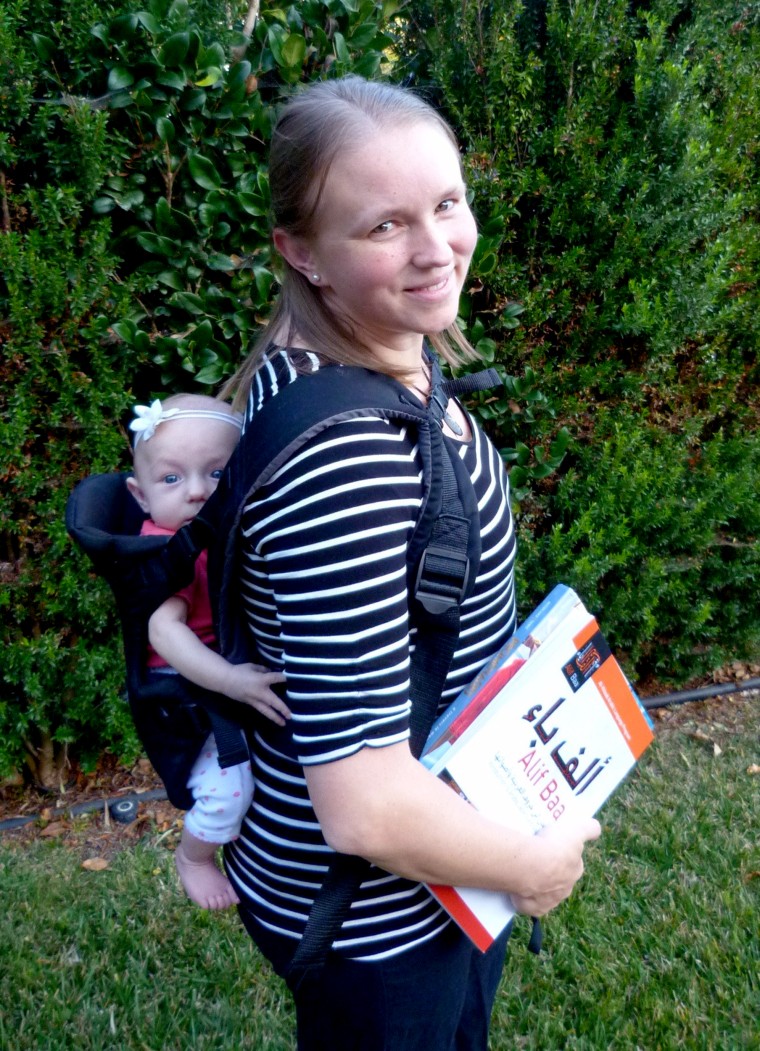 On her first day, she brought all the essentials — which, for her, included a stroller, a diaper bag and her sleeping three-month-old daughter, Coretta, who is still breastfeeding.
Mitchell says her French teacher approached her during the class break.
"He said, 'I don't think infants are allowed in the classroom,'" Mitchell tells Today.com
The teacher clarified that although he, personally, didn't have a problem with it, he believed the college did.
"I just didn't even think it would be a problem," says Mitchell, who has a bachelor's degree from Brigham Young University in Utah.
During her time there, she recalls, "There were occasionally babies in the classroom."
At Palomar, though, administrators say no one other than enrolled students and professors are allowed in class.
"In the seven years I've worked [at Palomar], I've never heard of a baby in a classroom," Laura Gropen, Director of Communications, Marketing, and Public Affairs, says.
Meanwhile, Mitchell says, "I haven't gone back."
Sometimes student parents feel they have no other choice but to bring an infant with them.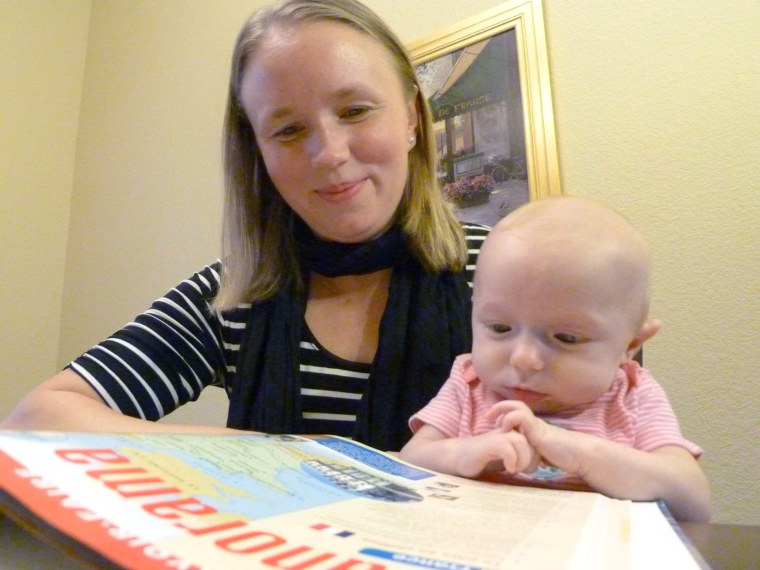 This week, parents are calling a professor at DeVry University in Nashville a hero after a photo surfaced of him happily holding a student's baby.
The mother, Amanda Osbon, is a single mom who says she needed take her son with her to class on Monday.
The toddler wanted to be held by the professor, Joel Bunkowske, so he scooped him up and kept teaching.
"Most of us in the class are parents, so everyone was very understanding that he was there," Osbon told Nashville's WKRN-TV.
A similar event happened in May, when a photo of a professor at Jerusalem's Hebrew University holding a student's baby while lecturing went viral.
But the reaction to babies in the classroom is not always positive.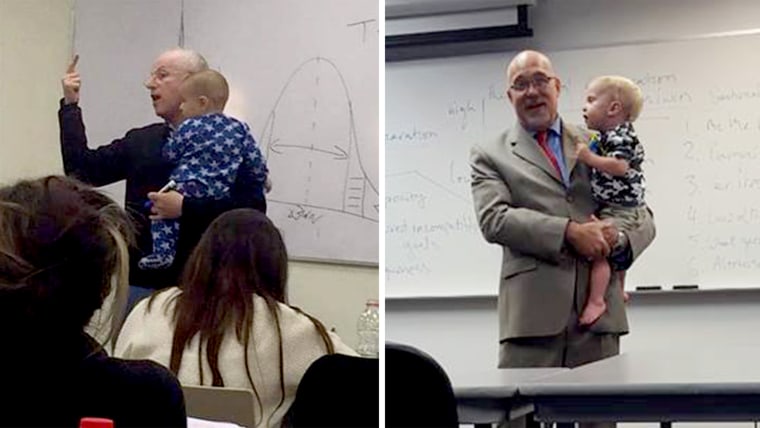 At American University, Professor Adrienne Pine caused a campuswide outrage in 2012 when she brought her sick infant to work.
One student told the Washington Post that he was "fine" with the baby in the classroom, but he felt Pine "crossed the line" when she began breastfeeding the infant.
There is no federal policy when it comes to kids in classrooms and each college can have vastly different rules from the next.
For instance, the policy at College of Saint Benedict and Saint John's University in Minnesota says students and staff may bring their children to class "for limited periods of time" and "must respect the needs of other community members."
Northern Virginia Community College, the third largest community college in the nation, is among many schools that have stricter policies.
Its rule states, "Children may not be brought into the learning environment… because of disruption to instruction and possible danger to the children."
Often, colleges do not have an official policy but are quick to caution against kids in class.
At Miami Dade College in Florida, the country's largest community college, Public Information Coordinator Allison Horton says, "We do not promote having children in the classroom due to issues opening ourselves up to liability."
Others, like Palomar, have rules stating only enrolled students are allowed in the classroom. Often, though, there are allowances for visitors.
In this case, administrators tell Mitchell the policy means she must leave her baby at home.
"To me," says Mitchell, "the policy [at Palomar] seems like an unnecessary exclusion of women with babies from the classroom."
Now, Mitchell is making a formal request that the district change its policy.
Bringing infants to class highlights certain challenges for student parents. One issue is lactation.
"Schools need to be doing more to ensure that women who are breastfeeding can have access to breaks of a reasonable duration and private space, where they can express breast milk," says Lara Kaufmann of the National Women's Law Center.
RELATED: Read more from the TODAY parenting team
Another issue is affordable child care. Around half of the nation's colleges have a child care center on campus.
But that number has dropped over the last ten years, most dramatically at community colleges, research from the Institute for Women's Policy Research Campus shows.
Today, less than half of all two-year campuses offer campus child care services, IWPR found.
Palomar College is one of them, but, like many others, it does not welcome children under 18 months.
Many states say child care centers need to hire one caretaker for every four infants, but the number of employees needed tends to dramatically decrease once a child reaches 18 months.
That leaves some of the 4.8 million student parents, like Brittani Mitchell, wondering how to get valuable college credits while juggling an infant.
For now, Mitchell is waiting to hear whether Palomar College's district will allow her to bring her baby to class.
"I feel like I can't go back as long as they're saying I can't come with my baby," she says. "I think I'm going to have to withdraw."