It's been seven years since Sharon Johnston suffered through every parent's nightmare — losing her firstborn son, Seamus.
Born three months premature, the boy died after spending nearly eight weeks in the neonatal intensive care unit at St. Louis Children's Hospital.
Even before grief, fear set in.
"I left and said, 'What am I going to do?'" Johnston recalled to TODAY. "What am I going to do on his birthday? What am I going to do on the day he died? And how am I going to get through it?"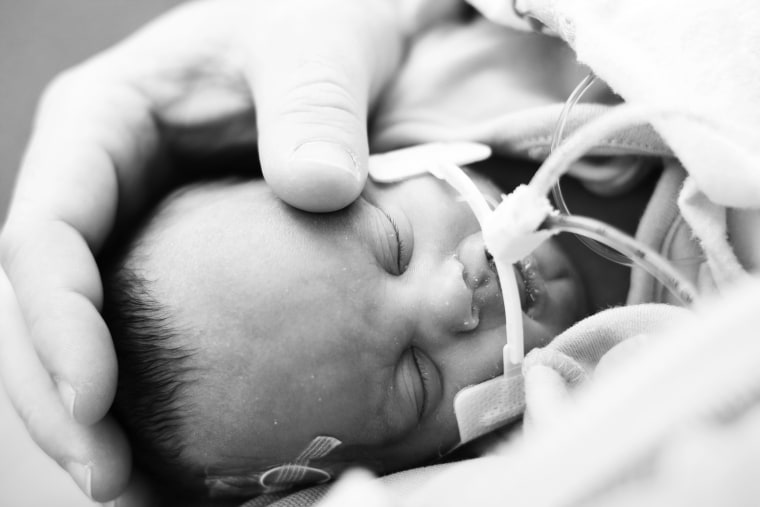 It didn't take long for Sharon and her husband Tom, who live in nearby Kirkwood, to figure out a way to memorialize April 23, the day Seamus died.
They wanted to return to the NICU, where doctors and nurses had helped them so much.
So they made a plan to go back with a photographer and offer free photo shoots to the parents and babies there.
RELATED: Woman captures heartbreak of miscarriage in moving photo series
The idea was inspired by their own experience, when a nurse suggested that they do a photo shoot with Seamus.
On the day before he died, Johnston and her family gathered in the hospital's rooftop garden with a volunteer photographer.
"They brought his oxygen tanks — it was a train of people," Sharon, 43, recalled. "There were three physicians up there. They made it happen, which was awesome. Because they knew."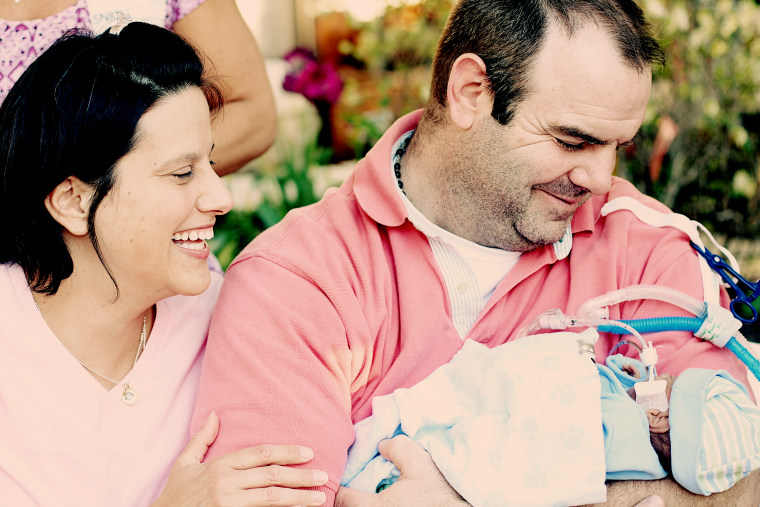 Now the Johnstons treasure those photos, their only tangible memento of the son who didn't make it.
They knew other families in similar situations would want the same.
The first "Shoot for Seamus" took place in 2010 with one photographer and photos of just a handful of babies.
It's grown every year; this past Saturday, five photographers snapped about 50 babies and their families.
"It was amazing," Johnston said. "For both of us, it's healing and rewarding to come in and see these families, much like us years ago — struggling, sad, heartbroken, trying to figure out what they can do to help the baby.
"And to come in and wash that stress off for just a few minutes ... they were so excited we were there."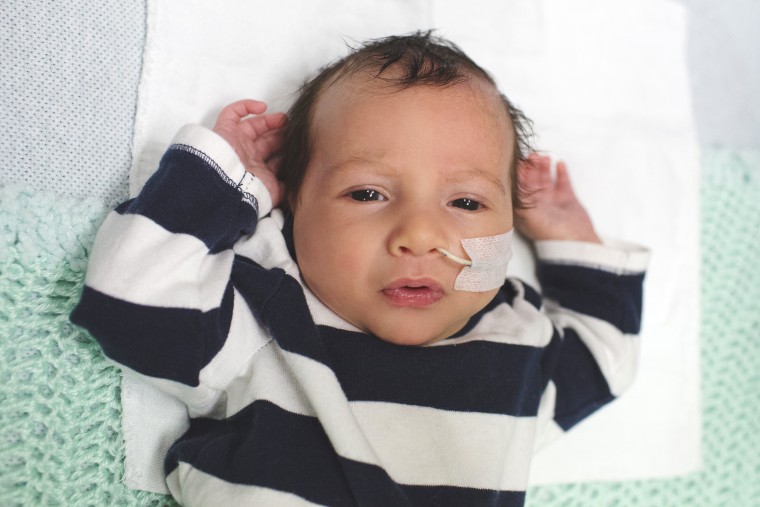 Bringing in professional photographers, many of whom do not charge, makes all the difference, she added.
"[In the NICU] the lighting isn't so great," Johnston said. "There's tubes and wires and things going on. But professional photographers have the ability to work around all that. You really do get to see the baby, and not just the machines and the monitors."
RELATED: A doctor's moving letter to any parent who's ever lost a baby
And for Johnston, who today has a 3-year-old and a 5-year-old, the event is a reminder that she is still Seamus's mom.
"When I come to [the hospital], I'm suddenly 'Seamus' mom,'" she said. "Don't get me wrong, I'm always his mom. But I get to hear it. I never get to hear it. And I love hearing, 'Seamus' mom is here.' It makes my mommy heart happy."
That's how other parents who participated in this year's shoot referred to Johnston, including Erica and Daniel Buchalter of St. Louis, whose son was born on March 19 and has been in the NICU ever since.
But the baby boy, their first child, is growing stronger every day, Erica told TODAY.
"He's doing better; he's improving," she said. "[The photo shoot] went really well. We got him all dressed up and he was awake for most of it."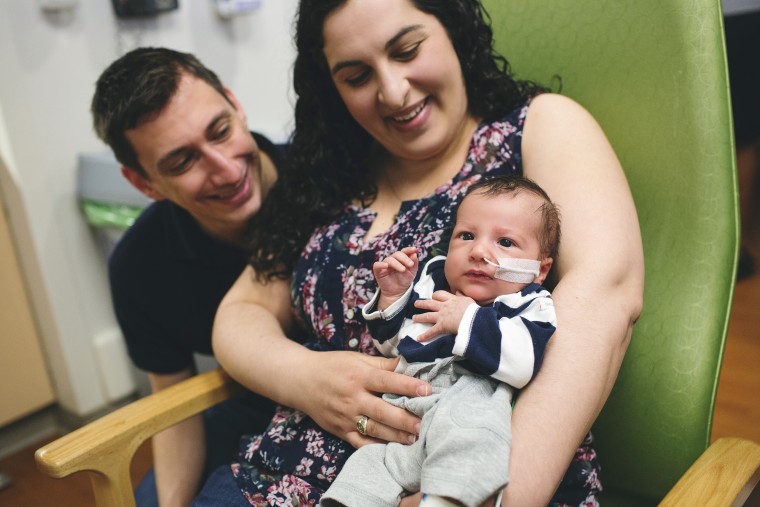 "There's so much support for each other here," she added. "There's always ups and downs, and you find yourself rooting for the other babies and parents around you."
As Johnston put it, "Nobody wants to be in the NICU. You're there because your baby is sick and needs to be there."
RELATED: Video captures the moving moment a mom holds premature son for first time
For the first few years, the Johnstons paid for the entire event out of pocket.
Sharon, who is a stay-at-home-mom, guessed she and Tom, who works in medical sales, spent close to $5,000 a year.
This year, they organized a cycling class to raise funds and included a catered lunch for the NICU staff and the families.
Of course, not all the families have happy endings. Johnston recalled photographing a family with triplets a few years ago.
"One wasn't doing too well," she said. "So we made sure to spend extra time with them and get as many group pictures as possible. But lo and behold, I think it was a couple weeks later when we found out that one of the triplets had passed.
"But they had the pictures, and they were able to use them for the funeral. And they'll treasure them forever."
Moments like that can be difficult.
"It's hard because it brings me back," Johnston said. "But I just try to look at it as: How would Seamus want me to handle this?
"I just think that so many people gave back to us and helped us when we were in those fresh, raw shoes of grief. If I can help them in any way, then I'm going to do that."