The Shocklee family is proving that the only thing better than a hilarious pregnancy announcement video just might be an equally funny video revealing their baby-to-be's gender — complete with a party for family and friends.
The talented Nashville family that announced their third pregnancy in a take on Meghan Trainor's "Lips Are Moving" is back with another viral video, this time announcing their baby's biological sex in a parody of Justin Bieber's "What Do You Mean?"
They swapped the hit song's chorus for "What do you think?" posing a question to fans about whether they think the family will be having a son or another daughter.
"But we want to know if you're team blue or team pink," Beckah Shocklee croons in the clip, which also features her husband, Jack, and their two daughters, Grace and Joy.
The end of the video includes a scene from the couple's gender-reveal party, in which Beckah's husband Jack slices into a cake and finds pink inside — they're having another daughter!
The couple told TODAY.com they were shocked to find out the baby, due in May, is a girl. They gave the sonogram (without peeking!) to a friend to make the cake with either a blue or pink center, depending on whether it showed a boy or girl. The big reveal happened at a party earlier this month.
RELATED: Couple celebrates life in a home run of a baby gender reveal announcement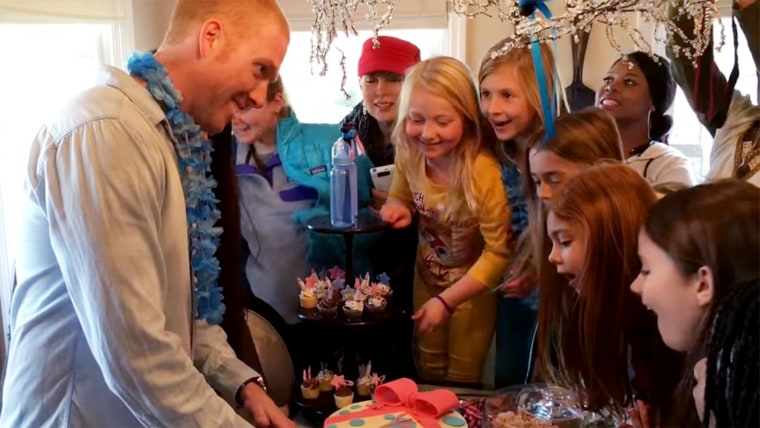 "Once I cut into the cake and saw the pink come off the knife, I was like, this has to be a joke," Jack, a music producer, told TODAY.com. "I couldn't believe it."
"It was one of those things where everybody thought it was going to be a boy," he added. "Hey, God has a sense of humor."
Beckah, a singer who goes by Beckah Shae professionally, said even their daughters were stunned.
"The girls were getting really excited about a baby brother," she said. "Everything we heard was that it was going to a be a boy. So I mentally prepared for it to be a boy. But secretly, I wanted it to be a girl."
As for the video, Beckah said picking Justin Bieber's hit was an easy choice.
RELATED: This boy's reaction to having a fifth sister is priceless
"I actually said the line, 'What do you think?' and then we heard Bieber sing 'What do you mean?'" she said. "As soon as I heard it, I thought, 'This is perfect.'"
She wrote the new lyrics and her family filmed the video before they knew the baby's gender, and then added clips from the party afterwards.
"We have so much fun together, all of us love it," Beckah said. "The girls are ecstatic. They thought it was the coolest, funnest thing."