/ Source: TODAY Contributor
Mallory Torres remembers a time when kids could walk home from school alone without parents being criticized, and moms were busy taking care of their own families instead of judging other parents.
After a photo of her 7-year-old daughter Mackenzie riding on the back of a motorcycle went viral, Torres wrote what she describes as a "rant" on her personal Facebook page, encouraging parents to return to those simpler times and to stop judging her for her parenting decisions.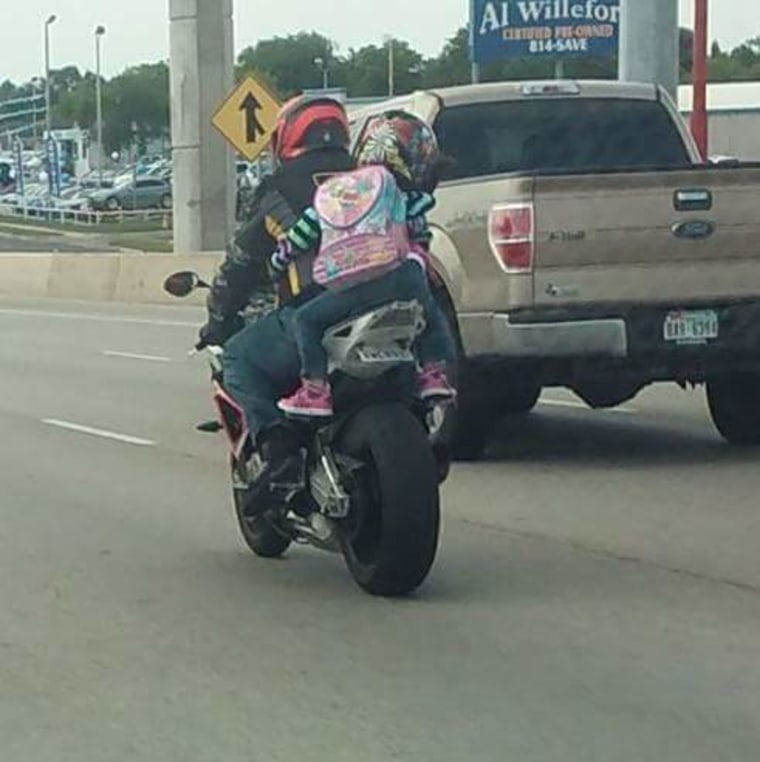 "I love my daughter and she loves to ride, so I allow her to ride on the back of a motorcycle in full gear with my boyfriend who has 20+ years of experience," Torres wrote in the now viral post. "If you want to keep your child in a bubble, by all means go for it. If you wouldn't allow your child on the back of a motorcycle, then don't, that's your choice as a parent and I support you... Don't call us bad parents for allowing our children to experience living. Don't call us bad parents for enjoying putting a smile on our kid's face every now and then with a motorcycle ride home after school."
The photo of Mackenzie riding on the back of the motorcycle of John Hays, Torres' boyfriend, was taken by another motorist and uploaded to the Facebook page of a local motorcycle club. Torres says a friend recognized Hays in the image and tagged him in the post, which is when the Corpus Christi, Texas, couple began reading through the comments.
"Everybody was commenting on the picture about how cool it was and that the little girl was brave, but then a couple of negative comments started. It started with, 'I wouldn't do this with my child,' and went to, 'You should be in jail. You're a bad parent,'" said Torres. "The only thing I wanted was to get my feelings out there, so I wrote my own post about the photo."
Hays says that while the response to his girlfriend's post has been overwhelming, they are looking at the experience as an opportunity to educate others about motorcycle laws. The couple is planning an event for families with kids who ride motorcycles this summer, and are working to raise awareness of motorcycle safety.
"I think it is awesome for the biker community that we are getting this exposure," Hays told TODAY Parents. "We are getting so much positive response, I just hate that Mallory is taking so much negativity about her parenting. She is an amazing mom."
Texas law requires that motorcycle passengers be at least 5 years of age, and states they must wear a helmet. Torres says she also ensures her daughter is safe by placing padding in her jacket and requiring that she wear safety gloves and boots.
Tim Buche, president of the Motorcycle Safety Foundation, says that in his eyes, Torres and Hays are providing a safe riding experience for Mackenzie.
"All motorcycle operators should demonstrate good behavior by being trained and licensed, and always maintaining 360-degree awareness of the riding environment. The operator is responsible for the safety of any passenger, regardless of age, by ensuring the passenger is engaged in the ride, properly seated behind the operator, holding on securely to the operator or the motorcycle, able to reach the footrests, and wearing appropriate motorcycle riding gear," said Buche. "This appears to be the case for Ms. Torres' daughter."