/ Source: TODAY Contributor
Miranda Todd began the process of adopting her daughter, Ellie, now 4, when she was 15 months old — just a few months after the toddler underwent surgery to amputate both of her legs through the knees.
Ellie suffers from tibial aplasia ectrodactyly, a genetic condition that caused the larger bone in her lower leg never to form. While the little girl has tried different types of prosthetics throughout her life, none of them have allowed her to accomplish her biggest goal: to run.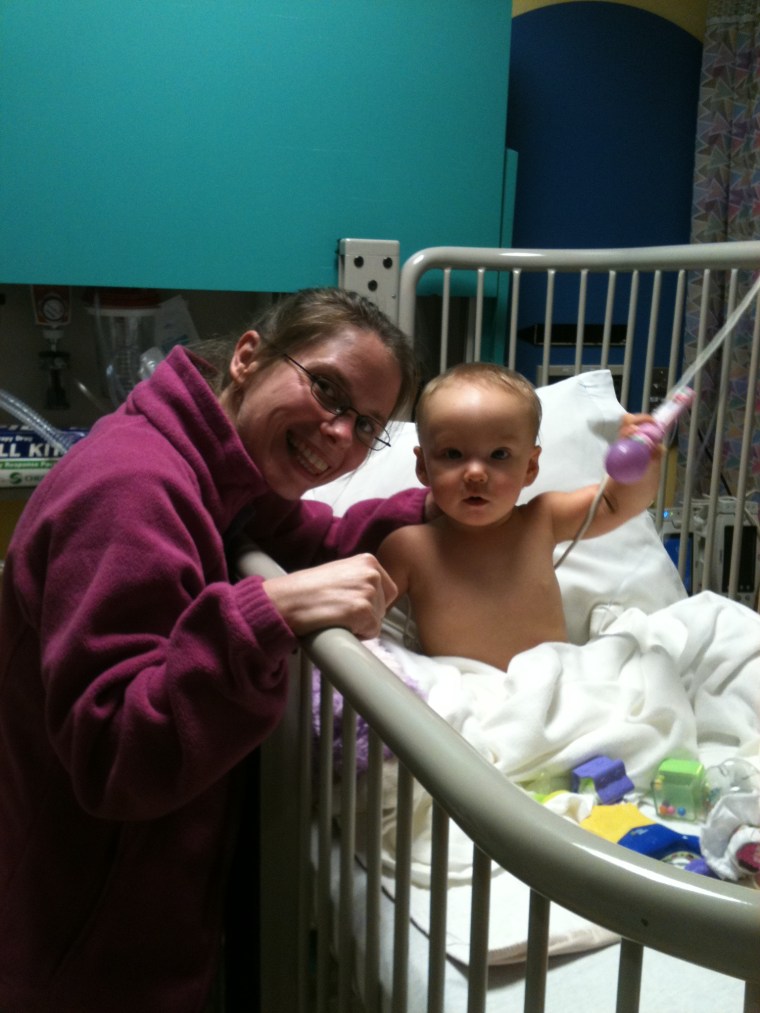 "The hospital that provides her prosthetics said they don't do running legs for kids until at least age 7, because they are too hard to balance in and little kids 'can't do it,'" said Todd, who lives in Texas with Ellie. "I was pretty sure she could — and I was right."
Ellie had the opportunity to try out a loaner set of running legs this spring, but Todd said she was shocked to learn that to get her daughter in a pair of her own, she'd need to pay around $20,000 per leg.
"I am not aware of any insurance company that covers running legs," Todd told TODAY Parents. "The blades are very expensive, and if people want them they either find a way to pay themselves or go through a charitable group."
Todd is a member of the online community Momastery, headed by author Glennon Doyle Melton. She said that when she read about an upcoming Love Flash Mob — Melton's online giving event designed to raise funds to help women and children through the group's non-profit organization Together Rising — she decided to tell Ellie's story.
"When I saw a piece on Momastery asking people to write in about their 'sheros' — the women they admire — I wrote about Ellie, although I wasn't sure if it was meant to be just adults," Todd said. "I was actually floored when they contacted me. ... They asked how they could help Ellie and I told them I had been hoping to get her some running legs."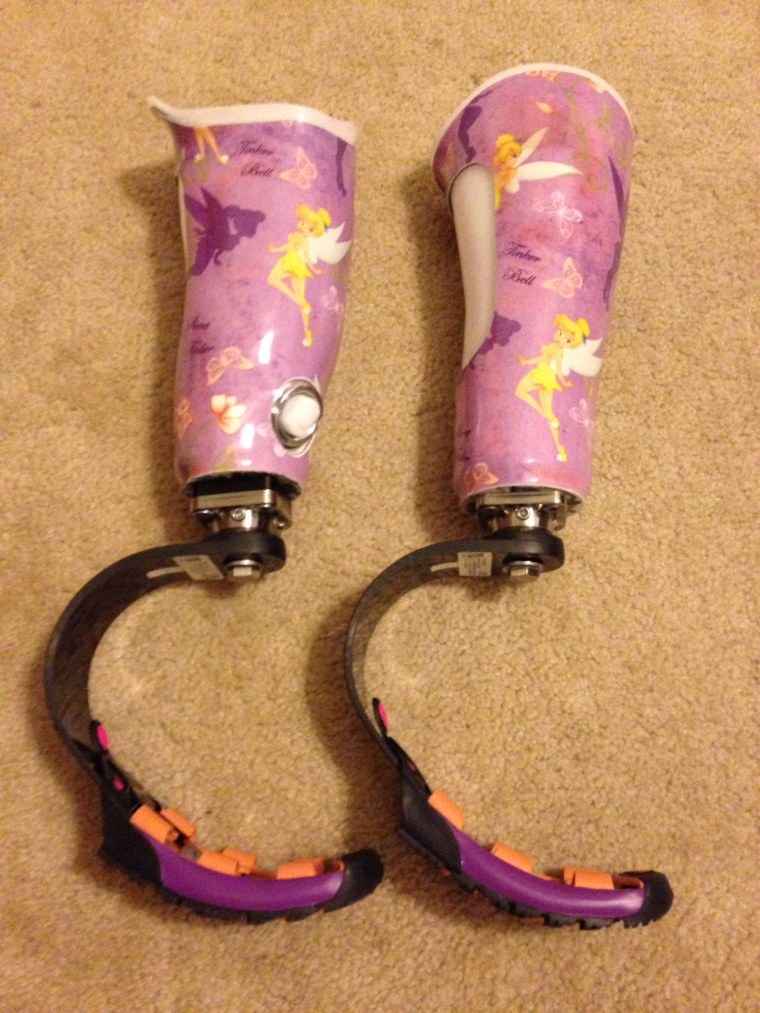 Melton took to her blog, explaining Todd's situation and posting the emotional letter that Todd had submitted.
"Here's the thing about my shero. She's four and she's my daughter," Todd wrote. "A genetic disorder caused her legs to be amputated to her knees and her hands to look different, too. ... My wildest dream for Ellie is new legs. Ellie loves to run. All Ellie wants to do is run, but she is constantly left behind. I don't want my warrior baby left behind. The legs are incredibly expensive, though, so it's just out of the question. I can't give my baby what she needs the most."
Melton informed readers that the Hanger Clinic — the prosthetic manufacturer that makes the running legs — had committed to working with Together Rising to help.
"They want to help her too," Melton wrote in the post. "If we raise half the money for the legs, they will match it and Ellie will have her legs PRONTO. I cannot handle talking about this. Let's do it. Let's DO IT."
Momastery readers raised the necessary funds in just 24 hours, allowing Ellie to get the running legs she had been wanting so badly.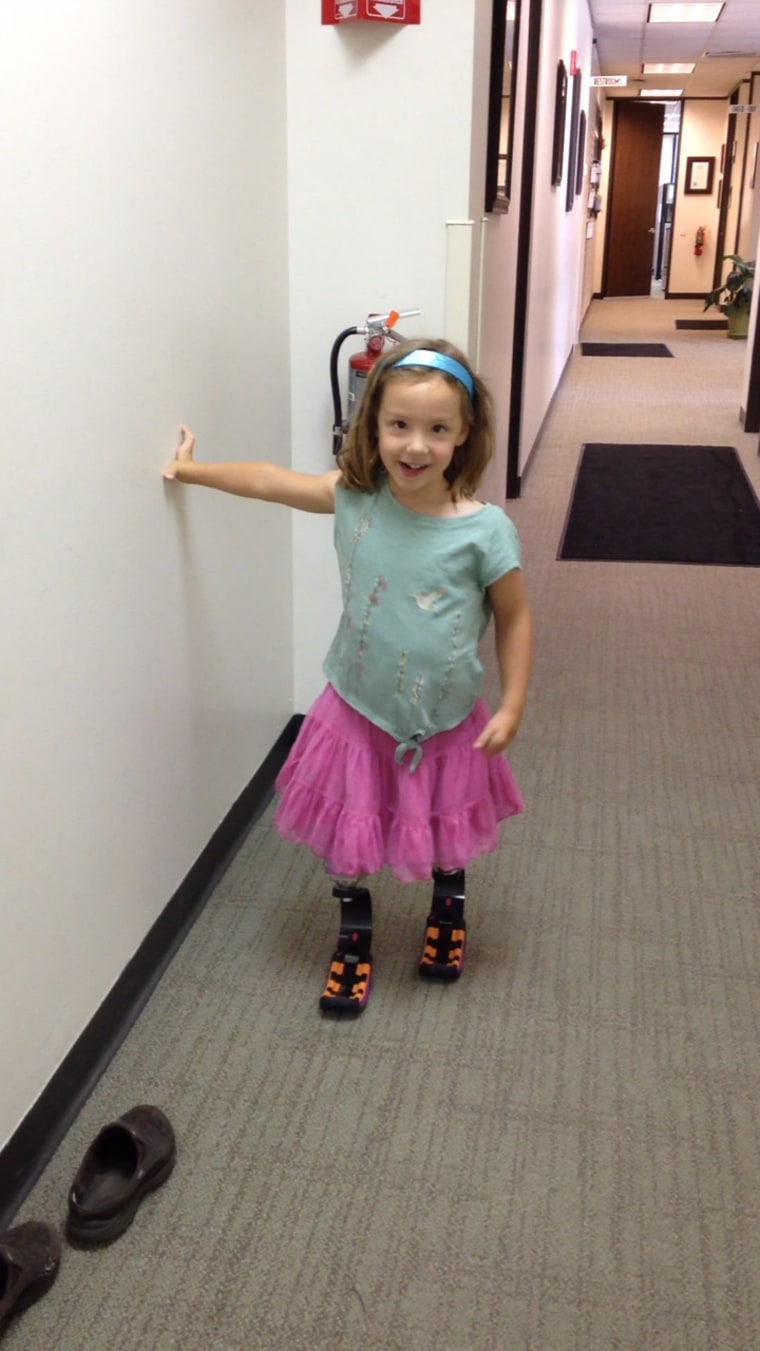 "When she put on the finished product, Ellie was thrilled," Todd said. "She loves to bounce in them — we call them her bouncy shoes — and she took off running in the hallway right away and literally laughed the whole time."
Melton posted a video this week to the Momastery Facebook page, showing Ellie running in her new legs and allowing readers to see what their small donations — Love Flash Mob donations are limited to a maximum of $25 per person — can do when a community comes together.
"We are thrilled to announce Ellie has her legs!!! Our Ellie got her legs!!! And she chose a Tinkerbell design since the legs will make her FLY! Speed and fashion sense, this one," Melton wrote. "We did it. We got Ellie and Miranda rising by getting Ellie running."
Momastery plans to hold its next Love Flash Mob in September. Todd said she'll be supporting the effort, calling it a "great tool for spreading the love and helping people."
"It has been a humbling experience," Todd said, "and a great honor to see so many people — perfect strangers — caring about and rooting for my daughter."