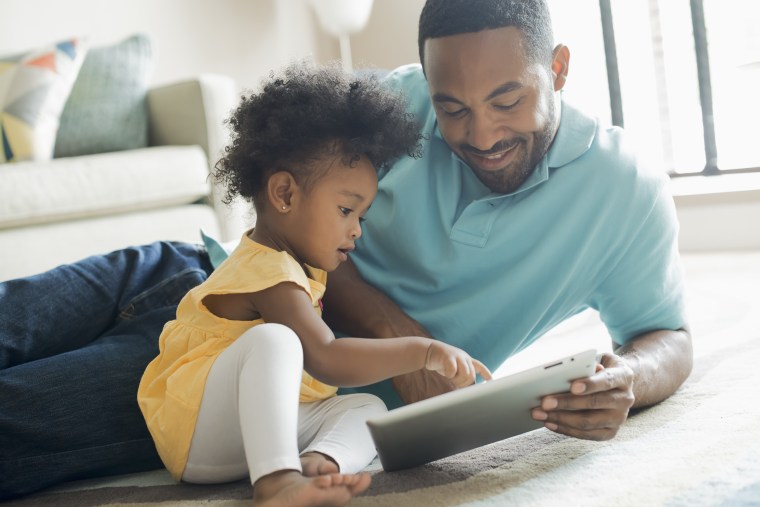 Remember when capturing your kid's sweetest moments meant taking snapshots or actually writing down that funny thing she said so you wouldn't forget it? Now digital cameras, cell phones, and apps make preserving those milestones and cute moments easy. We asked parents how they're documenting the things they'll never want to forget and here's what they shared with us.

Choose your favorite photo every month
Dean and Kimberly Matus of New York City have come up with a fun way to view, store, and savor memories of their daughter, Violet. "I pick a favorite photo each month and, with the help of www.picmonkey.com, I list all the awesome and not-so-awesome milestones that occurred," said Kimberly. "I plan on framing all 12 snapshots on one poster as a sweet way to remember the year."
Add quotes to your photos
Genevieve West of Portland, Oregon, commemorates her toddlers' best moments by taking iPhone photos and adding memorable quotes. "These precious, hilarious, and sometimes inappropriate quotes from the kids […] become personalized keepsakes for our family to enjoy for generations to come," she said.
Make postcards from your photos
Bedtime and bath time with 28-month-old Logan are particularly precious to Tia Dionne Hodge-Jones. That's why the Bloomfield, New Jersey, mom makes postcards from her iPhone photos and takes notes to remember the day. "When our little gal goes off to university, those postcards from the past—the bedtime stories and bath time splash monster moments—will be the memories that we mail to her. They'll remind her of the past and guide her toward even bigger adventures in the future."
Start an email account and write to your kids
Melissa Brockman of Santa Claus, Indiana, is working on a gift for her 1-year-old son, Kasen, that he won't open for years—email address that she got for him. "I wrote him an email on his first birthday and plan to do so each year. I'm thinking I'll give him the address when he's 18, out of high school and old enough to appreciate the memories. It may be a going-away gift for college or something along those lines."
Make a personalized soundtrack
Chris Baca of Colorado Springs, Colorado, is creating a soundtrack for his 3-year-old daughter's early years, using GarageBand on his iPad. "The lyrics are something silly, like Ella and me repeating 'I love you' to one another," he said. "I love the fact that I'll be able to play these songs for her when she's older and she'll know what she used to sound like."
Attach a camera to their stroller to see things from their point of view
To capture their twins' experience of the world, Randy and Crystal Hernandez of Hermosa Beach, Califorina, rely on both state-of-the-art and old-school techniques. Randy attaches a GoPro camera to his young twin girls' stroller or a swing to record video from their point of view. "Eventually I'll edit something funny for their birthday," he said. "Today it's like a full-time job. You get so creative. You can fade in or fade out or have a make-believe hand come into frame. It's endless." Meanwhile, Crystal enjoys journaling and maintains baby books. "It's still nice to have something tangible," she said.
Don't forget to commemorate those tiny feet and hands
Dean Matus and his daughter, Violet, recently surprised mom with a gift. "He bought an 8x10 white canvas, dipped Violet's feet in baby-friendly paint, and made a heart from her two footprints," said Kimberly. "I look at it every day. It's a pretty awesome way to remember those tiny twinkle toes."