On Sunday, Seth Meyers became a dad. And on Tuesday's "Late Night," he shared the hilarious emotional roller coaster of just how it all went down with the world — and also revealed his new son's name!
The little one is called Ashe Olsen Meyers. Ashe is his wife Alexi's maiden name, and Olsen is his mother's maiden name, so he's covering all the bases for the important women in his life.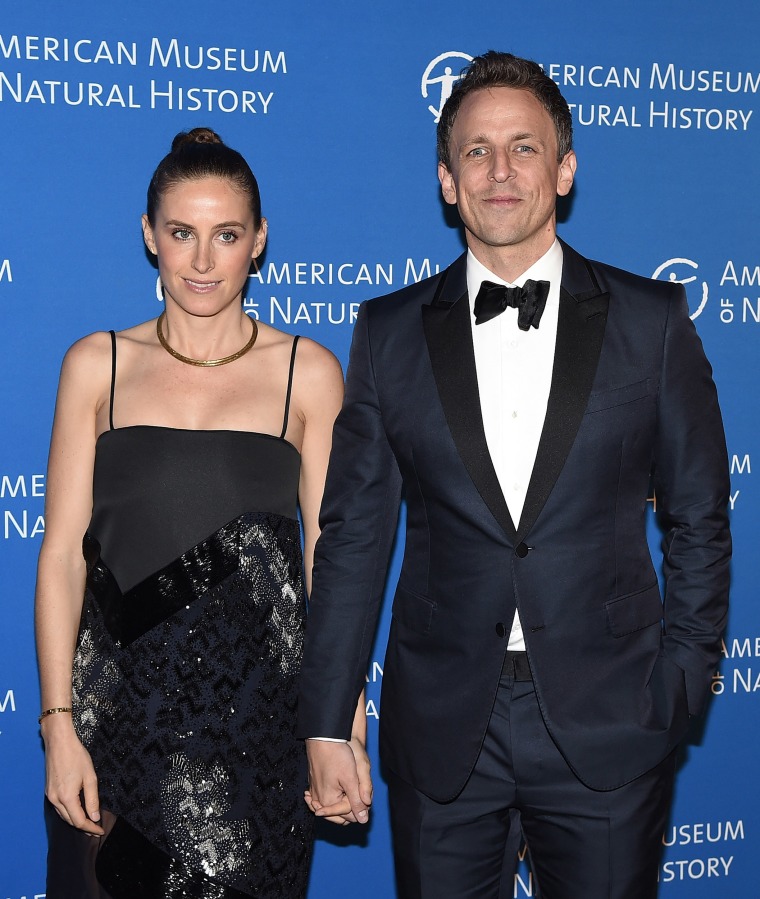 MORE: Seth Meyers and wife Alexi Meyers welcome first child, a baby boy
"A couple people have said, 'Do you think people will think you named [him] after ["Full House" star] Ashley Olsen?'" he told the crowd. "And to them I have said, 'No one will think that, because I've long been a Mary-Kate guy.'"
Still, there was much more to the story. Little Ashe was in a rush to arrive on Easter, apparently, coming two weeks early. The couple had gone to brunch on Sunday with no expectations that they'd be parents by the end of the day (which appears to mirror Sunday's other big delivery, to Ivanka Trump and Jared Kushner). But then the contractions started.
Meyers' retelling of the ensuing events is hilarious and surreal: He and Alexi took an Uber car to the hospital, and on the way rolled down the window so Alexi could scream to the world, "I don't like this!"
"Only in New York could you drive that way and not have people say, 'That woman has been abducted,'" quipped Meyers, who thanked their driver Tyrique.
At the hospital, Meyers realized he was completely unprepared, having never decided just how much of the drug-free delivery he'd stick around for. And, he noted, it was hard to keep from laughing: Half of the staff in the delivery room were wearing bunny ears.
"My wife was in a place where bunny ears could not affect her mood," he noted.
But it was the end of the story that felt the most poignant. While filling out paperwork post-delivery, in which he had to list both the mother and the father of the newborn, he started filling in his father-in-law's name.
MORE: Ivanka Trump and Jared Kushner welcome a baby boy
"The weird thing is that you're not a parent ... and then you are," he said. "It takes your brain a couple hours to catch up to that."
Meyers' first guest, Tracy Morgan, was already very caught up. He brought the new baby a gift of a bowl of condoms. Meyers read the card: "Baby Meyers, don't get anyone pregnant before the age of 30. Love, Uncle Tracy."
Sounds like things are off to a very funny start, bunny ears and all. Congratulations again to the proud parents!
Follow Randee Dawn on Twitter.