As 4-year-old Julian spun in circles by the swimming pool, his parent Lu Everman worried. Julian has autism and sometimes when he spins or flaps his hands, children react cruelly.
But this time something surprising happened: A girl asked to play with Julian.
"He's silly!" the girl told her grandmother. "I want to play with him."
She explained she liked him because he was like Julia, a Muppet with autism on Sesame Street.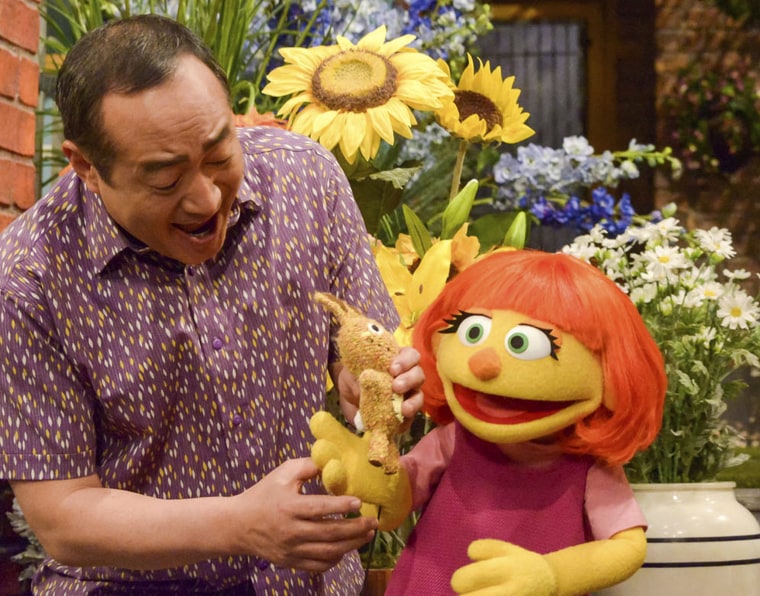 "It was wonderful to realize there are abled kids who don't feel threatened by or uncomfortable around him," Everman, 32, of Tennessee, told TODAY, via email. "Seeing a girl basically correct her grandmother on the ins and outs of playing with an autistic child was magical."
Everman felt so touched they shared the experience on Twitter:
"There's an autistic, nonverbal Muppet. Don't tell me that representation doesn't matter," they wrote in a Tweet that has gone viral.
Everman loved seeing their son accepted.
"Watching her walk over and hop next to him while he babbled and spun in circles — it's one of those experiences that etches itself in your brain," they said.
In the past, Everman noticed that other children felt scared around Julian because he doesn't make eye contact, babbles and doesn't respond to typical social cues.
"It can be off-putting to abled kids because they think he's ignoring them, or else acting weird," Everman said.
But Everman, who also has autism, never imagined that a character with autism on Sesame Street would change a child's impression.
"Julia and Julian were the same. When the little girl in his class saw Julia, she had seen Julian," they said. "I don't think I've ever loved a Muppet so much."
But this was a "complete 180" from Everman's original thoughts about Julia. When Sesame Street first introduced Julia they felt disappointed in how stereotypically she behaved.
"[I was] pissed off at a Muppet for being just another caricature," they said. "Julia had everything I'd been conditioned to think autism was … [But] autism isn't a monolith."
After witnessing Julian's experience with the girl at the pool, Everman realized their impressions were wrong.
"It's easy … to forget exactly what that representation means for a child, as a child. Four-year-olds don't understand representational nuance," they said. "The best way to explain something is to meet them where they are, and that's what 'Sesame Street' has done with Julia."
Everman feels stunned by the response and hopes this encourages a conversation about representation of people with disabilities.
"Disabled characters only seem to appear to when abled characters — or consumers — need to feel better about themselves," they said. "We aren't plot devices and we aren't here to inspire you. We're just here."