Elmo and Big Bird have a new friend on Sesame Street, a 4-year-old girl named Julia. She has red hair, loves her toy bunny and can come across as shy. She also has autism.
Some viewers of the beloved children's television program might recognize Julia from her introduction two years ago in an online storybook. In April, Julia will make the leap into live-action when she becomes the newest Muppet to join Sesame Street, as revealed in a sneak preview Sunday night on "60 Minutes."
RELATED: 'Sesame Street' introduces first character with autism: Meet Julia
While the show works regularly with educators and child psychologists, this time it also worked with autism organizations while creating Julia, to decide which characteristics she should have and how best to introduce her to children.
"It's tricky because autism is not one thing, because it is different for every single person who has autism," said Christine Ferraro, one of the show's writers. "There is an expression that goes, 'If you've met one person with autism, you've met one person with autism.'"
RELATED: Sesame Street madness! See Big Bird, Cookie Monster, Elmo take over TODAY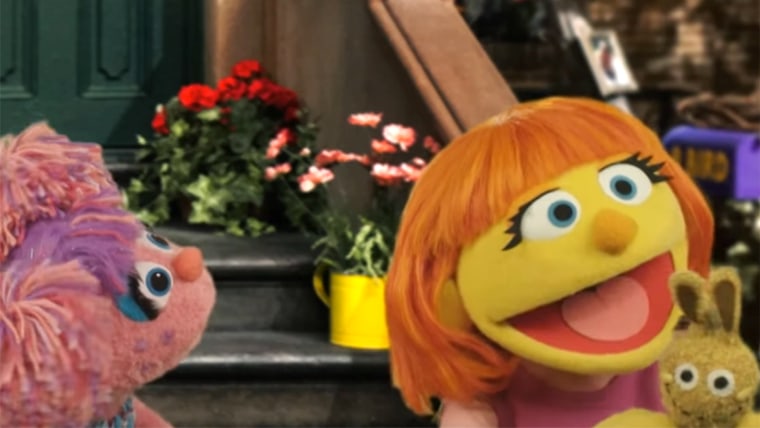 Julia will be introduced on the HBO and PBS series in a segment where she meets Big Bird, but shows reluctance in shaking his hand. Elmo then has to help explain to a saddened and hurt Big Bird that Julia has autism, "so sometimes it takes her a little longer to do things."
The show also explains Julia's sensitivity to loud noises and her excitability during a game.
Julia's puppeteer, Stacey Gordon, has a son with autism and wishes the character was around years ago when he was younger.
RELATED: Happy birthday, 'Sesame Street'! Watch beloved clips as series celebrates 47 years
"Had my son's friends been exposed to his behaviors through something that they had seen on TV before they experienced them in the classroom, they might not have been frightened," she told "60 Minutes."
"They might not have been worried when he cried. They would have known that he plays in a different way and that that's OK."
For more information on autism, please visit the National Institute of Mental Health.