Sesame Street characters are best known for teaching young children their letters, numbers and how to play nicely with one another. But now Elmo, Abby Cadabby, Rosita and their pals have taken on a broader task: helping kids cope with trauma.
On the same week the nation was rocked by the deadliest mass shooting in American history, the beloved characters from the popular television program paid TODAY a visit to discuss a new initiative launched this week to help children deal with unexpected stressful events, including divorce, abuse and natural disasters.
Sesame Workshop, the program's nonprofit educational arm, works often with community-based organization to help families and children deal with specific challenges.
"What we keep hearing is that they need more materials for young children to help reduce stress and to help parents and caregivers understand how important that is, and that's what led to this," said Sherrie Westin, Sesame Workshop's executive vice president of global social impact.
Elmo, in his visit with TODAY's Hoda Kotb and Jenna Bush Hager, said his father showed him how to make "a blanket fort" to help him during moments he needs to feel "very safe."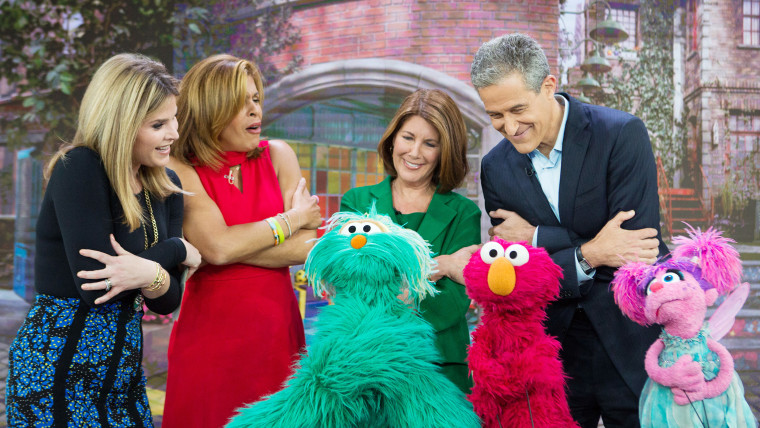 Other strategies Sesame Workshop offers online include other favorite characters from the show, including Big Bird and Count Dracula, demonstrating techniques they use to help them process "big feelings" and relax, such as counting to a specific number, punching a pillow or roaring like a dinosaur.
Dr. Richard Besser, a pediatrician and president of the Robert Wood Johnson Foundation, said research shows that these techniques can work to help children.
"Parents need to understand that it's worth talking about this and helping their kids cope and learning these skills," he told TODAY. "As a pediatrician, I know that these early stressors, if you don't handle them, can lead to problems with learning and development. But by giving them evidence-based tools they can grow to have normal life, normal emotional development."