/ Source: TODAY Contributor
When they adopted Rocky, a 17-year-old abandoned dog, from their local animal shelter in late 2015, Beth and Michael Clark had no idea how much joy the aging animal would add to their family.
Clark says she fell in love with Rocky right away.
"I saw this gray-faced, skinny dog and I said to my husband, 'We're getting him,'" said Clark, who took Rocky home and nursed him back to health. "I was not about to leave that old man to die in a cage."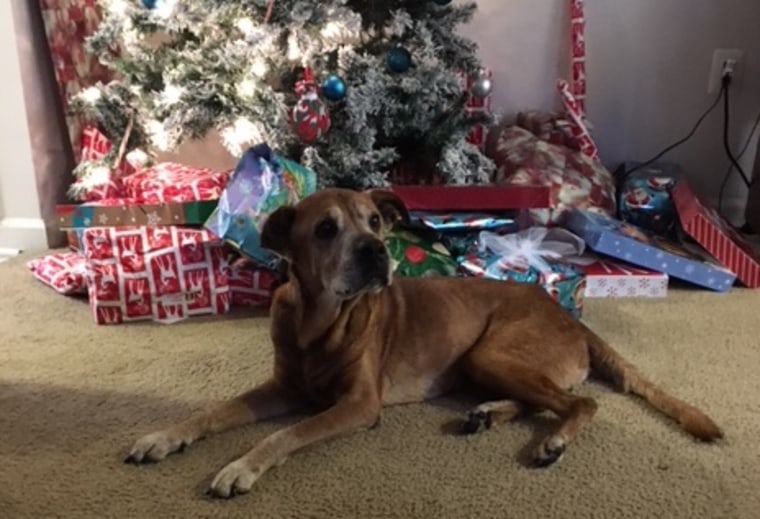 "Rocky made our life very complete," Beth Clark told TODAY Parents. "He loved dancing with us and being near us ... as the year went on, it got harder for him to climb the stairs and go on walks, so my husband would carry him up the stairs every night just so he could sleep next to us, and instead of walks we just sat outside in the sun together."
Never miss a parenting story on TODAY.com! Sign up for our newsletter here.
Robin Catlett is an administrator at Anne Arundel County Animal Control, the shelter where Rocky was adopted, and says recent years have brought the shelter great success with finding homes for aging pets.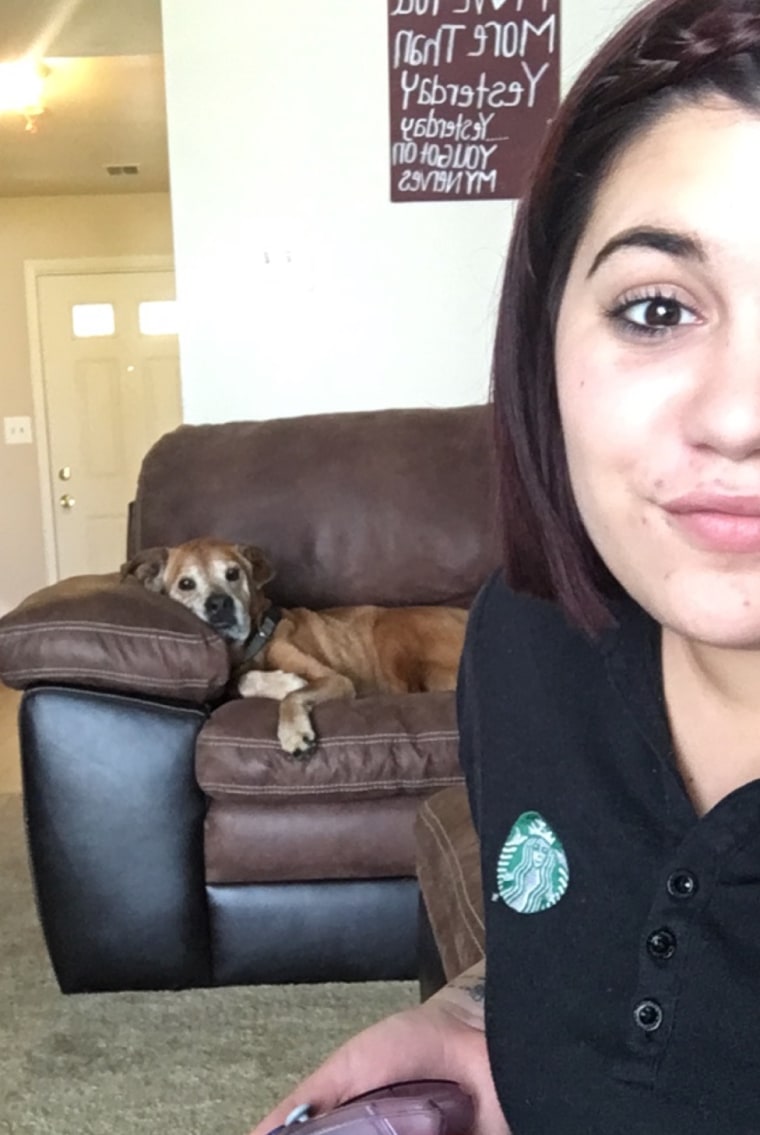 "It takes a special family to open their heart and home to an animal that they may only get to have in their lives for a short period of time," said Catlett. "We do our best to make the animals as comfortable as possible in our care, however we know this can never replace a forever home."
Clark, who lives in Maryland, gave birth to daughter Hazel on April 5. Prior to delivery, Clark and Rocky had been a support system for one another — the Maryland mom miscarried in July 2016, during her first pregnancy and learned soon after that she was expecting again.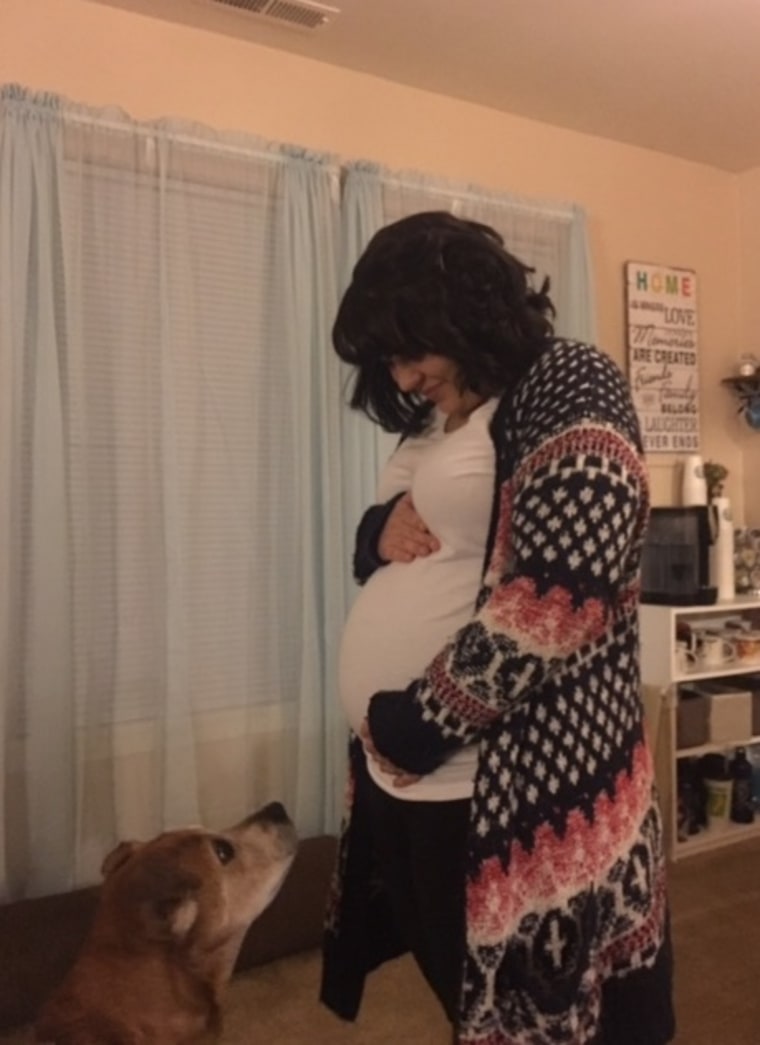 "Rocky didn't really notice until I started showing, but he was so gentle with me and he adjusted really well with all the baby stuff coming in," said Clark. "When I wasn't feeling good, he was always near."
The Clarks even enlisted Rocky's help to announce the pregnancy with a sweet photo announcement, showing Rocky with a sign that read, "My parents are getting me a human."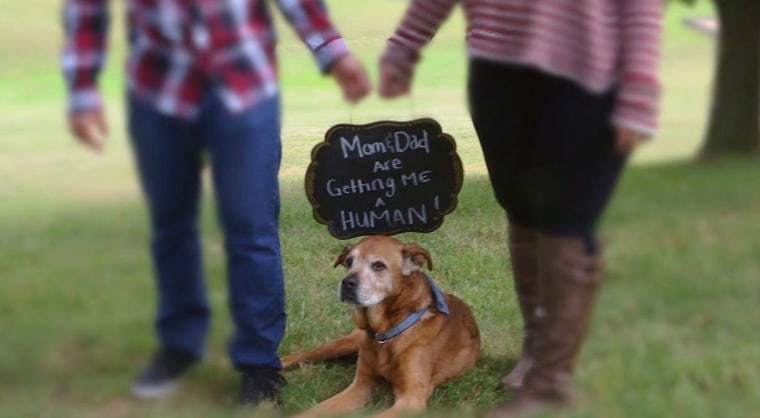 When she was seven months pregnant, Clark says Rocky's health began to fail. After he began exhibiting seizure-like symptoms, Rocky was rushed to the emergency vet, where the Clarks were told their pet either had an ear infection or a tumor.
"They wanted to hospitalize him, but I was not willing to put him in a cage again to be poked and bothered," said Clark. So they took Rocky home, where he bounced back and began feeling a bit better. "I would rather him be home with us if anything serious was going on ... we always kept hope that we would get a little longer with him and we sure did."
RELATED: This baby and her new rescue dog have something in common (besides adorableness)
Chris Collins Weinstein serves on the board of directors for Friends of Anne Arundel County Animal Control, and says there are benefits to adopting a senior pet.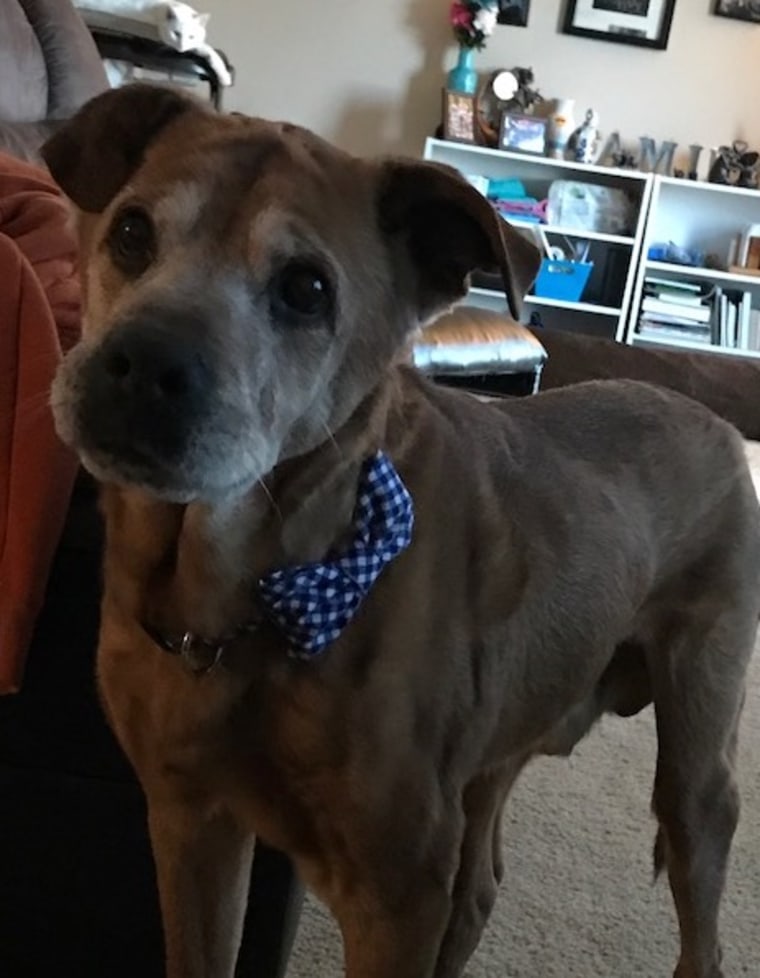 "With older dogs, the personality and appearance you see is what you get," said Collins Weinstein. "And, older dogs can seem so appreciative of a loving home like the one Beth and Michael provided — Rocky was so frail and sad when he arrived at the shelter, but under their care he blossomed and seemed truly happy."
Clark says when she returned from the hospital after having her daughter, Rocky was acting strangely. But, the new mom was caught up in her excitement for her dog to meet her baby, and barely noticed.
"He sniffed her and placed his head near her," said Clark. "It was beautiful and I cried."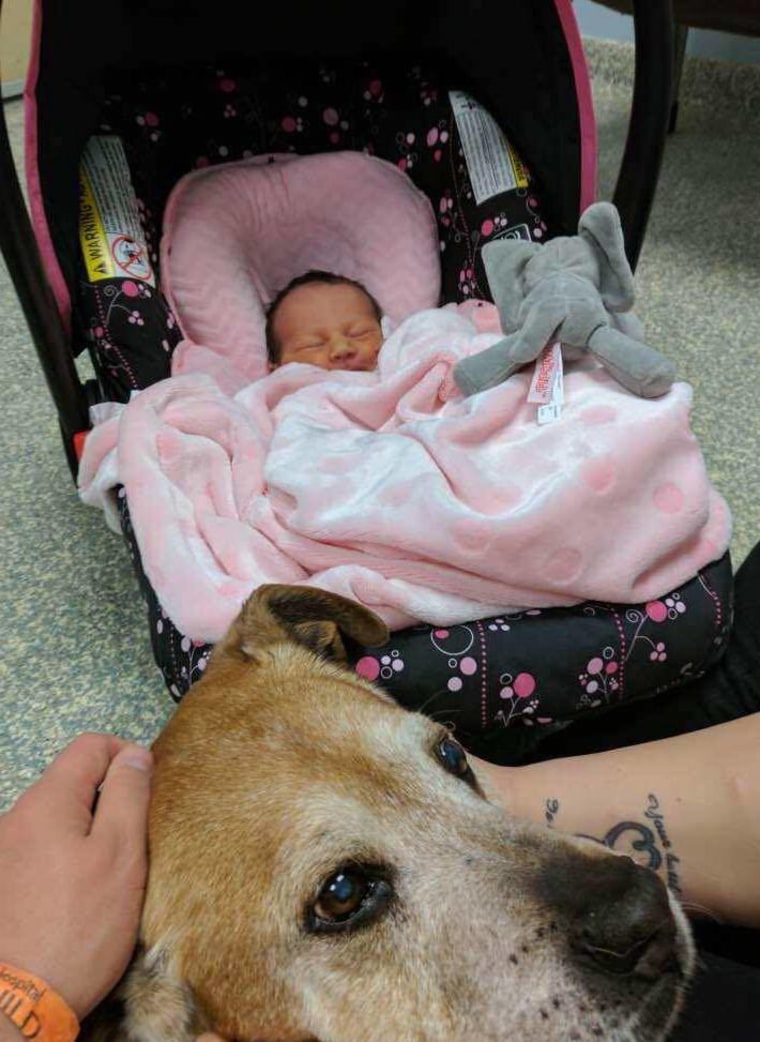 Later that evening, Clark says Rocky's condition worsened, and she and her husband knew it was time for him to be put to sleep.
RELATED: Baby's best friend! Hoda's dog Blake and Haley Joy are pals
"I called a vet and that night, he went peacefully with his family by him," said Clark. "We loved him more than words can describe and we still have a very hard time adjusting to him not being here."
Clark believes Rocky held on, waiting until he met his new baby sister before letting go.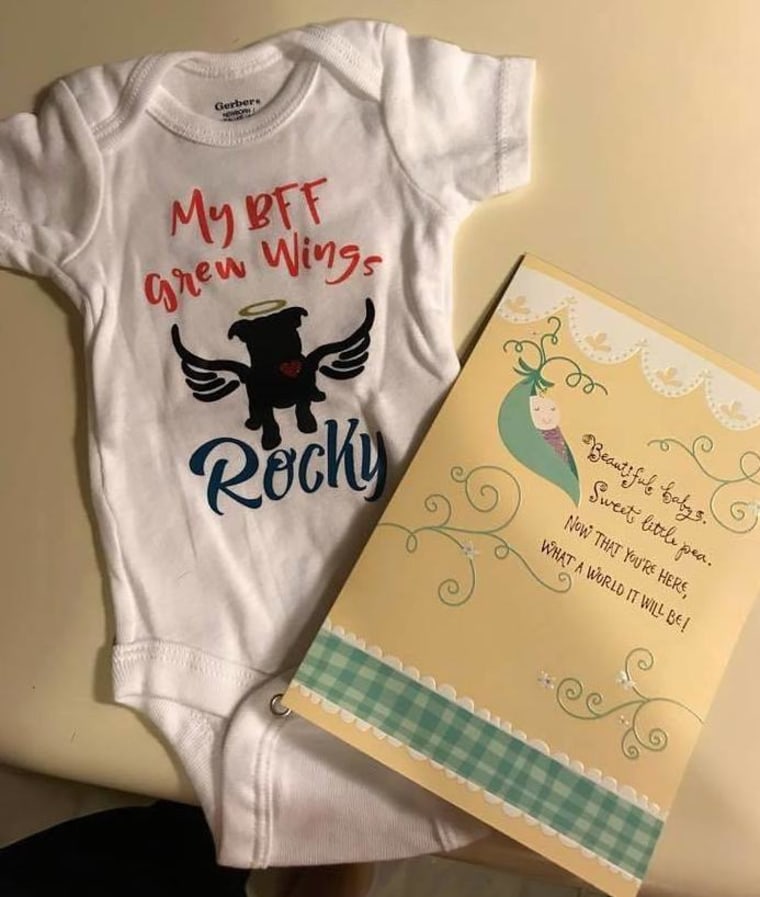 Friends of Anne Arundel County Animal Control sent the family a onesie for baby Hazel, emblazoned with a dog with angel wings and the phrase, "My BFF grew wings."
"Dear Hazel: Someday your mom and dad will tell you all about your first dog, Rocky," the organization wrote in a touching Facebook post about the dog. "Early Wednesday morning, you were born, and Thursday evening you went home with your proud parents. Rocky, now well over 18 years old, was there to meet you … but not for long."
"We were more than thrilled to adopt Rocky," said Clark. "Just because he was a senior doesn't mean he didn't have a personality. It didn't mean he couldn't be a family dog or go out and enjoy the world. Senior dogs are amazing dogs — they may need a little help, but they will love you so much."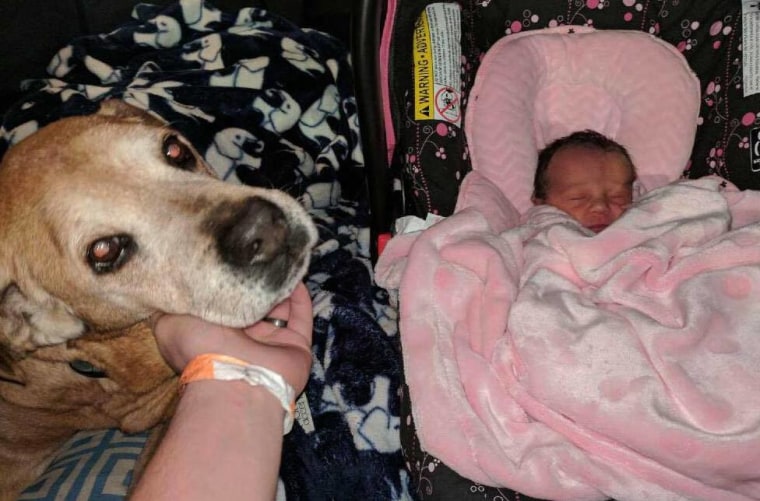 TODAY writer and editor Laura Coffey is author of the bestselling book, "My Old Dog: Rescued Pets with Remarkable Second Acts," and says stories like Rocky's prove it's a good time to be a senior dog.
RELATED: 'My Old Dog': A paw-some adventure leads to new book by TODAY writer
"A senior-dog-rescue movement has been spreading across North America over the past decade or so, and it's so exciting to see," said Coffey. "People are realizing how meaningful it can be to help shelter older animals who have run out of options."
"I have a strong hunch," said Coffey, "that the humans who adopted Rocky at age 17 are going to be awesome parents."