Since its premiere a month ago, the hit Netflix series "13 Reasons Why" has sparked a lot of discussion over its graphic depiction of suicide. In a recent interview with TODAY, a prominent adolescent psychiatrist called on Netflix to pull the drama from its service, stating that "teenage suicide is contagious."
Selena Gomez, a co-producer of "13 Reasons Why," based on Jay Asher's 2007 best-selling novel, addressed the controversy in an interview with the Associated Press. She acknowledged, "It's going to come no matter what. It's not an easy subject to talk about."
"We stayed very true to the book," Gomez, 24, said, describing Asher's book as a "beautifully tragic, complicated, yet suspenseful story."
She added that the show's producers "wanted to do it justice."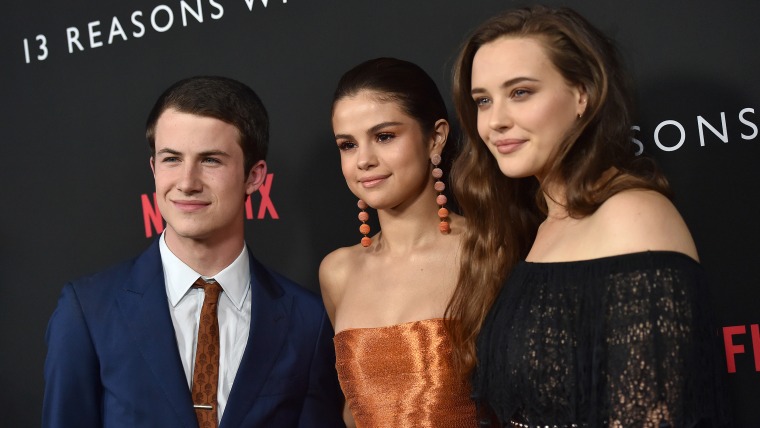 Though there has been some backlash against "13 Reasons Why," Gomez said she is "very proud" of the show.
Actor Dylan Minnette, who plays Clay Jensen, told Ellen DeGeneres on her talk show Monday that the main goal with "13 Reasons Why" is to "start conversations that we think are necessary to be had and to bring these issues to light and to show them in a real way."
"If people are talking about it, we've reached our goal," he said.
RELATED: Psychiatrist: Netflix should remove '13 Reasons Why' immediately
While select episodes of "13 Reasons Why" with graphic content include warnings for viewers, Netflix announced Monday that it is adding an additional viewer warning card before the first episode and has strengthened the messaging in the cards that currently exist.
If you or someone you know needs help, please call the National Suicide Prevention hotline at 1-800-273-8255 anytime.