/ Source: TODAY contributor
Teachers are seeing double at Armstrong Elementary School in Garland, Texas, these days. But there's nothing wrong with their eyes: Rather, the school seems to be ground zero for a national explosion in the rate of twin births.
There are 19 sets of twins at Armstrong Elementary, including nine sets in the second grade alone. And if that weren't enough, another set showed up recently just to see what the story was with all the twins.
"When I was growing up, twins were an unusual, a rare thing," noted TODAY correspondent Tiki Barber — an identical twin himself — in a report that aired Tuesday. "But in the last decade there has been an increase by more than 40 percent of twins born in this country. When I visited Armstrong, even I was surprised to see that they just seemed to be everywhere."
"I've been in education a long time," school principal Rebecca Ayars told Barber. "And I've never seen so many. I don't know if it's the water. Or what it is." She considered other possibilities, then decided with a laugh, "I'm not going to go there."
Twins peaking
Armstrong has an enrollment of 539, with the twins making up 7.2 percent of all the students. Although the number of twins at the Garland school is high, it's not unique.
Parents posting online on the twinstuff.com forum note that there are nine sets of twins and one set of triplets among the 223 kindergarten students at Colchester Elementary School in Colchester, Conn. At another school in Hamler, Ohio, five sets of twins made up more than 11 percent of one class of 87 students. And at an elementary school in Houston, there are another 19 sets of twins and one set of triplets in a student population of 730.
According to government statistics, the rate of twin births in 1971 was one in 60 pregnancies. By 2004, that rate had doubled to one in 30.
Researchers attribute the explosion in twin births to more women having children in their 40s, when the chances of having twins rise. Fertility treatments have also contributed to the phenomenon, researchers say.
Double the funWhen Barber visited the school, he brought along his own twin, NFL All Pro cornerback Ronde Barber, to even the playing field.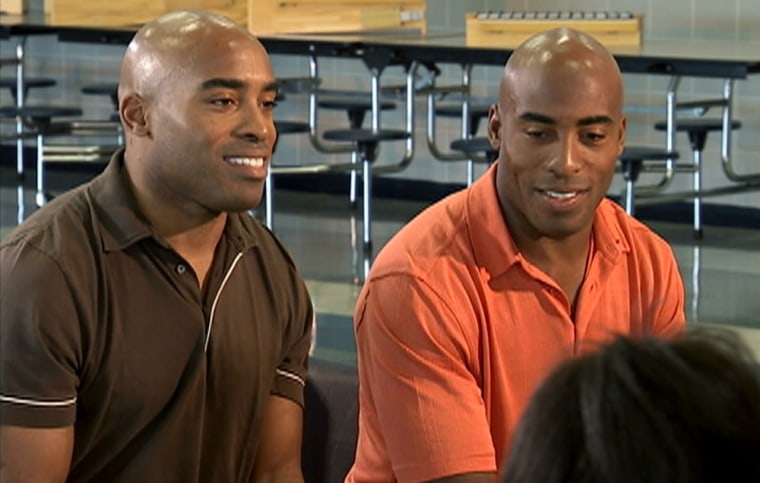 The twins of Armstrong were delighted with the attention, all eight pairs of girls, six pairs of boys and five sets of fraternal twins getting together to talk about the joys — and annoyances — of their double lives. They squealed with delight when Tiki Barber introduced Ronde, and all joined in for some football lessons with the brothers.
The Armstrong Elementary twins told Barber that they get mixed up all the time — just like Tiki and Ronde did when they were in school.
Third-grade teacher Laura O'Brien takes matters into her own hands with twins Joseph and Jonathon Rodriguez.
"Joseph sits there," she says as they enter her classroom, pointing to a seat. "Jonathon sits there."
"Do you ever get them mixed up?" Barber asked.
"All the time," she replied. "And the class is really good about, 'No, that's Jonathon,' 'No, that's Joseph.' They don't get upset about it. They're fine and go with the flow."
But fourth-graders Christian and Collin McCauley said that getting confused for each other gets old.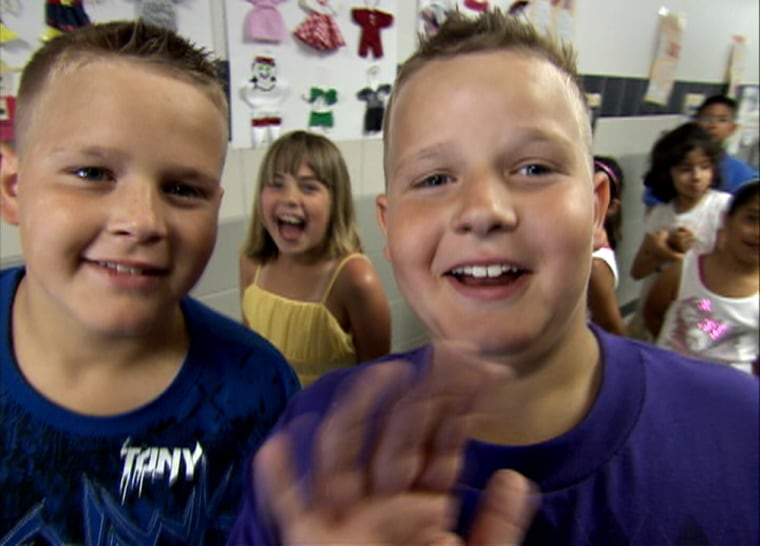 "Everybody asks us, 'Who are you?' and stuff. I hate it. It's boring," Christian said.
"But it can work to your advantage, right? 'Cause you can do something, and say you're him," Tiki suggested in a conspiratorial, just-between-us-twins tone.
"Yes," Collin agreed, adding, "We're gonna switch classes on the last day of school."
Big mistake, Barber said. "You can't tell," he said. "You can't put it on national TV."
Not to worry, one of the brothers — was it Collin or Christian? — said: "She won't know."
Whichever McCauley it was, he may be right. It's just the sort of double cross twins have been pulling off since time immemorial.