Halloween was a sweet delight for the families of TODAY anchors, several of whom had children dressing up and celebrating the holiday for the first time.
Craig Melvin's household went batty, literally. Everyone dressed up as bats, including his daughter, Sybil, who turns a year old next week.
"We flapped and flew and had several convos abt the dangers of eating a half pound of candy in two hours," he wrote in an Instagram post.
Dylan Dreyer's 10-month-old son Calvin dressed up as … Calvin. He went trick-or-treating as the beloved "Calvin and Hobbes" cartoon character known for his vivid imagination.
Hoda Kotb demonstrated what happens to many first-time parents trying to decide what to dress their child for the first Halloween: You buy multiple outfits!
Last week, Hoda showed off her daughter in a pumpkin costume. But 10-month-old Haley Joy ultimately ended up going out as a bunny.
It also was the first Halloween for Henry Holt, the newborn grandson of Nightly News anchor Lester Holt.
Henry, who was born on Sept. 5, showed off a belly full of candy in his skeleton costume.
Savannah Guthrie's 3-year-old daughter, Vale, continued enjoying her trick-or-treating tradition with Jenna Bush Hager's daughters, 4-year-old Mila and Poppy, 2.
But this year, the trio added "one new little member" to the club, Savannah's 10-month-old son, Charley.
Several TODAY anchors acknowledged the somber tone that hovered over the start of trick-or-treating in New York City, where heartbroken residents were still in shock over a terrorist truck attack Wednesday.
Sheinelle Jones described getting calls from worried relatives, checking on her family's safety.
"I hesitated to take the kids out tonight for a brief moment, but realize the kids have no clue what's going on.... and they were so excited to walk the streets," she wrote in an Instagram post featuring her three beaming children. (Well, we assume the third one is smiling behind his Darth Vader mask.)
"You see their bright happy faces, and you just want peace. Praying for our country tonight."
Savannah noted the truck attack took place just blocks away from home, where Vale was getting ready to go out as "doctor-princess" and Charley as a pineapple.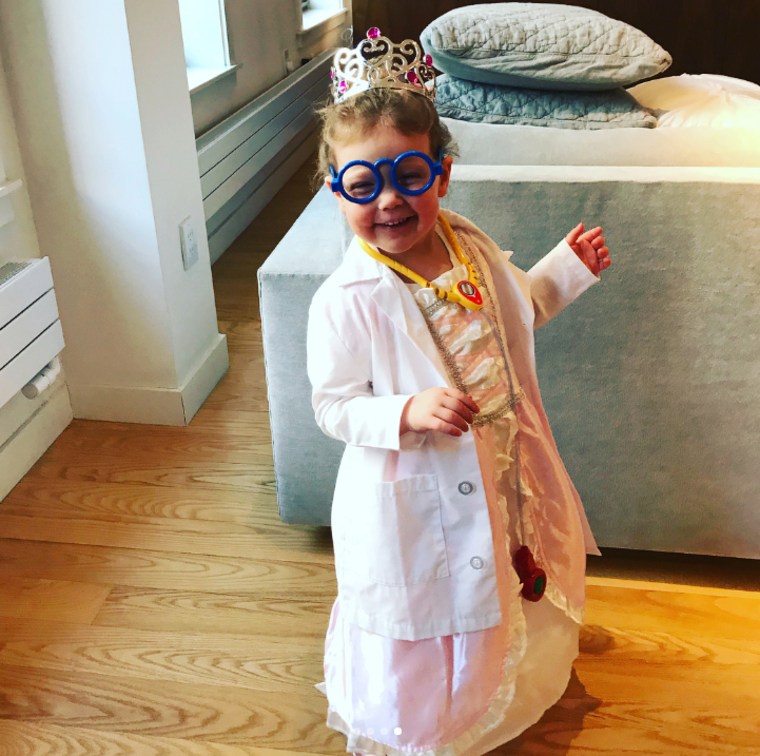 "I'm holding them tighter tonight because terror struck in my neighborhood just as we were about to take them trick or treating," Savannah said. "I'm counting my blessings that we are safe, that our friends are safe and my heart aches for those who lost everything today."
Jenna, who lives next door to Savannah, said the tragedy served as a reminder of "how precious life is."
"I held my little sunshines even closer last night," she wrote in her post showing Poppy as the sun and Mila as a rainbow.
Willie Geist expressed appreciation for the efforts of law enforcement working to ensure that the city's children could enjoy the evening.
"New York City carries on. Our kids are trick or treating tonight under police guard, but the streets are packed. Thank you, @NYPD," he said.