When it comes to getting organized with kids, you have to start by throwing out some sentimentality. That's according to professional organizer Barbara Reich, mother of 13-year-old twins and author of "Secrets of an Organized Mom."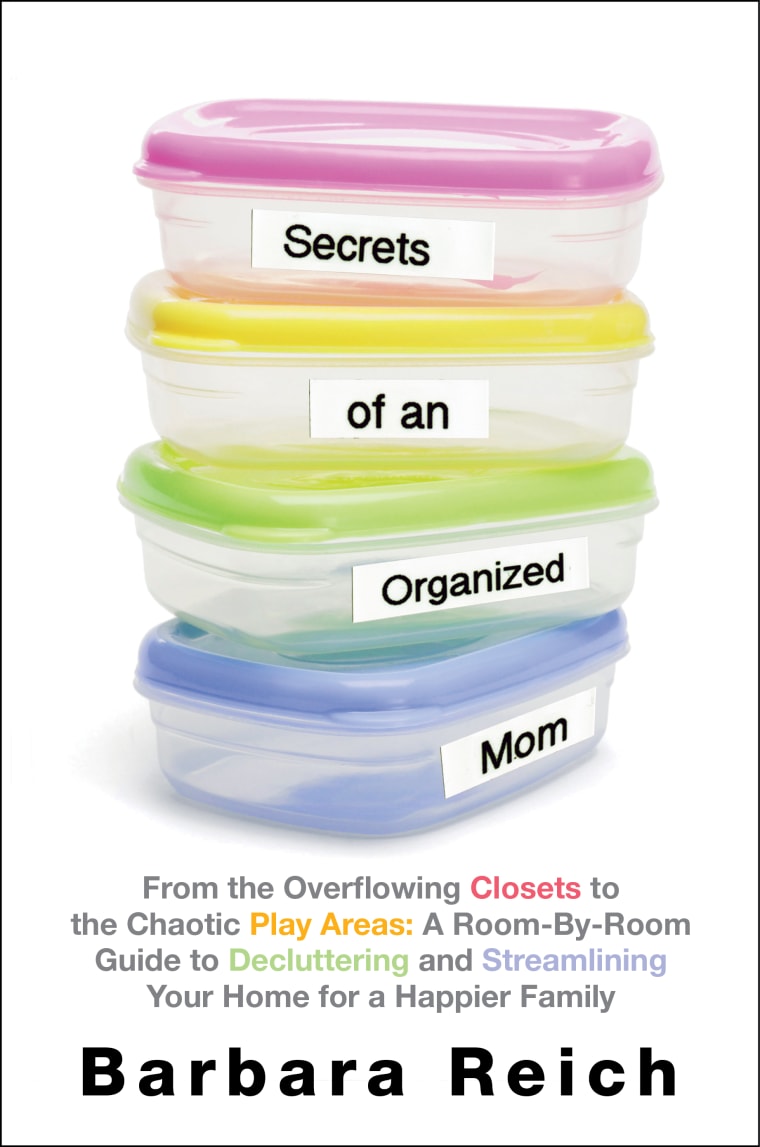 Link: Click here to read an excerpt from "Secrets of an Organized Mom."
All those lovely artworks and macaroni-and-glue creations your little darlings bring home from school? Toss 'em, Reich told TODAY.
"You're a bit of a drill sergeant," TODAY's Willie Geist remarked. "Your sweet 5-year-old daughter, like I have, comes homes, she made something special, I want to put it up on the wall -- no?"
"It's really not that special," Reich responded. "You don't have to be heartless, but when they go to sleep, that's when you move the garbage out."
She sings the praises of her four-step system: 1. purge, 2. design, 3. organize, and 4. maintain.

Reich answered some questions from TODAY.com readers who wanted advice on their organizing dilemmas. Read on for her answers:
Toys: How do you know which ones to toss?
Ashley Bernawrites: Hi, I'm a mother to twin boys as well but mine are almost 2. They have so many toys and I rarely see them play with them. My husband and I constantly trip on them. We changed bedrooms with them so they have the big room and we are cramped in the small one. How do I know which toys to get rid of, and do I throw them away?
Barbara Reich responds: If your twins have toys they rarely play with, and they're not toys you want them to play with, start by getting rid of these (you can donate or recycle them as well). You can also go through their toys and eliminate any duplicates, any "junky toys" (e.g., toys they got in a Happy Meal or as a party favor), and any toys that can be annoying to you or those around you (e.g., toys that make noise). When the twins have fewer toys, you'll find that they play with more things, and their room will be less cluttered.
Socks: The eternal stray sock problem!
Bridget Knapp writes: Barbara....how do you keep the socks in the laundry organized? No matter what I do I end up with baskets of loners without mates!!
Barbara Reich responds: If you buy all the same brand of sock, you eliminate the annoying task of sorting them when you do laundry. Even more important though, you won't have loners anymore!
Greeting cards: Throw them out?
Alison Parson writes: What do you do with greeting cards? I have a bunch of cards from anniversaries, friends, what have you. There area very few that havespecial notes inside. I am NOT a pack rat.... Do I have your permission to throw them away?
Barbara Reich responds: Alison, you absolutely have my permission to throw those greeting cards away! Only save the few with those special notes inside! I'd suggest a small letterbox or clear large envelope so you know what's inside.
How to get started? Several viewers wrote in with this question.
Diane Bruno writes: How do you begin the process of decluttering when you feel so overwhelmed to begin with?
Barbara Reich responds: Even though you're feeling overwhelmed, the most important thing is that you do start. Make a weekly date with yourself, and write it in your calendar. Treat that time as sacred. Identify one area of your home that stresses you out the most and start there. It could be something as simple as the junk drawer in the kitchen or something as large as a coat closet. Plan on spending at least two hours on an area, so you make real progress. Once you've made a little headway, I promise you'll feel less overwhelmed!