Take away their smartphones or video games, and most teens act like their life is over. But for some, the Internet really is as addictive as a drug, experts say.
Once the virtual world takes over, the consequences can be all too real, as NBC special anchor Maria Shriver found out in the latest installment of TODAY's series on the secret lives of teens. Kids hooked on the Internet can suffer from chronic sleep deprivation, poor nutrition and academic failure.
For Andrew Fulton, who is now 19, the problem began in high school. Outwardly, he was a typical "good" kid: an honors student and a talented musician. But he was spending more and more time online at home, surfing the web and playing video games up to six hours a day as a way to escape his stresses.
"It's really like a therapeutic release. All that social anxiety I felt in school just went away because I could be whoever I wanted to be," he said. "It's kind of like a full-body buzz."
Read more: Generation stress? How anxiety rules the secret life of teens
Andrew's parents weren't too concerned about all of that screen time since he was still functioning well, his mom recalled. His father considered the habit pretty typical behavior.
"That's what the teen boys do, they play games. It didn't jump right out and say, this could be addictive," Bob Fulton said.
But once Andrew started college, the addiction took over his life. Instead of going to classes, he would play video games up to 16 hours a day, and then keep going at night.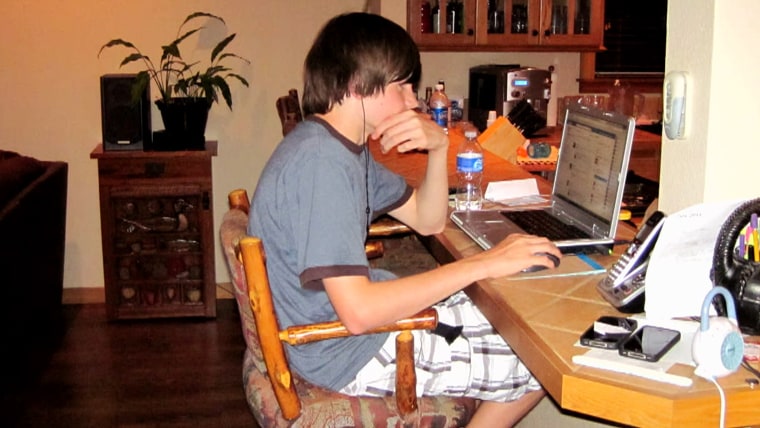 "Sometimes, I just had a piece of bread and cheese and that was my meal for the whole day," he recalled. "I just kept doing it as long as I could... I kept pushing out everything else."
Andrew lost 30 pounds and flunked out of college. His parents hardly recognized him when he came back home, calling him a "shell of a son."
He spent six months at reSTART, the country's first residential program for internet addiction. After intensive therapy, regular exercise and monitored computer use, Andrew graduated from the program this summer and is now back in college, where he hopes to start a student support group to help others.
"I know how harmful it was, and I don't want to go back to that," Andrew said. "It destroyed my life."
The American Psychiatric Association calls the problem "Internet Gaming Disorder" but stops short of classifying it as a formal disorder, noting that more clinical research is needed.
Hilarie Cash, the founder of reSTART, finds that stance "a great puzzle" since Internet addiction is such a huge problem for so many people, she said.

What warning signs should you look for in your teen? Here are some red flags, according to reSTART:
Craving more time on the computer and Internet

Neglecting friends and family

Feeling restless when not engaged in the activity

Computer use interfering with school performance

Being dishonest with others

Withdrawing from other pleasurable activities

For more help and resources, check these websites:

The Center for Internet Addiction
The Center for Internet and Technology Addiction
Follow A. Pawlowski on Google+ and Twitter.