Sometimes, when Angie Prindle is out with her 7-year-old son, Moses, moms with multiple kids complain to her about their chaotic lives and say, "You're so lucky you only have one."
They have no idea, Prindle says. "My mind and heart begin calculating whether I fake a smile and turn away, or unleash my saga of pregnancy loss and infertility on them."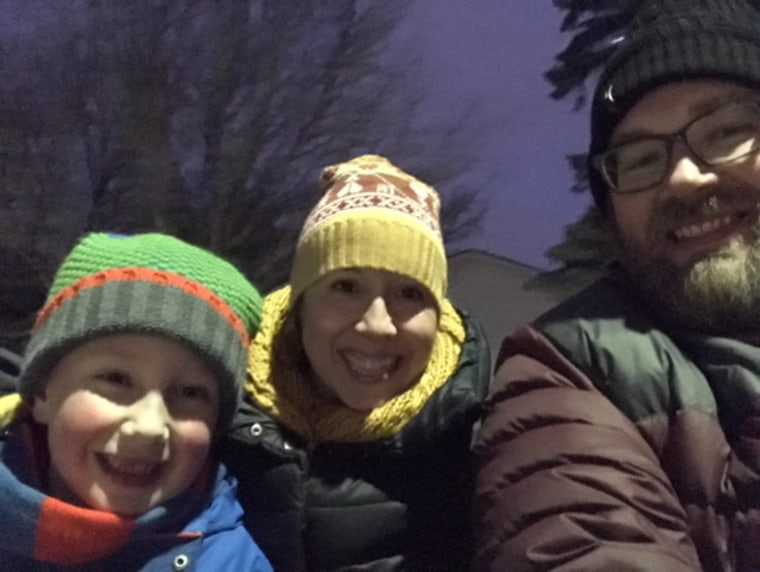 Prindle suffers from secondary infertility — the struggle to conceive and carry a pregnancy to term after previously giving birth. While more women are speaking openly about infertility, which affects about one of eight women, less is known about secondary infertility.
Never miss a parenting story with the TODAY Parents newsletter! Sign up here.
"There is a natural assumption among many women and couples that if they were able to conceive easily in the past, then they will be able to do so in the future. Unfortunately, that is not always the case," says Dr. Zev Williams, chief of the division of reproductive endocrinology and infertility at New York-Presbyterian/Columbia University Medical Center. "Sometimes we see couples that were able to conceive in the first month or two of trying and went on to have an easy pregnancy and healthy delivery. But, when they try to have their next baby, they are really struggling to get pregnant."
When Moses was 5, Prindle experienced a devastating stillbirth at twenty weeks. She and her husband named their son Luke as they grieved.
From there, she says, "I became obsessed with getting pregnant again as quickly as possible, and immediately made an appointment at a renowned fertility clinic." She was diagnosed with "diminished ovarian reserve" and began the first stage of fertility treatments, with three unsuccessful Intrauterine inseminations.
Next, the couple turned to an egg donor, but the result was only one viable embryo that "didn't take."
"Suddenly, we were back at the bottom of the mountain," says Prindle, now 42. "We are currently stuck in infertility limbo, without a clear path to redemption and the happy ending I've longed for."
The factors leading to secondary infertility are often the same that cause primary infertility, Williams explains: blocked fallopian tubes, poor sperm quality, or a lack of ovulation. Sometimes, complications from a prior successful delivery, such as an infection or scarring inside the uterus, can result in infertility.
Sometimes just the passage of time contributes to secondary infertility. "While the effect of age on a woman's ability to conceive is minimal when she is in her late twenties and early thirties, it can be much harder when she is in her late thirties and early forties," Williams says.
Prindle notes that "infertility limbo" has taken a toll on her marriage and life.
"My husband's emotional stores have been depleted from the losses and failures," she says. While Prindle is more determined than ever to have another child, she says the opposite has happened for her husband, who is "convinced" one child is enough for them.
Throughout her struggle with secondary infertility, Prindle says she keeps in mind the Winston Churchill quote: "If you're going through hell, keep going." While she keeps going, the careless words of others do hurt.
When Cassie Mascari was struggling to have a second child, she remembers people telling her "at least you know you can get pregnant." But as she understood all too well, one pregnancy is no guarantee of another. "It stings, and comes across as people saying, 'This shouldn't be as hard as you're making it seem,'" Mascari says.
Mascari, founder and editor of the Little Hoboken website, is now 36 and happily pregnant with her second child after nearly two years of treatments, surgeries, transfers, devastating miscarriages and an ectopic pregnancy. She also struggled with infertility before having her 3-year-old daughter Eliza, via IVF.
Having experienced both primary and secondary infertility, Mascari describes her second experience with infertility as living a "double life," somewhere in between motherhood and struggling to conceive, scheduling fertility clinic appointments between visits to the park with her daughter.
"Failing to conceive and carry a pregnancy to term when you want another child is overwhelmingly painful," says Dr. Carly Snyder, perinatal and reproductive psychiatrist and director of women's health for Family Health Associates of New York City. "It hurts as much if not more than if one doesn't yet have children because now you know what you are missing,"
And Angie Prindle suggests those experiencing secondary infertility don't keep the feelings inside.
"Find support, find your people you can talk and cry to, through support groups or informally, find, a therapist who specializes in infertility and pregnancy loss, lean hard on your friends and family," Prindle says. "Not surprisingly some of the most encouraging things I've heard have come from people who've walked this infertility road."