Fed up with the tension over homework, some schools are opting out altogether.
No-homework policies are popping up all over, including schools in the U.S., where the shift to the Common Core curriculum is prompting educators to rethink how students spend their time.
"Homework really is a black hole," said Etta Kralovec, an associate professor of teacher education at the University of Arizona South and co-author of "The End of Homework: How Homework Disrupts Families, Overburdens Children, and Limits Learning."
"I think teachers are going to be increasingly interested in having total control over student learning during the class day and not relying on homework as any kind of activity that's going to support student learning."
College de Saint-Ambroise, an elementary school in Quebec, is the latest school to ban homework, announcing this week that it would try the new policy for a year. The decision came after officials found that it was "becoming more and more difficult" for children to devote time to all the assignments they were bringing home, Marie-Ève Desrosiers, a spokeswoman with the Jonquière School Board, told the CBC.
Kralovec called the ban on homework a movement, though she estimated just a small handful of schools in the U.S. have such policies.

Gaithersburg Elementary School in Rockville, Maryland, is one of them, eliminating the traditional concept of homework in 2012. The policy is still in place and working fine, Principal Stephanie Brant told TODAY Parents. The school simply asks that students read 30 minutes each night.

"We felt like with the shift to the Common Core curriculum, and our knowledge of how our students need to think differently… we wanted their time to be spent in meaningful ways," Brant said.
"We're constantly asking parents for feedback… and everyone's really happy with it so far. But it's really a culture shift."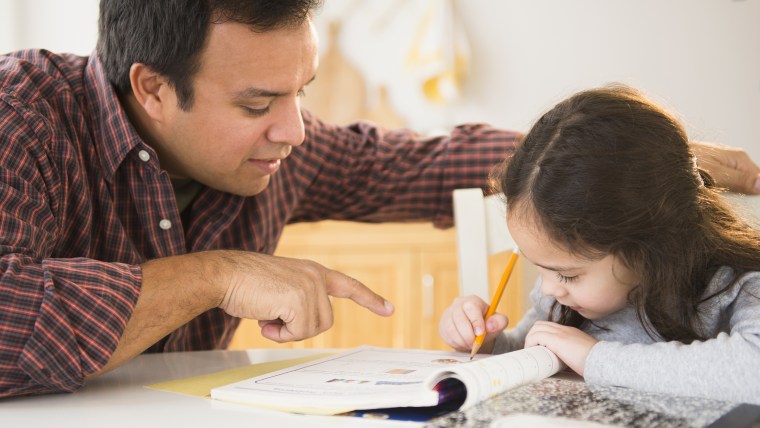 It was a decision that was best for her community, Brant said, adding that she often gets phone calls from other principals inquiring how it's working out.
The VanDamme Academy, a private K-8 school in Aliso Viejo, California, has a similar policy, calling homework "largely pointless."
The Buffalo Academy of Scholars, a private school in Buffalo, New York, touts that it has called "a truce in the homework battle" and promises that families can "enjoy stress-free, homework-free evenings and more quality time together at home."

Some schools have taken yet another approach. At Ridgewood High School in Norridge, Illinois, teachers do assign homework but it doesn't count towards a student's final grade.

Many schools in the U.S. have toyed with the idea of opting out of homework, but end up changing nothing because it is such a contentious issue among parents, Kralovec noted.

"There's a huge philosophical divide between parents who want their kids to be very scheduled, very driven, and very ambitiously focused at school -- those parents want their kids to do homework," she said.
"And then there are the parents who want a more child-centered life with their kids, who want their kids to be able to explore different aspects of themselves, who think their kids should have free time."
So what's the right amount of time to spend on homework?
National PTA spokeswoman Heidi May pointed to the organization's "10 minute rule," which recommends kids spend about 10 minutes on homework per night for every year they're in school. That would mean 10 minutes for a first-grader and an hour for a child in the sixth grade.
But many parents say their kids must spend much longer on their assignments. Last year, a New York dad tried to do his eight-grader's homework for a week and it took him at least three hours on most nights.

More than 80 percent of respondents in a TODAY.com poll complained kids have too much homework. For homework critics like Kralovec, who said research shows homework has little value at the elementary and middle school level, the issue is simple.

"Kids are at school 7 or 8 hours a day, that's a full working day and why should they have to take work home?" she asked.