Nowadays, schools all over the Western world are taking charge of lunchtime, encouraging parents to pack healthy choices in their kids' lunch boxes. But one mom in Australia was in for a surprise when she was called out for sending her child to school not with a candy bar or a can of soda, but a pack of raisins.
The offending snack prompted the school to send the mom a note, which was recently shared online by popular mom blogger Cheree Lawrence on her Oh So Busy Mum Facebook page.
The reason the sultanas, or golden raisins, were shunned? For their high sugar content, according to the note.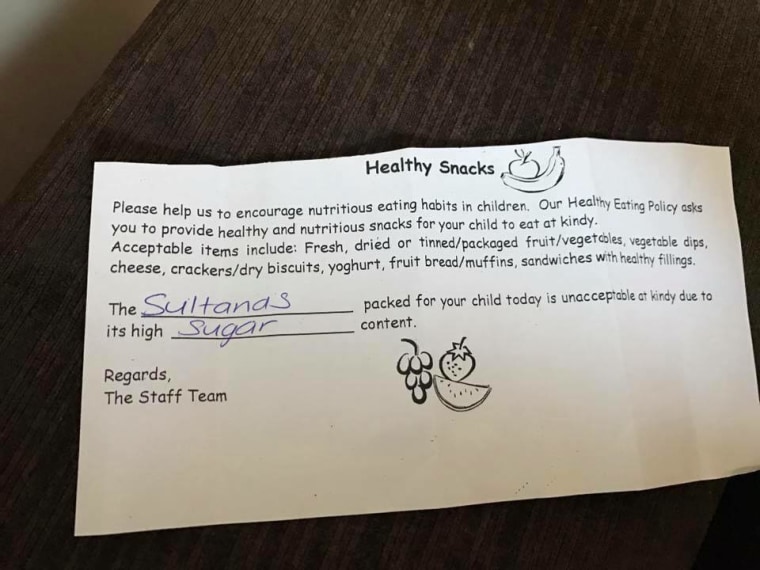 "Please help us to encourage nutritious eating habits in our children," the note said. "The sultanas packed for your child today (are) unacceptable... due to (their) high sugar content."
Lawrence told TODAY that it's not unusual for parents to receive such notes in Australia, noting that in some schools, parents are not allowed to pack baked home goods, healthy or not. "It's getting out of hand and us as parents have limited lunchbox choices for fussy kids," she said.
The "offending" mother did not want to be identified or comment out of concern that the post, which has already gone viral, could cause issues with her childcare center. She initially posted the photo on the Lunchbox Ideas Australia Facebook group, which Lawrence also started.
Such snack crackdowns in Australia were also scrutinized in February when a mom received a warning note for sending her child to school with chocolate cake, which fell into the "red food category" of unhealthy foods.
Marisa Sweeney, a registered dietitian in Morristown, New Jersey, noted a 1.5-ounce box of raisins has about 25 grams of sugar — or about the same amount of sugar found in a cup of fresh figs or mango.
"Are they now going to take fresh fruit away from kids? It seems a little extreme," said Sweeney, adding that raisins are also a good source of potassium, iron and magnesium. "It's not entirely wasted calories you are getting."
Nicole Silber, a New York City-based pediatric nutritionist, echoed that sentiment.
"A box of raisins is a lot less egregious than a box of cookies, and the sugar in it is natural fruit sugar," she said. "A box of raisins alongside a balanced lunch is totally in the clear. There are much bigger fish to fry."
RELATED:
School stamped kids with 'lunch money' when account was low
Mom shocked to get note from school after putting Oreos in daughter's lunch