/ Source: TODAY Contributor
One person can make a difference.
After a Utah mom expressed outrage that her daughter was not allowed to say no to dance requests during her sixth grade dance, the school revised its policy.
"Once we became aware of it, we made the necessary adjustments and advised our schools to please eliminate any language related to dance cards and dancing that suggested students can't say no or don't have a choice who they want to dance with," said Lane Findlay, the community relations specialist at Utah's Weber School District. "We certainly understand the concern and would never want to promote a mindset where students don't feel like they have the option to say no."
Never miss a parenting story with the TODAY Parenting newsletter! Sign up here.
When Natalie Richard first heard of the policy at Utah's Kanesville Elementary School, she thought her sixth grader must be confused.
Her daughter told her mom that if someone asked her to dance, the school wouldn't allow her to say no. Richard thought that couldn't be right.
"Oh no, no honey," Richard told Fox 13 in Salt Lake City. "You guys are misunderstanding again. That's not how it is."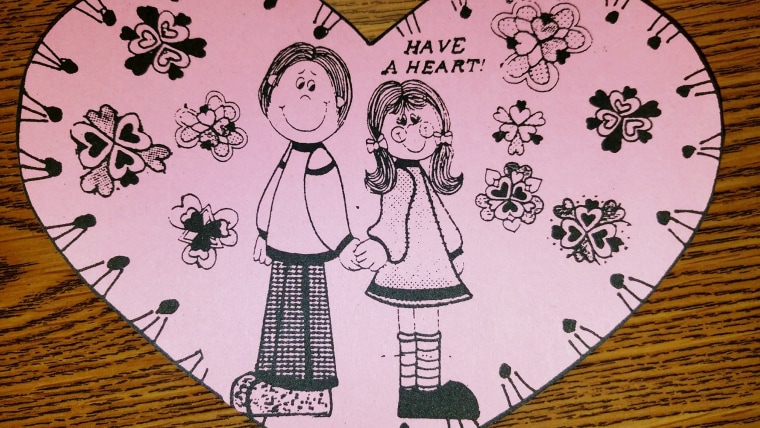 But when Richard asked her child's teacher to clarify, the teacher told Richard her daughter was right: She's not allowed to reject a dance request. Richard couldn't believe it.
"To encourage participation, students are given a dance card," Findlay said in an earlier statement. "Students are instructed to select classmates to dance with and to write their names on the card. Half of the selections are girl's choice and the other half are boy's choice, and students can't dance with the same person more than once. Students are also told by their teacher that if a classmate asks to be on their card, they should be polite and respectful, and agree to dance with that person."
Richard said this teaches children the wrong message about consent.
"(It) sends a bad message to the girls that girls have to say 'yes,'" she said. "(It) sends a bad message to boys that girls can't say 'no.'"
Experts say the previous instructions force children to do something with their bodies that they do not want to do.
"It sounds like the intention is good, but the message, I think, is dangerously flawed," said Dr. Deborah Gilboa, a parenting expert. "(The school is) sharing this idea that with your peers, consent is only sometimes necessary."
Gilboa also worries that the dance-card instructions inform children that saying "no" is unkind.
"You are sending the message that saying 'no' is inherently mean — which you may or may not believe to be true — and that someone's feelings are more important than respecting your own needs and comforts and desires," she said.
Finally, she fears it encourages a sense of entitlement.
"Teaching kids ... that 'you don't get to say no to me in any situation' to their peers to their peers is dangerous," she said. "Nobody should feel entitled and no one should feel forced."
Even at an elementary-school dance, Gilboa believes it is important for parents to teach children that no one is allowed to touch their bodies without their permission.
"Not all sexual harassment or exploitation waits for puberty," she said. "There are very few ways to effectively protect our kids from pedophiles, let's use every single one we can."
While the policy has changed, this story provides parents with an opportunity to tackle tough issues with their children.
"You should already be talking to kids about their bodies and who has control over them," Gilboa said. "We should be using words about content and control and comfort and talking to them about their lines."