/ Source: TODAY Contributor
Fancy holiday outfits purchased — check.
Slot for photos with Santa booked — check.
Kids coached to smile sweetly in the picture — check.
With all of the holiday photo ducks — or reindeer — in a row, it can be easy to think nothing could go wrong during your photo session with Santa Claus. Right?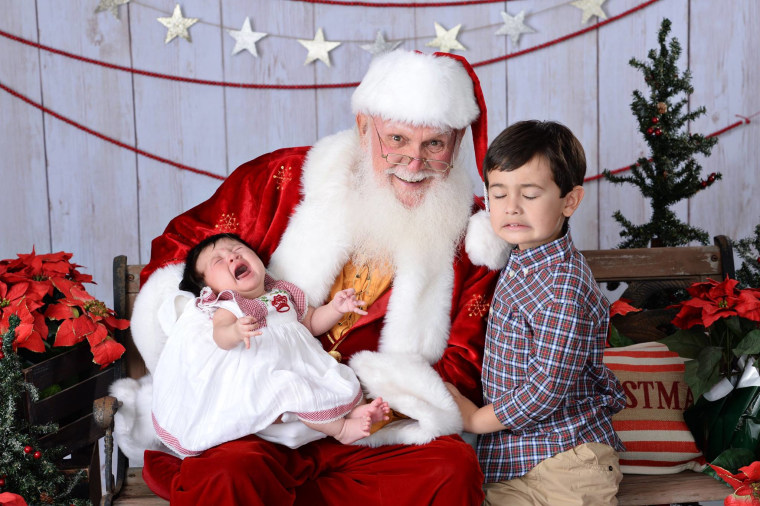 Wrong.
There's something about the man in the red suit that can send kids into fearful fits of tears. And, as parents, all we can do when heading to the mall to visit Santa is cross our fingers and hope for the best.
Melissa Solevilla, a Florida mom-of-two, says when pregnant with her daughter, Reagan, she envisioned a beautiful holiday photo where her older son, Ethan, smiled lovingly beside his new baby sister.
Reagan, then three months old, had other ideas.
Never miss a parenting story with the TODAY Parenting newsletter! Sign up here.
"The moment she saw Santa, she flipped and my son stood there cringing begging for it to stop," Solevilla told TODAY Parents. "As I stood there crying, everyone told me that someday, I'd laugh. It's still a little raw, but a year later, I can crack a little smile when I see the photo."
Marianne Wallace says her twins have always been terrified of Santa. Still, the California mom does her best to get a photo with him every year.
"Both of my twins, Cole and Lucy, currently hate Santa, which is not great for a photo shoot with Santa," said Wallace. "We didn't expect both littles to lose it, and Lucy cried from start to finish. It was a great day."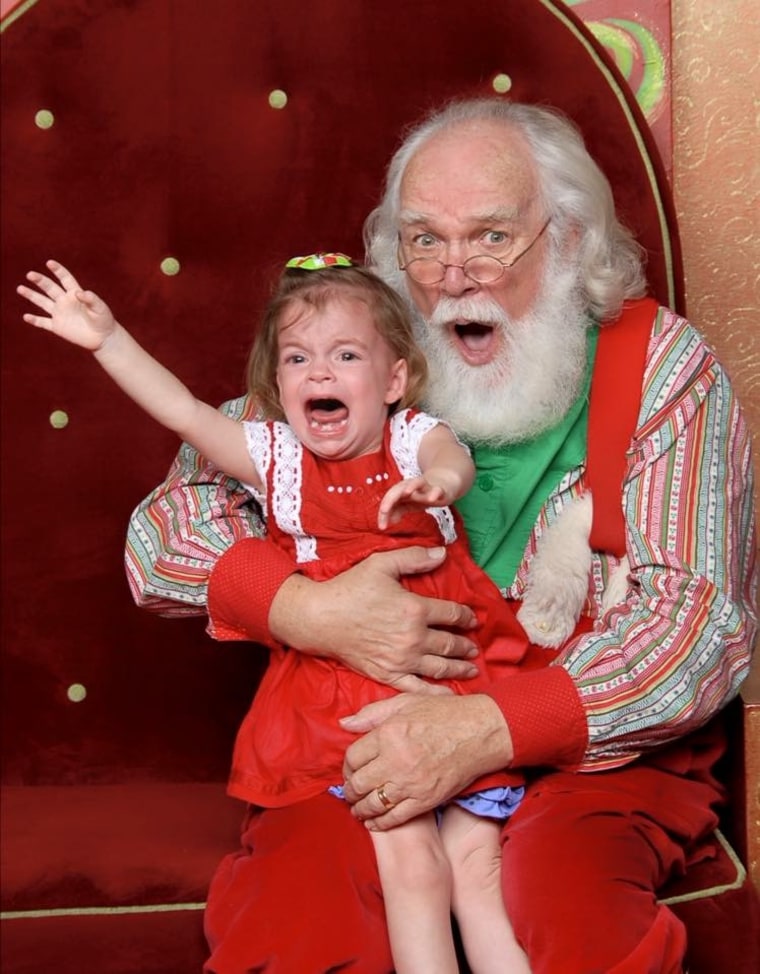 Erica Jones says when it comes to Santa, her daughter Emmeline has never been a fan.
"Emmeline is always a flight risk — will she love him or hate him?" said the Florida mom. "As you can see, this year she thought her life was over."
"My best advice to parents with little ones like her is to embrace it," Jones continued. "These candid moments make far greater memories than any staged, whimsical shots."
Check out this slide show for more hilarious Santa fails submitted by TODAY Parents readers.
See the best cringe-worthy photos of kids getting their photos taken with Santa.