/ Source: TODAY Contributor
For years, parents and educators of teenagers struggling to make it to high school for early morning bells have pleaded with school districts to consider pushing back school start times, citing research that stated the real health benefits for teenagers sleeping longer in the morning.
Now, high schools are actually implementing later start times, and the benefits are readily evident and measurable to parents, administrators, and teachers.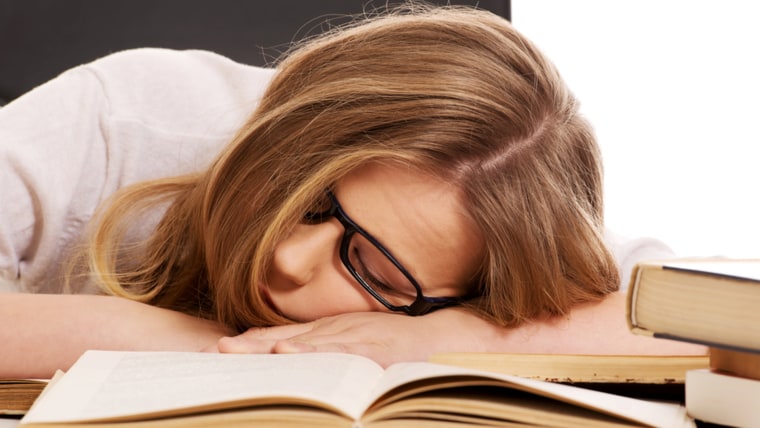 In a recent article, the Boston Globe examined changes at Nauset Regional High School near Cape Cod, where in 2012 the school district pushed start times from 7:25 AM to a more humane 8:35 AM after four years of discussions. Instantly, former Nauset Regional High School principal and now Nauset Schools Superintendent Thomas Conrad told the Globe: tardiness rates dropped by 35 percent and the number of Ds and Fs fell by half.
"With almost 40 years in public education, this is one of the finest changes I have made in improving student learning," Conrad told TODAY.
Many high schools around the country, both public and private, are implementing later start times, from Seattle to Chicago to Florida. Historically, school officials have been hesitant to change, over concerns of the potential impact on athletic schedules, extracurriculars, and after school jobs, as well as the financial implications of changing the bus schedules for school districts. But a 2011 study by the Brookings Institution found that the financial costs were modest compared to potential benefits to adolescent health, "conservatively estimat[ing] that the ratio of benefits to costs is 9 to 1" for later start times, and that "disadvantaged students benefited . . . roughly twice as much as much advantaged students."
After surveying parents, teachers, and students, the Indian Hill School District in Cincinnati, Ohio, recently voted to change start times for the 2016-17 school year, citing "research from the Centers for Disease Control, the National Sleep Foundation, the American Academy of Pediatrics, and others that show teens are healthier and perform better the later school starts in the day."
The change will cost the Indian Hill district $160,000 in busing costs Indian Hills parent Tiffany Bultema says, but she thinks it's worth it. "I, for one, am very happy they have moved start times so my teen can get a little more sleep," Bultema said.
Studies have shown that teens' natural circadian rhythms nudge them toward later bedtimes and later rising times. Dr. Deborah Gilboa told TODAY, "Once kids hit puberty, the timing of their 'awake' hormones change. Their wake cycle shifts from the crack-of-dawn–early-evening to around 10 or 11 a.m. to 1 a.m. or so. This means that, even if you try to lock an older child or teen into an early bedtime, most of them can't work or behave at their best until closer to noon. It would be great if the answer to cranky morning teens was 'Go to bed earlier,' but that's not how they're wired."
Gilboa says the decision to shift high school start times later should yield big results for both parents and educators.
"Showing respect for our kids' inner clocks helps them behave as respected individuals usually do: with more courtesy and care. Also, giving them the chance to get to school when they're actually awake should make them safer pedestrians, bikers and drivers," she said.
Conrad says that the Nauset athletic teams continue to experience success with the shift in school start and end times, but that more importantly, students continue to fail less, be tardy fewer times, and they are more alert and bring more energy to their classrooms in the mornings.
"The research speaks for itself," he says. "The impact on school climate and student learning is significant. Very few of our student athletes will make their living within the sports world. Focusing on every way to improve the student learning on your campus must be always at the forefront."