Monday is Savannah Guthrie's first day back at TODAY after her maternity leave. Before her return, she sat down to talk about how motherhood has changed her since she had daughter Vale in August.
"I feel basically like myself, but hopefully a little bit better. Softer. More patient. Kinder. Gentler," she says.
And she confesses she's a little scared of returning to work. Because; Mommy brain. It's real, and she just hopes she won't blank on the word for "plate" or "sky" on live television. We're sure you'll do great, Savannah! For advice on going back to work after having a baby, click here.
Related: Read Natalie Morales' advice for Savannah as a working mom
In her own words, here's what Savannah said about...

WHAT MATERNITY LEAVE WAS LIKE
The best part about being on maternity leave is just having the days stretch out in front of me and I have only one thing to do, and that's to take care of this little baby. And it feels like the greatest luxury of my life. I don't think I've ever taken even two weeks off in a row my entire adult working life.

Even though being a mom is the most challenging thing I've ever tried to do, I've never felt more exhilarated and relaxed and peaceful and joyous. Even on those nights when she's waking up every couple of hours. I just feel thankful.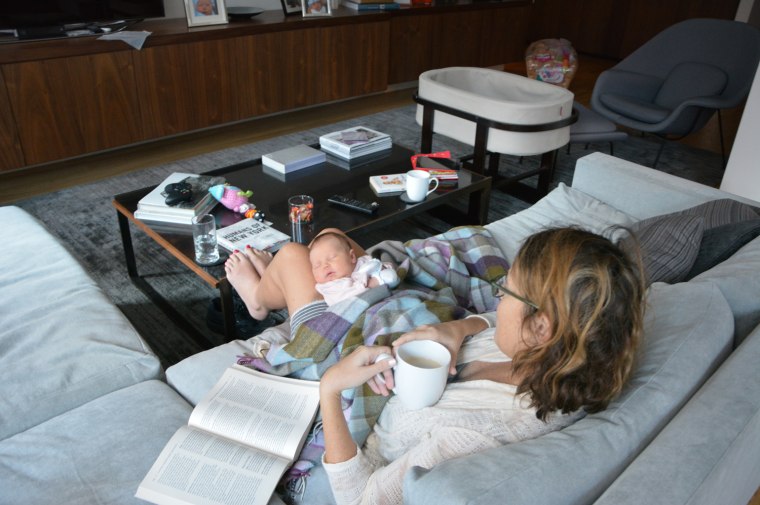 The biggest surprise for me from maternity leave is how completely and totally I've been able to just check out and be consumed by this little baby and by family and what's happening at home. And I've loved it so much.
It's amazing and kind of transforming to give your mind and your heart and your soul a break from the crazy, busy world and just be focused on something that's so simple and true and from the heart. It's just been magical.
ON SLEEP DEPRIVATION AND MOMMY BRAIN
After a period of time, getting up every couple of hours really starts to wear on you and you get very, very exhausted. And I find I really can't speak anymore. I mean I can't find basic, basic words, like fork, or turkey. We saw some wild turkeys and I said to Mike, "Look, there's some— interesting birds out here." And he said, "Do you mean turkeys?"
We were driving down the road and I saw — something — and I said, "Look at those horses." And he said, "Those aren't horses. Those are deer." So I find that sleep deprivation kind of accumulates and after a while you're just not quite yourself. So of course one of the things is I'm terrified to come back to a job where I have to speak for a living, because I honestly have a very hard time right now putting basic sentences together. It's terrifying to think about sitting on the set with Matt, struggling for a word like "plate" or "sky." Hopefully it'll work itself out.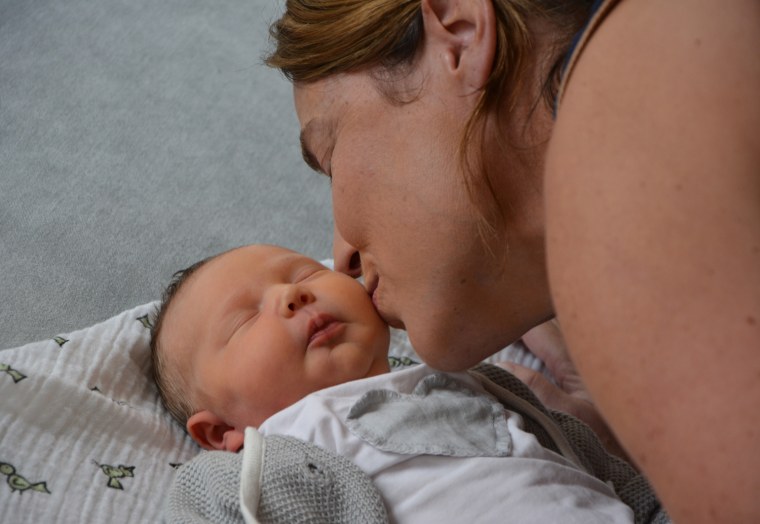 HOW MOTHERHOOD HAS CHANGED HER
I'm not really known for my patience. I always worked really hard and have been in a hurry. And when you have a new baby you're on the baby's schedule. And if the baby wants to take an hour to eat then you're gonna be sitting there feeding her for one hour.

I've loved that. And I think it's been good for me. I hope that I'm going to take this newfound patience and calm and bring it back with me to work and to the craziness of this big and exciting job.
It's changed me in every way. I mean, I have never known a love like the one I have for this little girl. And she makes me want to be a better person.   
People are always telling you and parents are always telling you, this love is so amazing and wait 'till you see. I always understood it with my brain but not until I saw her face did I understand it with my heart. 
NAMING VALE
I was so happy to meet her. She was so cute and she had those cheeks! And honestly, a lot of it was also complete shock that she was a girl. Everyone had convinced me, "You're having a boy."  Today Show viewers said, "You're having a boy." Most of my co-anchors thought I was having a boy. My whole family thought I was having a boy.

We had a boy name picked and then we had an array of girl names. But we didn't really think we had to think too hard about the girl names, so when the doctor said, "It's a girl," I was absolutely shocked. I kept saying, "No way. No way." And— oh, I just loved looking at her little face. She was beautiful from the second she came out.  
We just decided to just spend a few hours that day just looking at her and trying to think about, "Well, what kind of name do you look like?" 

We had a few names but they didn't seem like her. And Vale was a name I'd always loved. I'd heard it years ago. My close friend's sister-in-law is named Vale. And Mike liked the name too. There was just something about it that fit her. When she was born the first thing I thought and kept saying was, "She's so peaceful. She's so serene." And that word Vale really conjures all those images of a valley by a peaceful stream and something restful and calm and beautiful.
She was just this sweet little bundle. And she put her little cheek next to mine and— I don't know. So we said, "All right. Vale. You're gonna be Vale." Plus, his parents were coming over and we knew we had to have a name by the time they got there.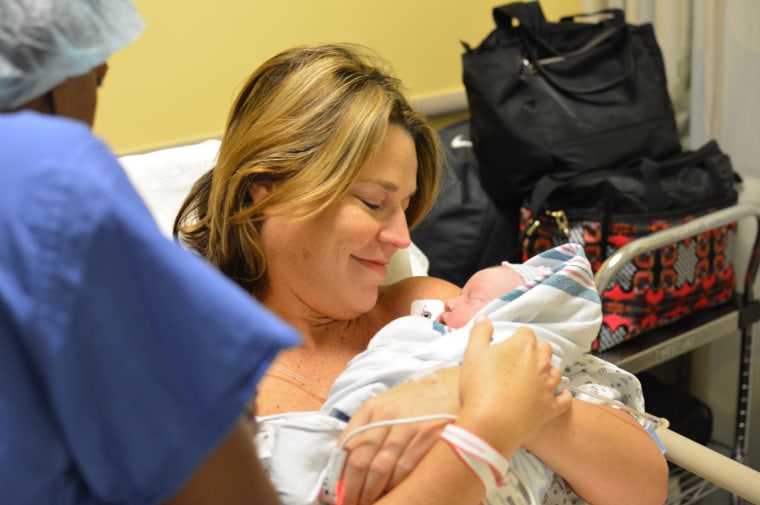 THE DRIVE HOME
And the drive home was hilarious, 'cause I'm sitting in the backseat with the baby and Mike's driving and every bump on the highway I could feel. I'm like, "Oh, be careful. Be careful." You don't ever feel the bumps in the road until you're driving home your newborn. Then it feels like you're on pothole central because you just think every little bump is going to wake them up. But she slept the whole time, cool as a cucumber.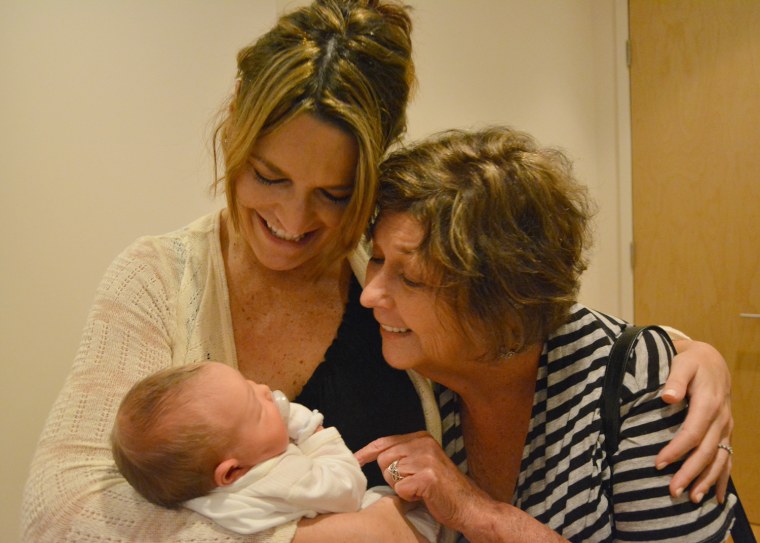 SLEEP
It's kind of funny because when she first came home Vale was a really good sleeper, especially for a newborn. Her first night at home or the second night, she slept seven hours in a row, which if I knew then what I know now, I would have danced a jig about her sleeping seven hours.
But of course I was worried that she was sleeping too much. I was awake and pacing and looking at her and kind of touching her to make sure she was breathing. I called my doctor the next day and I said, "Doctor, she slept for seven hours in a row. Should I be worried? Should I have gotten her up and fed her?" And she said, "No, enjoy it while it lasts."
Sure enough, before long she was just a normal newborn. She would wake up every couple of hours, so I was feeding her every couple hours. And she's really only stretched it to every three or so. Maybe she can go four now. So she is not a champion sleeper. Yet. But I have high hopes.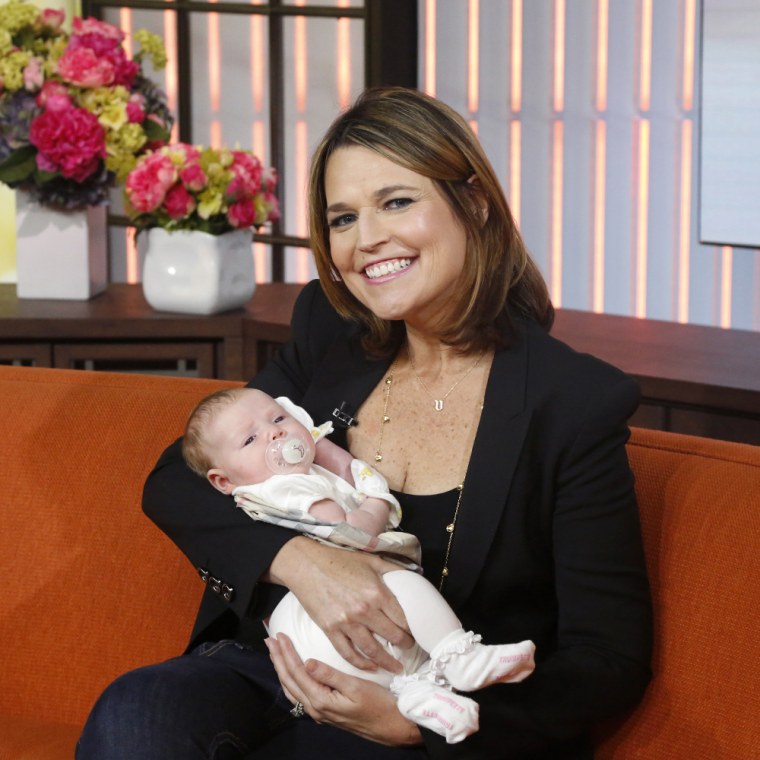 BRAVE LITTLE BABY
I don't think she ever looks cuter than when she's sitting there in the bathtub. And I have this little hat that I put on her so it keeps her head warm after I wash her hair. And she's so cute I just basically can't stand it. And so bath time has become one of my absolute favorite times with her.
I have a friend who said something that I thought was so wise and cute. She said, "I think babies are so brave because, think about it, they're kind of just yanked out of the only world they know and every experience is new." And when I look at Vale's little face in some of those bath pictures, especially some of the first ones, I always think of my friend telling me that babies are so brave. I think she's really brave and such a good little sport 'cause her mommy doesn't know what she's doing. But she's humoring me.
GO EAGLES! 
Mike insists that she wear her Eagles jersey for every Eagles football game. One time I didn't put it on. The Eagles lost. Mike said, "She will wear that Eagles jersey from here on out." So I don't mess with it. He told me last week, "We have a bye week. You two ladies can take the week off from the jersey, but next week I'm gonna need you in the jersey."

We have three different Eagles jerseys. Mike believes that she is a good luck charm. And the reason the Eagles are doing so well this season is not coincidence but because little Vale Feldman was born. And born to be an Eagles fan. And the Eagles tweeted her, or tweeted us. And he was extremely excited.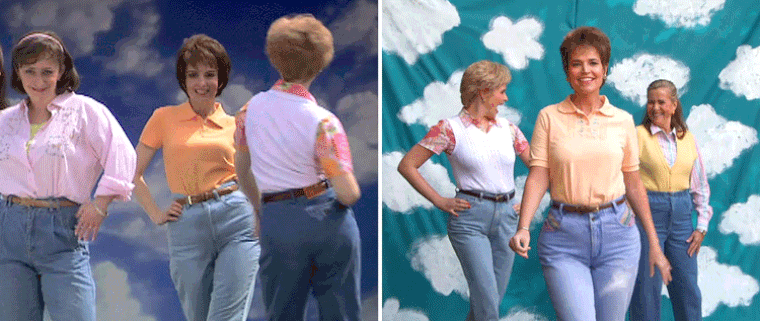 THE SISTERHOOD OF MOTHERHOOD
For my own mother, I think about, "Wow, she must have done all this for me." And then I think about moms across the country, moms at home who are working so hard, who have to go back to work sooner, who may be single moms.
When I think about how hard so many people have it, I just am amazed at their grace. I know I'm lucky. I have lots of advantages in this situation. I am completely overwhelmed and amazed, because now I know what the job of being a mom is. When I see a single mom I'm even more full of respect and admiration because I think being a mom is, like, a five person job. I have a complete and total newfound respect for what mothers do and what mothers who are in really trying or challenging circumstances have in front of them.  
I think about it all the time because I know I'm lucky. I have help. I have every advantage I could have, and I'm so thankful for that. When I think about what moms who are working a lot harder and have a lot more challenges do, I'm blown away.
There are times where you're so tired and you just are kind of hovering in this world between dream and reality. You're just so, so tired. And I had a friend who told me that when she was in those moments she thought about all the other mothers across the world under the same stars, sharing that experience.
There's this special bond between you and all the other mothers who have had that experience. And though it's hard, she said, she thinks moms are given double the life to live, because they live their normal days and then they're up all night with these babies and this precious time. And it only lasts a moment.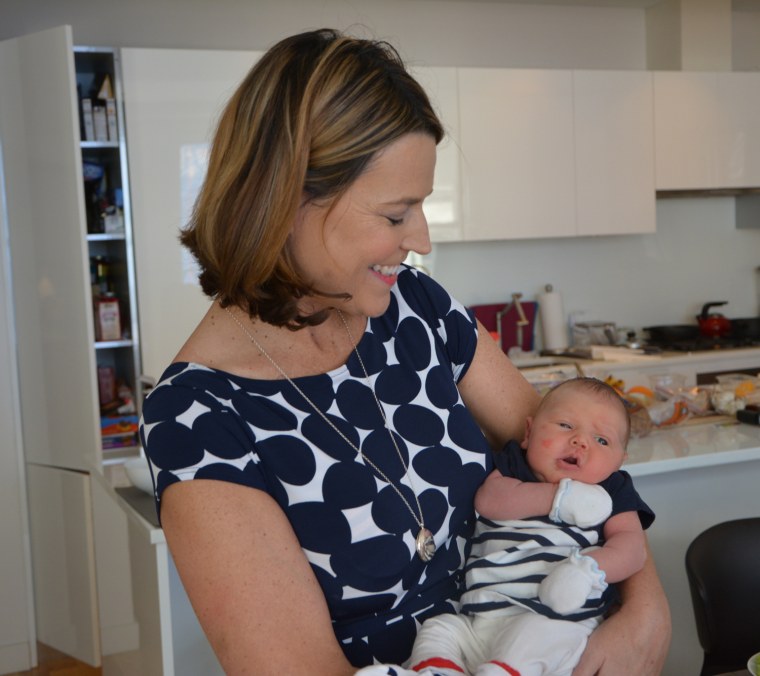 SEPARATION ANXIETY

One time we went across the street to the little restaurant to have a bite to eat and I figured, "Well, I can see my apartment from here so it should be fine." But sure enough she started to cry and the babysitter texted me, so I left Mike alone with our meals and said, "See ya later. Gotta go feed the baby."
MOM JEANS

Let's be honest. You have to try to get back to your normal self, and it's not that easy. I really had to cool it on my cookie and ice cream eating in the last few weeks to try to squeeze into my jeans. The first time I tried to put on my old jeans it was not funny. It took, like, a crowbar to close the buttons and I was doing the splits trying to stretch 'em out and they still don't really fit. So there's all that kind of stuff too. But, what are you gonna do? I mean it's so worth it. So forgive my rolls.
A BITTERSWEET RETURN
Oh, I've been thinking a lot about coming back to work. And it's bittersweet, because this time has felt so precious and magical. And oh, I just love holding her in my arms. And I know going back to work doesn't mean I'm saying goodbye to Vale, but there's a part of me that feels like this magical time is coming to an end, and I don't know if I'll ever have something like this again. And I won't have it with her again.
So I'm kind of emotional about coming back. I'm counting my blessings that I got this precious time with her. I mean I got 12 weeks to do nothing but take care of this little life, this little baby and get to know her and her patterns and to learn about her and learn about being a mom.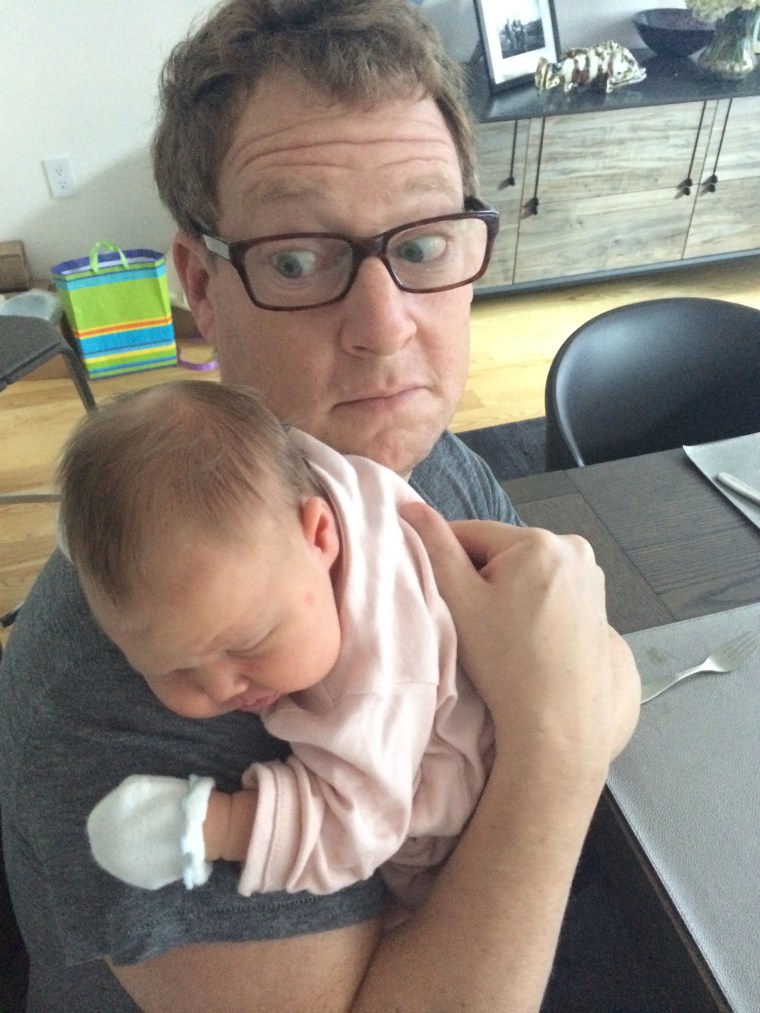 And I'm counting my blessings because I'm going back to a job that I genuinely love and I'm excited to return to. And that is a great luxury. I'm not dreading it. I'm excited. I think it's so fun. We've got so much to look forward to and I can't wait to get reunited with the cast. 
I know that there'll be a little part of me that feels wistful and sad and and missing her, because it just feels like one chapter is ending and a new one is beginning. And I'll probably be checking my text messages at every commercial break saying, "How is she? Did she do anything? Did I miss anything?" And I know Mike'll be sending me lots of pictures. I feel like a different person in a lot of ways. And I hope a better person, for sure, because now I'm a mom, which is amazing.
I feel basically like myself, but hopefully a little bit better. Softer. More patient. Kinder. Gentler. 
There's that famous saying that being a mom is like walking around with your heart outside your body. And I think that is the truest thing I have heard about motherhood. There's a part of me that I feel is more raw and more vulnerable because I have everything riding on this little person and everybody knows it. You know? I feel like my heart is outside my body because Vale is in this world and she's my heart.