TODAY's Savannah Guthrie answered questions on TODAY's Facebook page ... and nothing was off the table! Read the totally honest highlights here, and you can check out the full conversation on Facebook.
Hi, everyone. I genuinely had a great time chatting today and hope we can do it again soon. Below is a transcript of the chat. If my 5th grade English teacher is reading this, please know that I abandoned all conventions of punctuation, grammar and usage in order to type as many responses as fast as I could. And yes, dear readers, I liberally abuse exclamation marks in casual e-chat. Hope you enjoy!!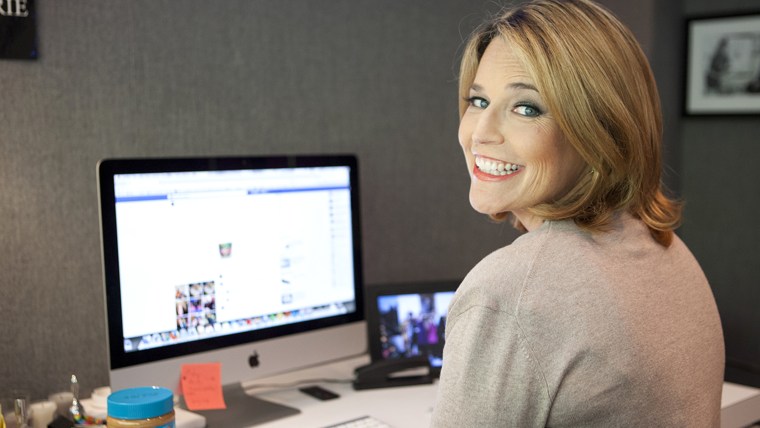 Lesley Kopp Friedman Have you ever done a cooking segment and you hated the food you tasted?!
Savannah Guthrie YES!!!!!!!!!!!!!!!! all im gonna say is "avocado popsicles"
Savannah Guthrie and btw, i love avocadoes but that is just wrong.
Heather Rohrman What was your most crazy craving ?
Savannah Guthrie had overwhelming urge to buy pickles the other day. which is a total cliche. mostly im just a ravenous beast eating everything in sight.
Savannah Guthrie here are TODAY show viewers' cravings...
Eileen Brasher Who was 1st person you told other than husband that you were pregnant?
Savannah Guthrie my MOMMY!!!!!!!!!!!!
Lori Heitmann Wireman Savannah? Were you trying for a baby with doctors or was it a great surprise? I loved that you to join the mommy club!
Savannah Guthrie it was a happy happy happy surprise and miracle
Savannah Guthrie will never stop thanking God for my blessings
Jessica Lyn Gibson What was your husband's reaction when you told him you were pregnant? What was your reaction? What about your friends and family?
Savannah Guthrie total unmitigated ELATION
Savannah Guthrie surprise and joy
Stephanie Reynolds What stories have u covered that really just "got to you" which made you happy or touched your heart and which was the saddest?
Savannah Guthrie Michelle Knight's story broke my heart.
Savannah Guthrie A happy story -- I loved flying with my brother, the F-16 pilot. I've never been so proud.
Elizabeth Scherer What baby product have you been most urged to buy for your baby by your friends and family?
Savannah Guthrie i havent bought it but apparently there is a hands free breast pump bra!! #dying
Savannah Guthrie so you can text or wave your hands while pumping?? what??????
Amy Kruntovski What has been the most rewarding part of your job at Today show?
Savannah Guthrie what i love about it is the variety. we get the opportunities to interview people in the news, heads of state, all kinds of newsmakers. but we also have FUN and do crazy things. so it's just a little bit of everything. and i love love love my co-workers.
Savannah Guthrie LOVE
NBC Nightly News with Brian Williams What's your favorite evening news broadcast?
Savannah Guthrie I love love love me some Nightly News with Brian Williams. LOVE IT... Especially that D block with all those funny weird items that Brian picks out... about space etc.
Kim Heckstall Does the baby ever kick when you are on the air?
Savannah Guthrie yes! constantly! it is so fun. it makes me happy. but sometimes it is distracting!!! i have a karate kid!
Julie Kellogg Breithaupt What was the best decision you ever made when it came to your career?
Savannah Guthrie two things. when i was in local news, i decided to give it all up and go to law school. it was kind of scary to do that. and then, when i was practicing law, i was supposed to a clerkship with a judge, but at the last minute, i realized my heart was in TV. so i decided to go for it. even though i had no job and no prospects. i lucked out and it worked out!!!
Virginia Sacco Kathie and Hoda plan their outfits each day, do you and the rest of the today show morning team do that? Often I find that y'all don't compliment each other.
Savannah Guthrie oh i know! we do not coordinate! and sometimes it is so obvious! it is like an explosion of conflicting patterns!!! plus Matt and Al and their devotion to plaid!!
Jo Vogelsong What color is the nursery going to be?
Savannah Guthrie a good question, because we are waiting to find out the gender. So I picked up some neutral pale grays. But they're cheery and cute. Not depressing gray!!!
Mary Pat Wall Pozatek Thrilled that you are having a baby! are you exercising? Do you have some baby names yet? You look amazing and you are glowing. All the best to you and your husband!
Savannah Guthrie oh Mary Pat, i wish were exercising more! i have been doing walking... and prenatal yoga but frankly i cant touch my toes right now
Karen Mahoney Have you become more skilled in the kitchen? What's your husband's favorite thing that you make for dinner?
Savannah Guthrie no, i am a disaster.
Savannah Guthrie i make a salad with no lettuce. he likes that. because it is the only thing i make. he is a good cook.
Meena Hart Duerson What's your go-to breakfast during the week?
Savannah Guthrie um PEANUT BUTTER on whole wheat english muffin. delish. today i burned my toast so bad in the TODAY kitchen it was like a charcoal hockey puck
Lenard LG Godfrey If you weren't on the Today Show, what would you be doing or what would you want to do!
Savannah Guthrie I'd like to be a folk singer.
Cindy Mayer Hi Savannah! You are glowing! My question is: What are the 3 most important values you wish to instill in your child and why?
Savannah Guthrie Faith, kindness, humility. That's off the top of my head. Good question -- a deep one
Tracey Lee Gridley Why Skippy peanut butter? Picky mothers prefer Jif. Lol
Savannah Guthrie ooh good one
Krysti Scott Will it be hard to stay away from the show while your on maternity leave?
Savannah Guthrie YES! i will miss everyone. honestly, it's only a little baby that could keep me away.
Mireya Zepeda-Taylor I know your baby isn't here just yet but have you and your husband thought of giving your lil one a sibling or more?
Savannah Guthrie if we are lucky! already counting my blessings with this one
Karen Fetterman Why do the news women wear sleeveless dresses in the middle of winter? I noticed this during this winter while it was freezing outside? I always wondered about this .
Savannah Guthrie Natalie Morales and I get asked this ALL the time. So many people wonder. The basic answer is, there are a lot of sleeveless dresses on the racks. So we kinda buy what's there. ALSO, bear in mind, our studio is air conditioned, so it isnt like we are cold inside. and then we bundle up for the plaza...
Sharon Roadman Ardrey On days when you just don't feel "up" how do you motivate yourself?
Savannah Guthrie a good question. coffee. and i say my prayers. and try to focus on how lucky and blessed i am instead of ruminating about what my problems are. but i admit it is hard on some days. everyone gets down in the dumps.
Ramon Ramirez Do you have a teacher that was influential in your education?
Savannah Guthrie I loved my first grade teacher.. he played the guitar in class.
Monique Newman Who would be your top two or three interviewees that you have yet to interview. . .and why?
Savannah Guthrie I will give you one right off the top of my head -- Pope Francis. I think he's fascinating.
And so much more! Visit TODAY's Facebook page to see Savannah's chat in full.