The food was delicious, the decor was adorable and the guest of honor was glowing. 
At Savannah Guthrie's baby shower, the women of TODAY gathered to celebrate her pregnancy. By the end, Savannah wasn't the only one crying happy tears.
"I have never felt in my life so much genuine joy. Because when you say that you're happy for us and you give us a hug or you rub the belly, I know you really mean it. That means so much to me and to us," Savannah told the guests, her voice catching. "We are so thankful and just hope we can rise to the occasion and be good parents, and we'll be turning to all of you for your advice."
Watch Savannah make her baby shower speech: "Destiny is set"
She didn't have to wait long. The moms at the shower offered their words of wisdom:
Jenna Bush Hager: "You are adventurous and fun and you have great imaginations and I know that you will see the world through your children's eyes, which is what I try to do."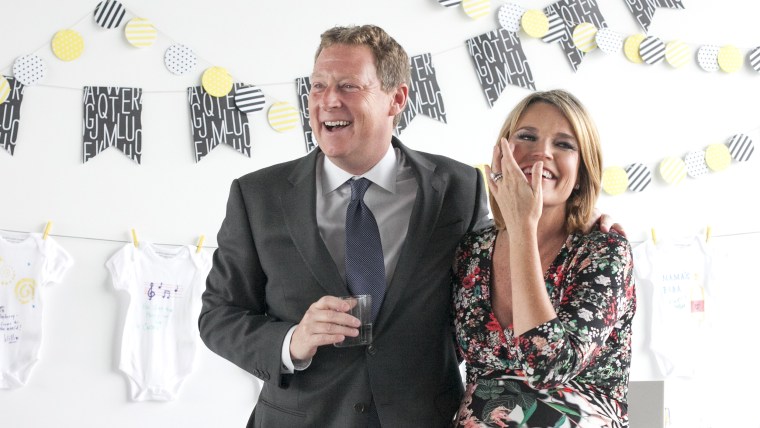 Jenna Wolfe: "Get this child on a good exercise program early. If you really work on the core then the crawling will come, all of it. People are going to tell you that that's not important — it's the most important thing. [She was joking, folks. But seriously...] Collect all the great advice you get from everyone, every piece of it, every part of it, listen to every single word, stick it in a box and lock it up and then go raise this child with everything you have up here (pointing to her head) and everything you have in here (pointing to her heart)... and a little bit of the core."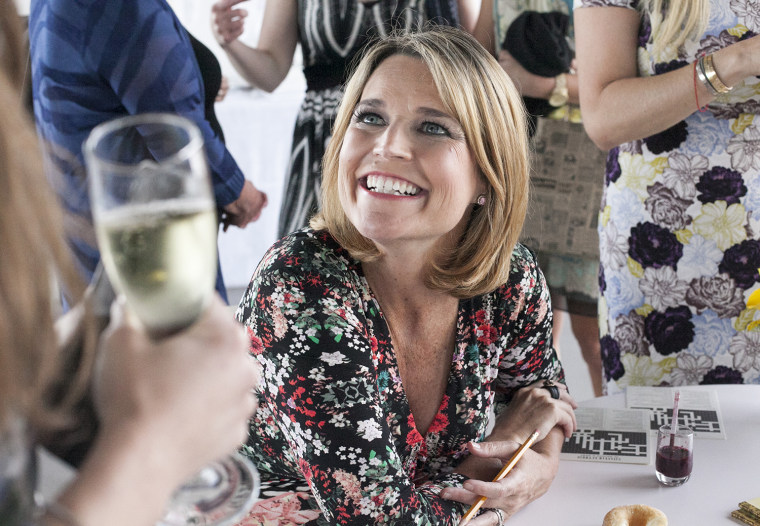 Erica Hill: "One of the things that really shocked me after our oldest son was born was how all of those things that people tell you really do come true: There is no way you can imagine this love. ... We created this miracle and we now get to witness it discover the world and discover life and to be a part of that, and to be invited into this little one's world is one of the greatest gifts there could be. One of the best things you guys have going for you is the incredible sense of humor you two have. We all know in life you need to be able to laugh and God knows that's true with children."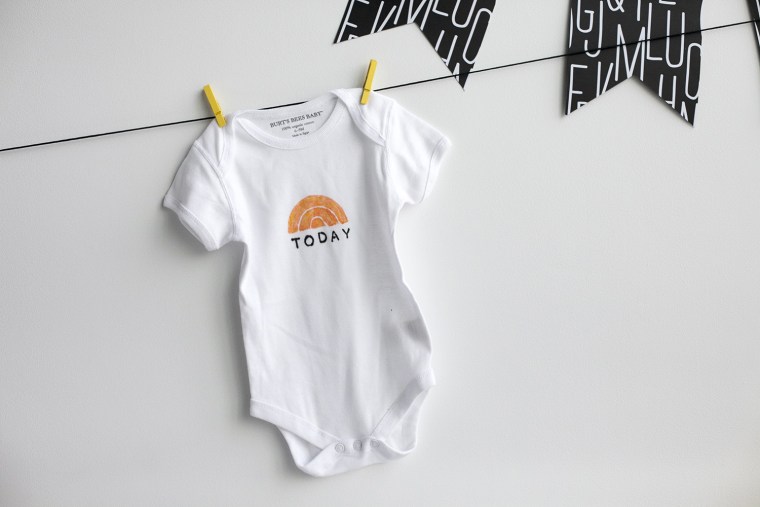 Two of the main men in Savannah's life, her boss Don Nash (executive producer of TODAY) and husband Mike Feldman (whom she mistakenly introduced as Matt — OOPS — yes, Savannah, you can blame pregnancy brain for that) made an appearance and shared some words as well.
Don Nash: "If you read Savannah's blog, if you talk to Savannah, if you talk to Mike, they really truly feel blessed by what is about to happen. And I will say, as the father of two young girls, prepare not to be disappointed. You will experience joy like you have never felt before, you will experience love like you've never ever imagined. You will experience a little frustration but I guarantee you every bit of it is worth it."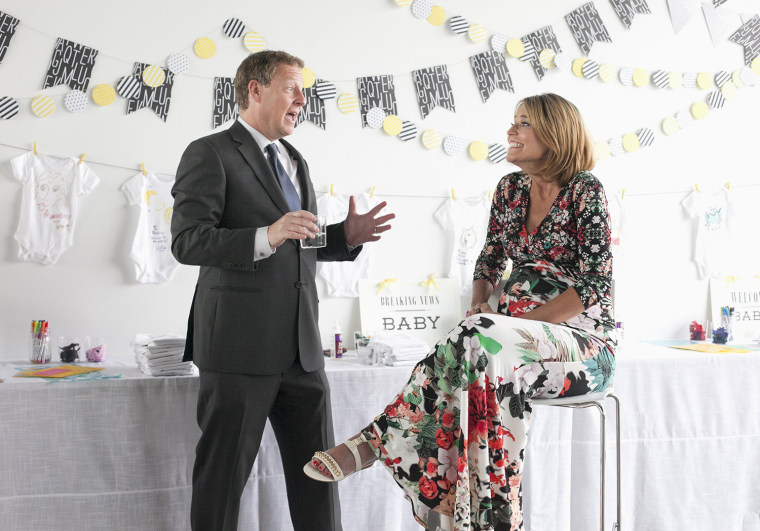 Mike Feldman: "I'm grateful for my wife, because I've watched her over the past several months already turn into a mother and somebody I'm so unbelievably taken with and in love with for so many reasons… now to watch her turn into this unbelievably strong and wonderful mother-to-be. I couldn't be happier and couldn't be more grateful, couldn't be more blessed. Thank you guys for all the love and support. I can't wait for you to meet our child."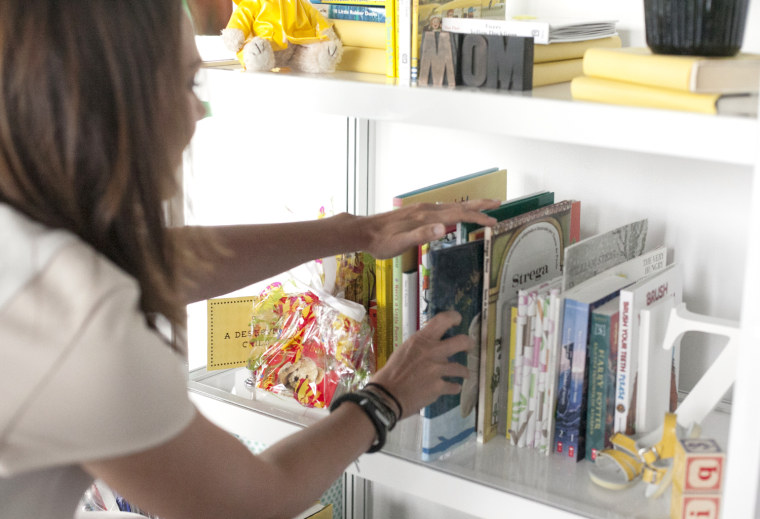 Everyone who came the shower brought two books, one for Savannah's baby and one to donate to a family in need (through the charitable organization Baby Buggy). And the generosity didn't stop there; Minted, the company that provided the decor and invitations for Savannah's shower, wants to give an amazing baby shower to one lucky mother-to-be. Click here to learn more and enter to win!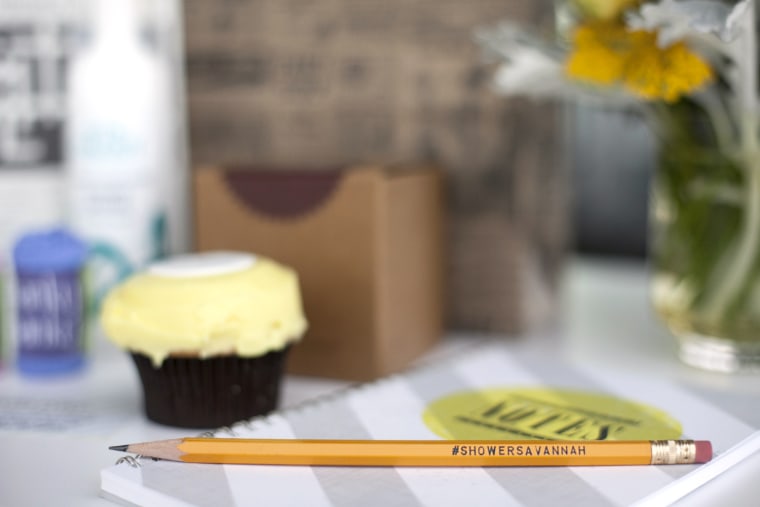 More details about Savannah's shower:

Who was there: Kathie Lee Gifford, Hoda Kotb, Jenna Bush Hager, Tamron Hall, Gayle King, Amy Robach, Jenna Wolfe, Cynthia McFadden, Deborah Roberts, Kate Bolduan (of CNN, also pregnant), Erica Hill, Dylan Dryer, Contessa Brewer, Bobbie Thomas and Jill Martin. Savannah's mom and Mike's mom were both there, too. Natalie Morales was on assignment in Brazil, covering the World Cup.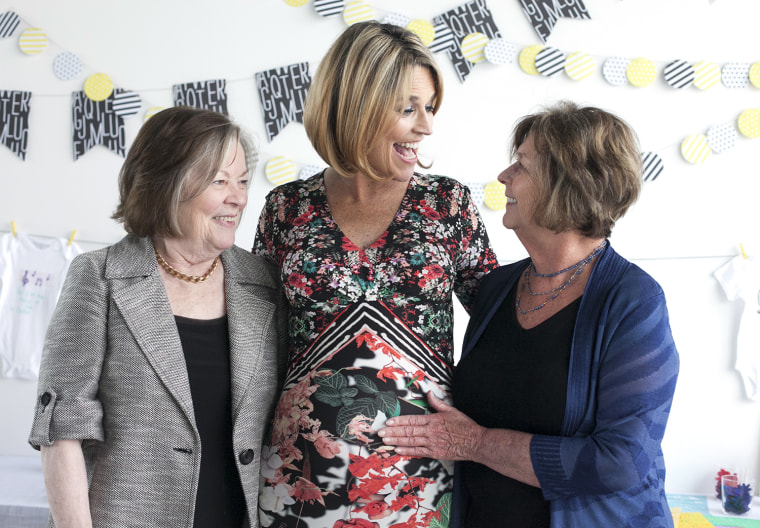 What they did: Guests decorated onesies, filled out a Savannah-pregnancy-themed crossword puzzle, and posed at a photo station.
Theme: "Extra, extra, read all about it!"
Food and drinks: Peter Callahan – Catering & Events
Invites and decor: Minted. (Get Savannah's look here.)
Onesies: Burt's Bees Baby
Gift bags:  Minted, Hanky Panky, Rita Hazan, Sprinkles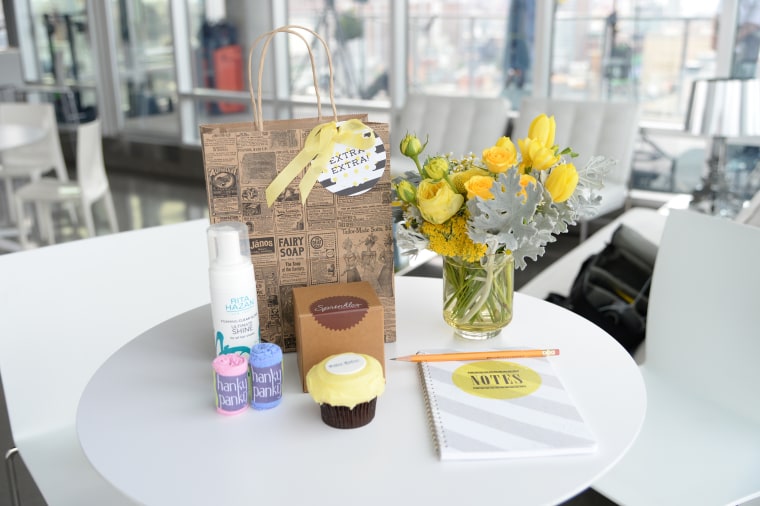 Flowers: Blossom and Branch 
Event styling: Rock Paper Scissors Events
Furniture: Taylor Creative Inc.
Venue: The Glass Houses, Chelsea, NYC.
For more on Savannah's baby shower, check out the story in this week's People magazine.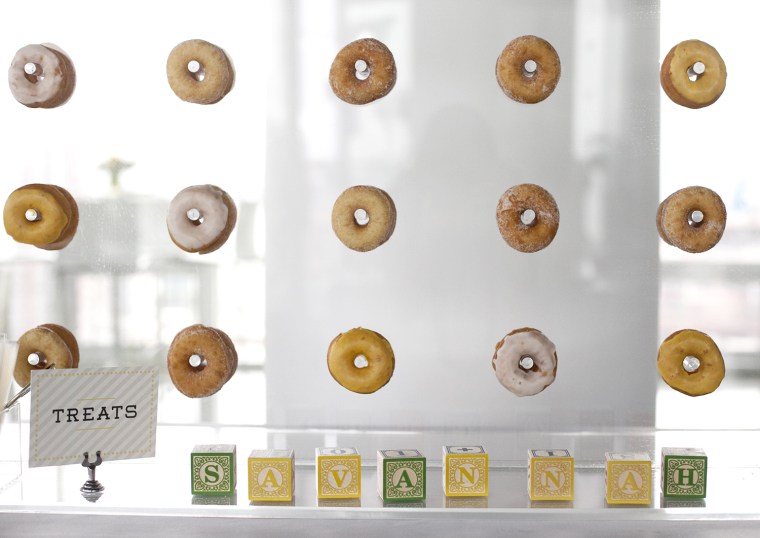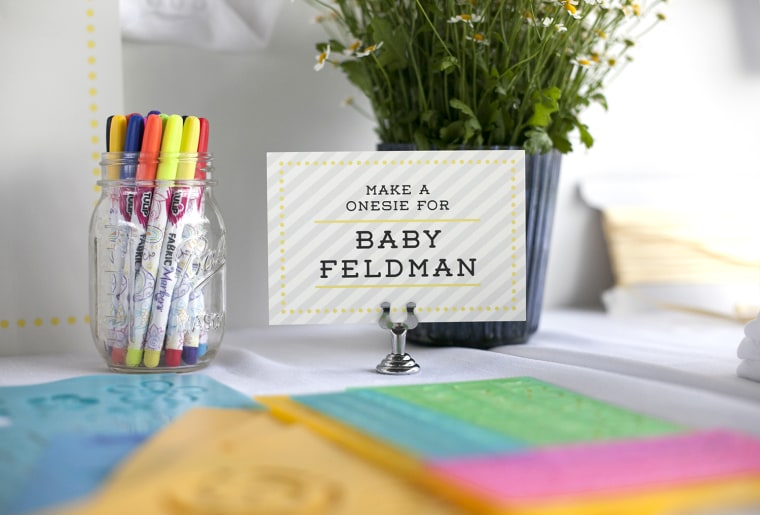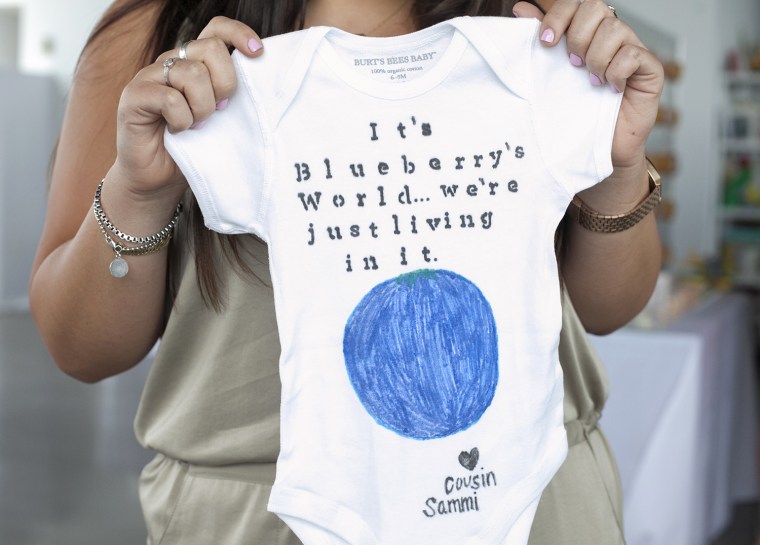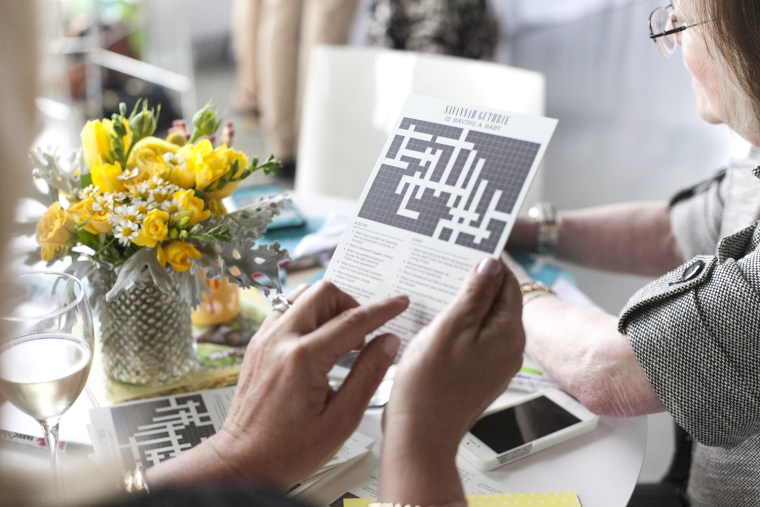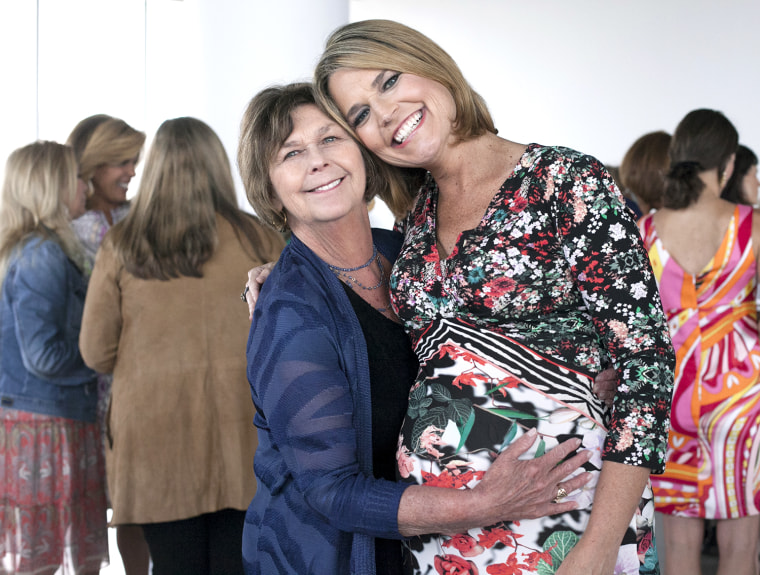 Share your thoughts for Savannah as she enters the home stretch of her pregnancy on our Facebook page!