Mother's Day is this Sunday, which has given our anchors an excuse to celebrate their moms in a weeklong tribute. While the holiday's usually one devoted to the first ladies in all of our lives, TODAY's Savannah Guthrie and Jenna Wolfe have turned the tables a bit.
Teaming up with Time magazine, they've penned special letters to their daughters, Vale, Harper and Quinn, that will be excerpted in this week's issue, along with other celebrity missives from moms like Sharon Osbourne and Victoria Beckham.
Get ready with the tissues.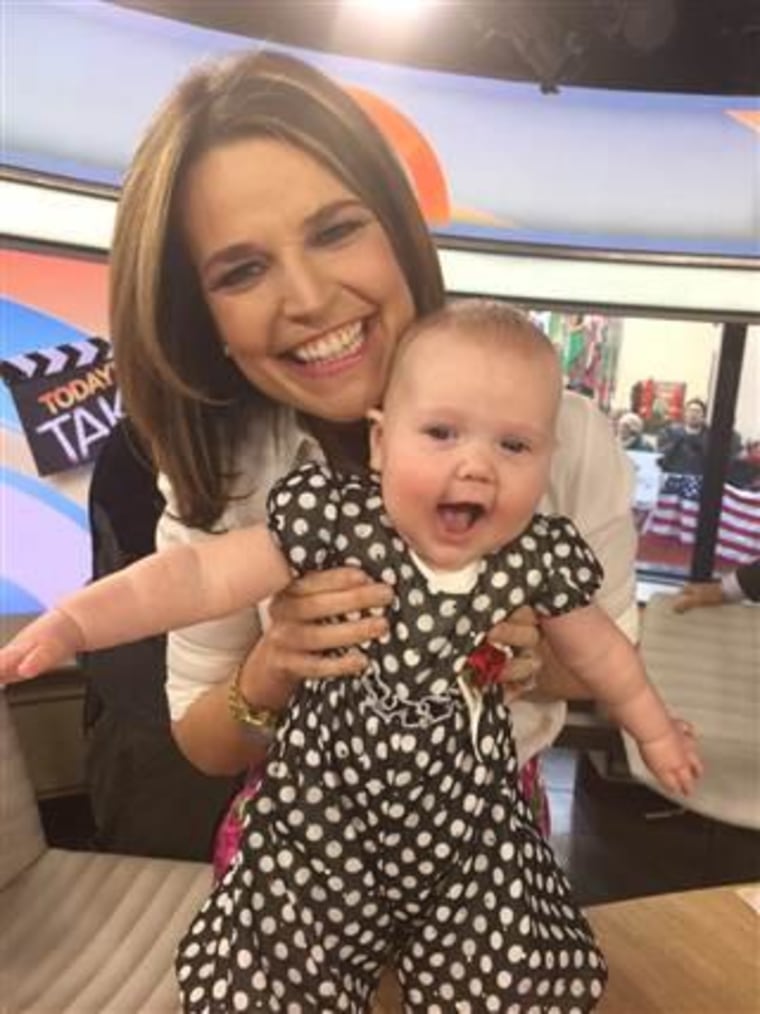 "Remember When We First Met?"
By Savannah Guthrie
To Vale
Remember when we first met? It was early morning, it was mid-August, I was large and you were ready. You were beautiful, all blue eyes and big — impossibly big — cheeks. You were born, and we both cried. You, because you had suddenly and bravely plunged into a bright, strange world. Me, because in one instant all my hopes and joys and desires were unlocked and unleashed, poured out in big wet tears, in a cry from deep within, in a sound from myself I had never before heard — because it belongs to you and only you.
You make me want to become stronger, kinder, wiser so I can show you what it looks like when life is done well. You make me want to conquer time itself, so that I could rewind and relive all your sweet milestones, or fast forward so I don't have to wait one more minute to see who you become, or pause. Mostly just pause. I want to stop and stare and marvel and savor this moment, any moment, every moment as long as you're in it.
MORE: Follow Savannah's special journey in Sydney with her mom
You're the first person I've ever actually wanted to wear a matching outfit with.
I think about all the things I want to show you and teach you and tell you about. In no particular order: Ice cream. Bubbles. Swinging on a swing set. Tennis. I will teach you the chords I know on guitar but also get you real lessons if you want them.
But mostly my biggest job is to care for your heart, and prepare you for this world that can be exhilarating and terrifying and wonderful and shattering. There is no way I can anticipate every situation or protect you from every hurt or fear. The best thing I can do for you is work hard to make real to you how dearly you are loved and treasured. Not just by me and your daddy, but by God, who knit you together so lovingly and made you just right. I will never get over this blessing. I will never stop marveling at the fortune that you, dear sweet serene smiley Vale, are my little girl. I would have waited forever for you.
MORE: Savannah's new mom confessions: What maternity leave was really like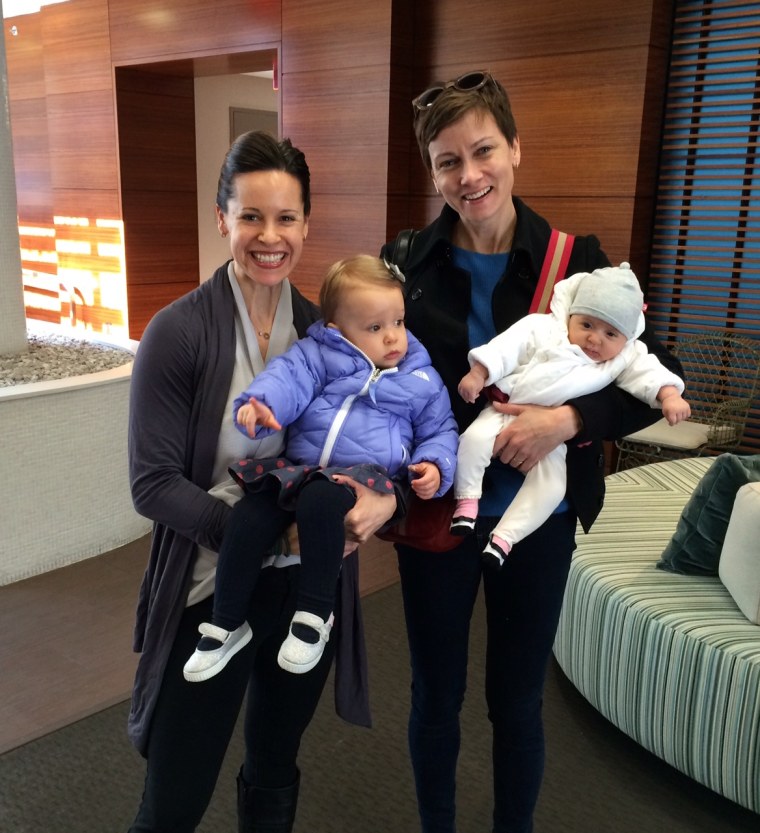 "Motherhood Has Changed Me"
By Jenna Wolfe
May 1, 2015
To Harper and Quinn
You're both asleep right now. It's late. I'm at the kitchen table trying to harness my ten million racing thoughts. It's not easy writing to you. Don't get me wrong … writing used to be simple. I would to sit down and knock out a blog at a moment's notice. Sometimes I wasn't even sitting! One time I wrote it on a treadmill … eating soup … on the phone! Ok not quite, but you get where I'm taking you.
You see, before you, life was simple. The apartment was immaculate, I was always on time (always is a strong word), I never had Hello Kitty stickers stuck to me in random places (most days), there was never spit-up on my clothes (and if there was, I had bigger issues), I never had to carry Cheerios and Puffs everywhere, and I never ever had to worry about childproofing the silverware drawer (unless I was dieting).
Yes, before you, life was easy. I call it B.C. (Before Childbirth). And on the morning of August 21st, 2013 B.C., just hours before you, Harper, were born, your other mother and I were just your typical lesbian television news couple navigating the NYC grind. (We currently don't know how to distinguish between the two of us, so it's mama and other mama until you tell us otherwise) Everything for us was relatively effortless — dating long distance when your other mother lived in London, dealing with her travels to the world's most dangerous places as a war correspondent, coming out as a couple on national television … effortless.
MORE: Jenna Wolfe: You love your second child as much as your first ... but differently
And then came August 21st, 2013, the day B.C. (Before Childbirth) became A.D. (After Delivery). And life for me was never the same again.
I became a mother. And what was once the unpopular answer to the question WHAT DO YOU WANT TO BE WHEN YOU GROW UP suddenly became the only answer that mattered. Where I used to look both ways just one time when crossing the street, now I stand like a fool looking back and forth a dozen times. Where I used to sky-dive and bungee jump and skateboard and parasail, now I'll order white rice in my sushi roll instead of brown and call it a crazy night. Exaggeration aside, I have too much to lose to tempt fate for kicks. I spent all my life courting extreme activities. I'm perfectly fine shifting down a gear or two for you girls.
People ask me all the time how motherhood has changed me. Well let's put it this way. Before I met you two, the word responsibility meant getting to work on time. And eating vegetables. Now it means guiding, feeding, teaching, protecting two little babies, completely dependent on us for everything. And while it takes every morsel of my effort and energy to do it all day everyday, there's nothing else in the world that makes me happier. The truth is, I want to do it for the rest of your lives.
If I could hold your hand through all the scary parts, I would. If I could break every fall and bat away every insult, I would. If I could wipe up every tear and protect you from every drop of bad weather and take away heartbreak and disappointment and failure, you have to know I would.
But I can't.
Not because I'm not strong enough. Not because I'm too busy. Not because I don't want to. I can't because it would stunt your growth. Pain, while uncomfortable, will make you stronger if you work through it. Failure, while depressing, will make you resilient if you get back up again. As much as I'd love to keep you this age forever (Harper, you're 20 months and Quinny, you're 3 months), I have to let you grow so that I can ultimately let you go.
MORE: Read Natalie Morales' sweet advice to Savannah Guthrie on being a working mom
I fell in love three times in my life. And I know where I was when it happened for each of them. The first was when your mom got up on waterskiis, and the other two were the days I met you. Harper, you were crying. You had a hard time pushing your way out and they had to use some sort of suction device. Quinn, you literally slid out without a care in the world after my epidural wore off. Two different exits, but the same welcome committee (your mother and me) there to greet you.
Being a mother to you both is an honor. And a privilege. It's now the first line on my resume and the last thing I think about before I drift off at night (replacing hosting SNL).
You're going to grow up sooner than I'd like. Some days you'll love me. Some days you won't as much. Some days you'll call me. Some days you won't. Some days I'll cross your mind. Some days I won't. But years from now, I hope you know that throughout it all, I tried my best, worked my hardest, loved with all my might and will forever give you every last ounce of me until my time is up. On this Mother's Day, you've given me the only thing that completes me: you.
Love with all my heart,
Mama
You can check out selections from these letters, plus excerpts from notes other celebs wrote to their children, at Time.com.