Faith plays an important role in Savannah Guthrie's life, and over the years, the TODAY co-anchor developed a list of some Bible verses that really speak to her.
Take Psalm 23, for instance. In a recent interview with Guideposts magazine, Savannah revealed that verse is one of her favorites, saying it "lives in me."
"My cousin gave me this verse when I was a little girl and told me to memorize it. I have recited it to myself thousands of times and reflected on it morning, noon and night," she said.
Psalm 23 begins with: "The Lord is my shepherd, I lack nothing. He makes me lie down in green pastures, he leads me beside quiet waters, he refreshes my soul." Guideposts refers to that particular passage as "one of the best-loved chapters in the Bible."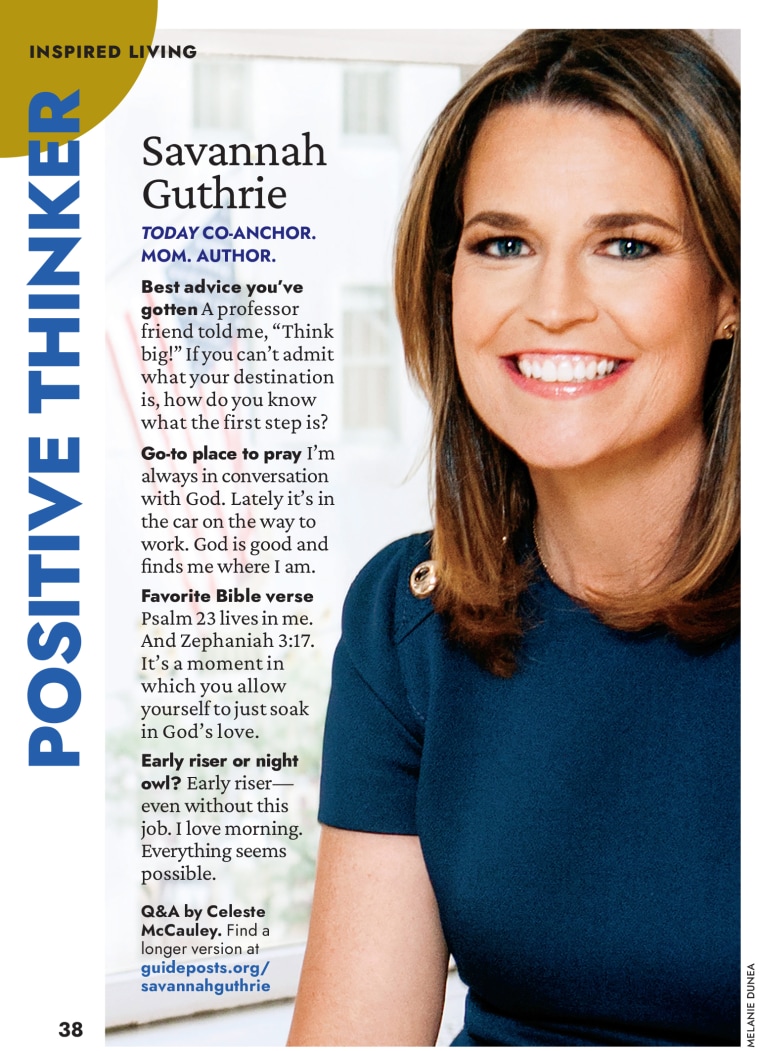 Every so often, Savannah takes a liking to another verse, of course, and she said one from Zephaniah has been on her mind a lot lately: "The Lord your God is with you, the mighty warrior who saves. He will take great delight in you; in his love he will no longer rebuke you, but will rejoice over you with singing."
The mother of two has even encouraged her daughter Vale, 6, to memorize it and take it to heart.
"I told her, 'I think this is your verse, and I think you can memorize it,'" she told the magazine.
I'm always praying in some sense, always in a conversation with God.
-Savannah Guthrie
Savannah took a moment to explain why this particular verse really resonates with her and said that it's "deeply fulfilling and nurturing and nourishing."
"I love the verse because it's a moment in which you allow yourself to just soak in and remain in God's love. That's so powerful. When you feel beloved and delighted in and rejoiced over, how can you do anything but go out into the world and spread that around?" she said.
Some people have a special place they like to pray, including Savannah, but the TODAY co-anchor also explained that she tries to find time for prayer wherever she is.
"I'm always praying in some sense, always in a conversation with God. Lately it's in the back of the car on the way to work. I pray at night before I fall asleep," she said.
While she was attending law school and working as a freelance reporter, Savannah also had a special spot she liked to talk to God.
"I would wake up early, sit in my dad's old green leather chair, have my coffee with my Bible and my journal and spend a few moments in reflection and prayer," she said. "I don't have that anymore because I get up so early. I'm not getting up one minute earlier! But I need to find moments that are very intentional to do that. God is good and finds me where I am."
For Savannah, music is one of the ways she likes to connect with God, and she has a playlist of old hymns she grew up with that she enjoys playing.
"In a distracting world, it's sometimes as simple as putting on your headphones and listening to a hymn you love. I think God is very generous and uses whatever we are able to offer in terms of our time and attention. He meets us right where we are," she said.
When Guideposts asked Savannah what she wishes an interviewer would ask her, she said she would like the chance to talk about her faith more often.
"I love talking about God's love. I love talking about how we all struggle and are on this journey together. So you could write that the one thing I wish I got to talk about more is the thing that we've talked about for this entire interview," she said.
In a recent interview with the Los Angeles Times, Savannah also revealed that there's one topic she prays about pretty often.
"The number-one thing I always pray for is to make sure that I come to an interview with sincerity and good faith, having done my homework," she said. "I think that's the best I can give to that person who agreed to be interviewed and may be in a difficult time."