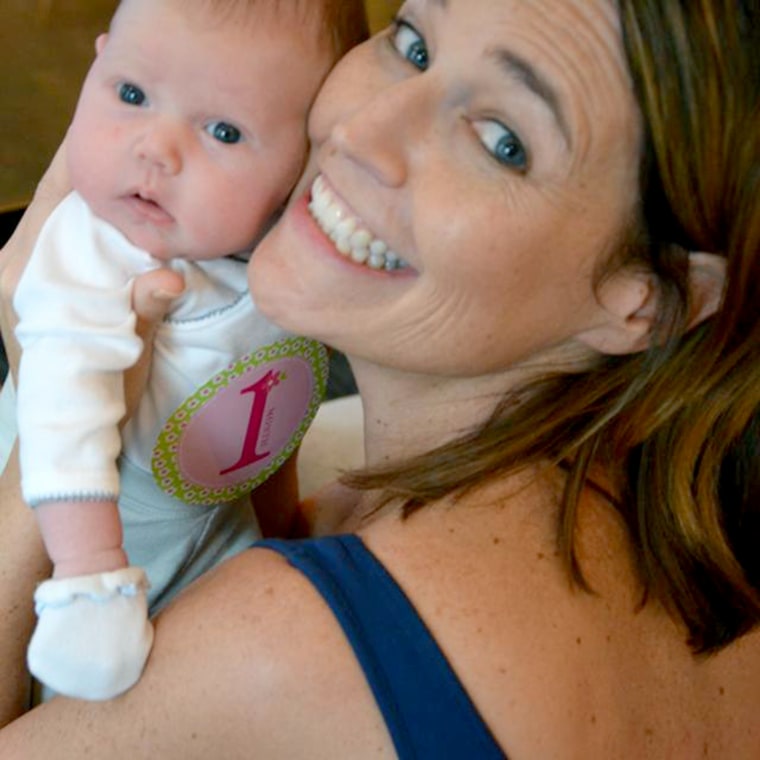 I hope you got to see Vale's surprise appearance this morning on the show. She has been planning that gag since she was zero, and it was so fun to see the look on the anchors' faces when we rolled in!
Some of you guys have been wondering why she's still wearing mittens when she is almost 7 weeks old. Well, there's a simple explanation: her mommy is deathly afraid to cut her teeny tiny nails.
Here's a fact I never truly grasped (pun intended) until I gave birth: newborns are born with razor sharp nails on those adorable little fingers. Combine that with hands they can't quite control, vision that is spotty at best and a penchant for uncontrollable jerking movements and you have a clear and present danger that could seriously scratch themselves.
So what's a new mom to do? Cut the nails, obviously.
No. Not obviously. Lord knows I have tried, but I cannot bring myself to cut those nails. I muster the courage, wait for that golden moment when she is relatively calm, and get out the baby clippers. I even found some that are outfitted with a magnifying glass so you can see what you're doing. But inevitably, as I grip her little fingers and prepare to press down and cut, she starts jerking her hand around wildly. I start to sweat. Nightmare scenarios run through my head. I imagine accidentally cutting into her skin. Drawing blood. Causing wails. Ruining her life.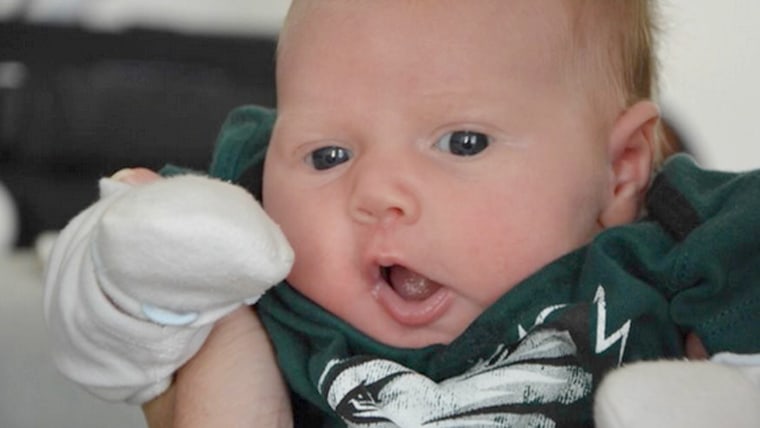 The truth is, I would rather have a root canal than cut those little nails.
I asked my pediatrician what I should do. I hoped she would reassure me. Or maybe even say, "Come on by the office, I will clip them for you." No such luck. Instead, she confirmed my worst fears, saying "accidents with nail clippers" were among the most common reasons parents come in with their newborns. She added that there are little vessels in their fingers that can really bleed if cut!
So my terror, like Vale's fingernails, continues to grow. At my doctor's advice, I do periodically file them down, lamely buying more time until her little hands seem like less of an intimidating task.
And for those who are wondering whether it's good for her to be in those mittens all day, I, too, have wondered that. I, too, want her to practice her little grip and feel the cool apartment air rustle through her fingers. So at least once or twice a day, I take those mittens off and let her hands roam free, under my watchful eye, in a joyous mommy-baby bonding time I have come to call, "supervised hand freedom."
Darling Vale, your mom has many skills, but giving manicures, sadly, is not one of them.