Sarah Michelle Gellar is busy working, taking care of her household and raising two children. So, when her 3-year-old son took a blue marker to their white kitchen cabinets recently, she struggled with all-too-common frustration. But the 38-year-old actress has learned to just go with the flow.
"You have to enjoy the mess," Gellar told TODAY.com at an event promoting Swiffer's "Yes to the Mess" campaign Feb. 3. "When our son decided to color our kitchen cabinets with blue marker, we just had to trust that washable markers are washable and if you have a mess, you're going to have to clean it up. That's all part of having kids."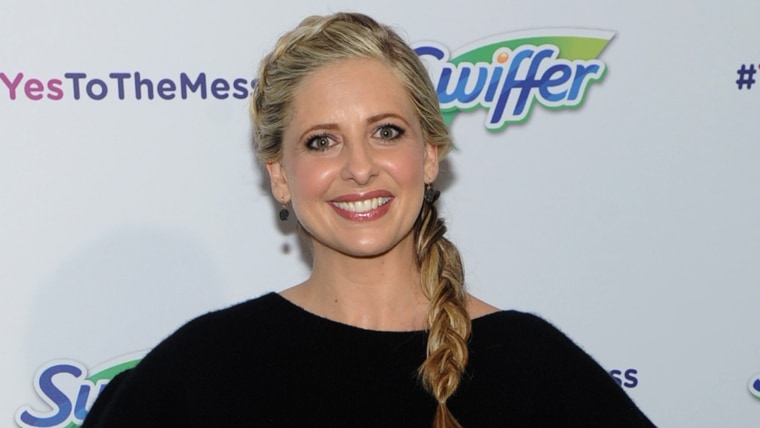 The former "Buffy the Vampire Slayer" star and her husband of nearly 14 years, Freddie Prinze Jr., have two kids: son Rocky James and daughter Charlotte Grace, who keeps them busy with her energetic personality. The proud mom even shared an Instagram video of the 6-year-old girl sporting a Princess Jasmine costume and rapping about her battle with other Disney princesses last summer.
RELATED: Sarah Michelle Gellar's daughter is a 'rapping princess' in cute Jasmine costume
Between child rap battles and blue marker fiascos, Sarah admitted she often feels pulled in different directions. "I call it time-impoverished parents," she joked.
But, she revealed the rules she lives by to keep her hectic schedule in check.
"My main thing that I live [by] is, whatever moment you're in, be there," said the blond beauty, who has a guest-starring role in the upcoming TV series "Those Who Can't." "If you're at work, work and don't feel guilty about it. When you're at home, leave work at home. Read, play and cook with your kids."
RELATED: Sarah Michelle Gellar swears by this DIY 'secret cleaning weapon'
And like many of us, Gellar falls into the vortex of technology and has to make a point not to allow it to creep into her family time. "The phones go down and we create, we experiment and we experience together," she concluded. "I don't need to know what's going on behind me. The world is still going to be there in five minutes."